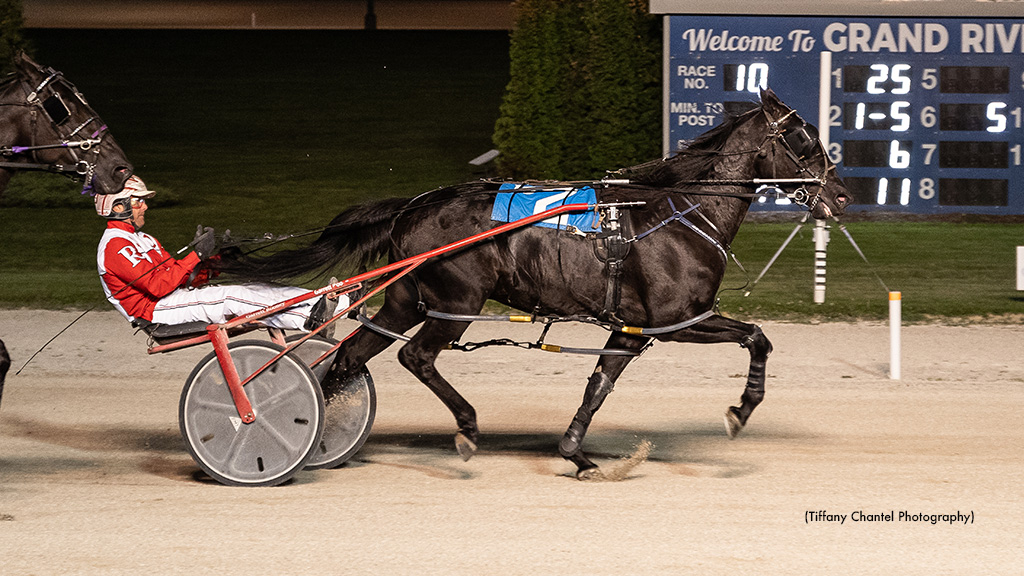 Published:
September 27, 2023 05:30 pm EDT
Grand River Raceway featured eight $15,000 Prospect Series finals on Wednesday (Sept. 27) evening and the fastest times of the divisions were shared by the two sophomore pacing classes for both males and females.
Crazy World took the split for three-year-old colts and geldings in 1:55.4, while Yoda Queen equalled that mark in the division for the three-year-old fillies. In addition to the fastest time of the series action for the evening, Crazy World earned his fifth victory in a row.
Crazy World and Garrett Rooney got away second behind Cold Creek Guerero (J Harris), who set the tempo through panels in :27.1, :57.1 and 1:26.3. Rooney tipped the Kathy Cecchin trainee first over at the three-quarters and gained control in the final turn. Crazy World won by a length over a fast-closing Delightful Leader (Daryl Thiessen). Cold Creek Guerero finished third.
Unraced as a freshman, the three-year-old gelded son of Control The Moment and the Rock N Roll Heaven mare One For The World has a record of 9-7-2 in 19 starts to go along with $60,115 earned. John & Kathy Cecchin own the Deo Volente Farms LLC bred gelding. He was a $25,000 bid out of the Harrisburg Sale. Crazy World paid $2.50 to win as the bettors' choice.
Andy Moore and Yoda Queen made every call through panels in :27.3, :57.1 and 1:26.2. The Jamie Doig trainee opened up in the final turn and romped home to a 6-3/4-length victory. Oh Gouda (Michael Horner) finished second and Handbagofcheezies (Nicholas Boyd) was third.
Doig owns the daughter of All Bets Off and the Art Major mare J M Chicago. She was bred by R K Joe Miskokomon of Muncy, Ont. Yoda Queen moved her career and seasonal win count to five with $45,628 of her $47,878 career bankroll earned this year in 14 starts. She paid $8.90 to win off of 4-1 odds.
Impressive Dude took the final for three-year-old trotting colts and geldings from gate-to-wire with Louis-Philippe Roy holding the lines for Eric Nadeau.
Opening up the distance between himself and the field with every stride, Impressive Dude set sail through fractions in :29.2, :59.3 and 1:29 before winning by 8-1/2 lengths in 1:58.3. Fox Valley Ontario (Rooney) rallied late to grab second and Acefortyfour Elvis (Tyler Borth) was third.
Roy co-owns the My Mvp-Strikingimpression colt with Michel Letarte and Jean Allaire. A $17,000 purchase out of the Ontario Select Sale, he was bred by Brenda Barnim. He owns a record of 6-4-3 in 18 starts this season with nine career trips to the winner's circle. In his career, Impressive Dude has earned $66,246. He paid $2.10 as the bettors' choice.
Divinne Magic posted a 19-1 upset in the final for three-year-old trotting fillies with a $40 payout to her backers.
Savannahs Dream (Bruce Richardson) knocked out two panels in :30.2 and 1:02.2, with her efforts followed by April Duford (Borth) and Divinne Magic (Travis Cullen) in third. Cullen swooped to the lead with Divinne Magic before the three-quarters in 1:31.2. April Duford challenged the Keith Jones trainee down the lane, but Divinne Magic prevailed by a half-length at the wire in 2:01.3. Angelic Kt (Brett MacDonald) rounded out the triactor. 
Maggie Jones, Susan Heard, Jody Simmons and Philip Newfeld co-own the daughter of Muscle Mass and the Kadabra mare Magic Meds as the filly earned her second seasonal tally and fourth career victory. She was bred by W G James Stables Ltd. and Rick Williams. She moved her career bankroll to $49,880.
Radical Legacy opened up the card and stakes action in the first race with a 1:59.4 victory in the Prospect Series final for two-year-old filly trotters.
Cullen and trainer Gregg McNair teamed up to send the freshman Muscle Mass-Radical Janey filly to the track as post five in the field of seven. Radical Legacy was caught on the outside as Sandoon (Bruce Richardson) covered the first panel in :28.3 from the pylons. Radical Legacy moved to take over the lead along the rail and kept going through panels in :58.4 and 1:29.3 en route to a three-quarter length win in 1:59.4. Sandoon took second and Chaud Holliday was third.
Ross and Brett Holmes co-own Radical Legacy, who has gone four-for-four in her career, accumulating $20,450 in earnings. Peter Dennis, Thomas Rupert and Billee Steinhoff bred the filly, who was a $40,000 purchase out of the London Classic Yearling Sale. As the favourite, she paid $2.50 to win.
Poof romped in the two-year-old trotting male final with Thomas Smith piloting the victory for Jayne Walker.
Through panels in :29.1, :59.2 and 1:29, Poof continued to open up amongst his competitors before rocketing to a 5-3/4-length achievement in 1:59.3. Three Alarm Fire (Colin Kelly) finished second while Eiffel Power (Travis Henry) was third.
Taking a new lifetime mark, Poof earned his second win in 10 track appearances and now has $30,634 earned. The Lookslikeachpndale-Mirado colt was bred by John Lago and is co-owned by trainer Walker and driver Smith. He paid $5.30 to win as the favourite.
Quiet Assurances and Richardson used a similar gate-to-wire tactic and fended off a fast-closing Wheres My Phone to win the freshman pacing filly final in 1:56.3. 
Quiet Assurances won every split through panels in :28.2, :57.2 and 1:26.2 before winning in the stretch drive to a three-quarter length victory. Wheres My Phone (MacDonald) was second with Distant Lover (Jason Ryan) completing the top three.
Susie Kerwood trains the daughter of Control The Moment and the Somebeachsomewhere mare Unspoken Promise for owners and breeders Howard Taylor and Falcon Racing LLC. She moved her record to 3-1-0 in eight starts with a sum of $19,910 earned. The time of the mile was a career-best for the filly. With 2-1 odds as the second choice, she paid $6.20 to win.
The final Prospect Series final split of the night went to Bettin Again and Anthony Haughan for trainer Meg Crone in the freshman pacing male division.
Ballykeel Painter (Thiessen) was the pacesetter and favourite of the mile and set panels in :27.4, :57.3 and 1:27.2. Bettin Again got away fifth at the quarter before pulling first over through the half and three-quarters. In the final turn, he met his rival and kept going to win by 1-3/4 lengths in 1:57. Meet Me In Mekonos (Borth) finished second with Letjimtakeover (Rooney) third.
Bettin Again is a freshman son of Bettors Delight and the American Ideal mare Halloween Hanover. He was bred by Hamstan Farm and was a $35,000 purchase out of the Harrisburg Sale. Laverne Turnbull owns the gelding as he picked up his second win in seven starts. He paid $10.30 to win from 4-1 odds.
As the final day of the 2023 meet, Colin Kelly earned honours as the leading driver with 42 wins for the season. Travis Henry used a late score in the finale to tie J Harris for second with 39 wins apiece. Brett MacDonald and Anthony Haughan were third in the rankings with each posting 38 wins on the season.
Brett Lester earned 18 wins for the season, yielding the leading trainer title for 2023. Lori Lepage was second with 16 wins and Jodie Cullen completed the top three with 15 wins.
Wednesday was the last race card to be contested over a half-mile racing surface at Grand River Raceway as word on the Elora, Ont. oval's expansion to a five-eighths-mile track continues and is expected to be completed by the end of April 2024.
To view Wednesday's harness racing results, click the following link: Wednesday Results - Grand River Raceway.