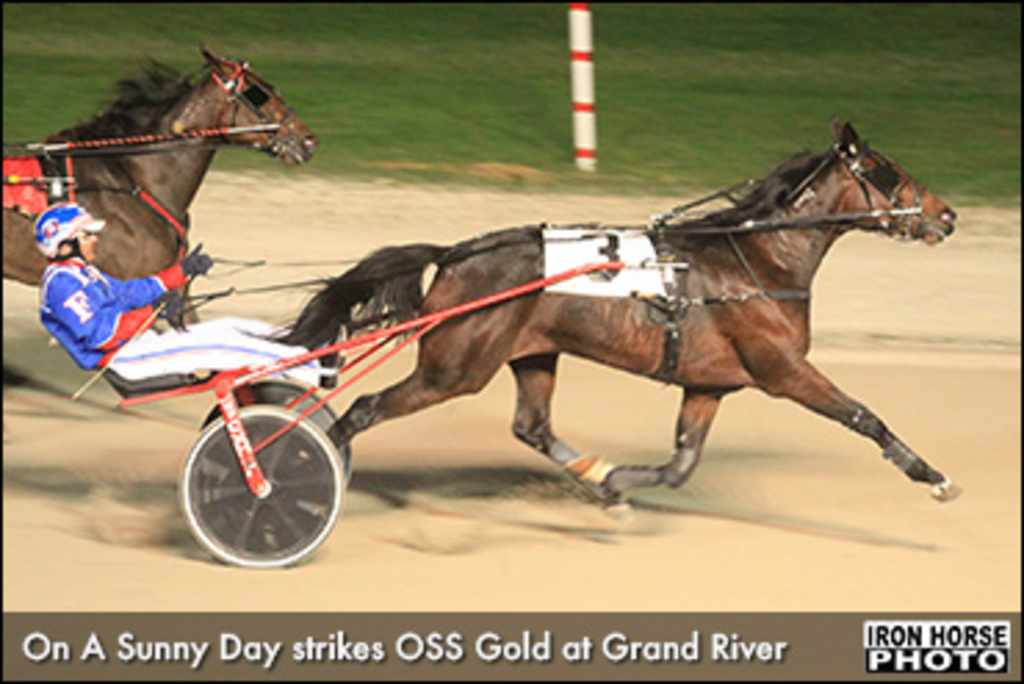 Published:
September 27, 2017 10:31 pm EDT
In what was the final race of the 2017 meet at Grand River Raceway, On A Sunny Day ($3.30) lived up to favoured billing in the $125,000 Ontario Sires Stakes Gold event for three-year-old trotting fillies on Wednesday (September 27) evening, rallying to collar Delcrest Magicstar in the final strides of a 1:56 mile.
Sylvain Filion eased On A Sunny Day into mid-division to rate off a hotly contested pace. Meanwhile, Sweet Of My Heart (Jody Jamieson) won a :27.2 battle through the first turn from post 8, only to receive immediate pressure from Gravitator (Louis-Philippe Roy) upon entering the far turn. While Sweet Of My Heart was able to dismiss her first-over challenger after a :56.1 half mile, On A Sunny Day began her move with five-sixteenths to go, angling off the pegs and circling three-wide into the final turn after Sweet Of My Heart clicked off three-quarters in 1:25.3.
The pace collapsed at the eighth pole when Sweet Of My Heart gave way to Delcrest Magicstar (James MacDonald)—who stalked comfortably from third spot through the early stages—with no fight. Ultimately, Delcrest Magicstar found herself similarly overpowered 20 yards from the winning post by On A Sunny Day, who earned her ninth career win and her fifth of the season by a length. Delcrest Magicstar held second, while Sweet Of My Heart checked in a beleaguered third, another four lengths in arrears.
"I knew when I saw the half :56 that I was in a good spot," said Filion. "I knew they had to come back to me, it was almost impossible for them to keep going that speed, so that was very good for me. She just trotted home, it was just like a training mile for her."
"I was a little concerned before the race, her last start was just so-so, she wasn't quite herself," continued Filion, referring to the filly's sixth-place result in the Sept. 16 Elegantimage Final at Mohawk Racetrack. "But tonight she was back to her old self and she just felt super."
Luc Blais bred the three-year-old daughter of Muscle Mass, whom he trains for winning owner Determination. On A Sunny Day's 1:56 mile earned her a track record at Grand River among three-year-old trotting fillies, as well as the Ontario Sires Stakes and Canadian records for her age, gait, and sex on a half-mile track.
On the undercard, Travis Cullen, Anthony MacDonald, and James MacDonald all earned driving doubles.
Earlier in the night, the track honoured top performers Bob McClure and Richard Moreau.
This is McClure's third consecutive driving title at the Elora, ON track. His 2017 season includes titles at Grand River, Flamboro Downs, Georgian Downs and Western fair. The 27-year-old Elora resident finished the Grand River Raceway season with 63 wins, including his first ever Battle Of The Belles victory with Play The Bell on August 7 for trainer Casie Coleman. He currently sits atop the national standings at 381 season wins and $2.1 million in purse earnings.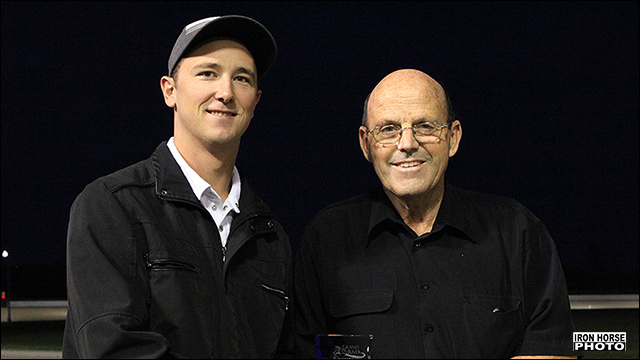 Dr. Ted Clarke (General Mgr., Grand River Raceway, right) presents Bob McClure with his 2017 Top Driver trophy
Richard Moreau of Puslinch, ON has won the Grand River training title three of the past four years. He is the current top money-winning and top dash trainer in the nation, and has won the O'Brien Award for Canada's Top Trainer for the past four consecutive years. Eighteen of his 75 starters at Grand River Raceway reached the winner's circle in 2017 for earnings of $117,958. Moreau is a career winner of 5,233 races and $48 million in purses.
Race seven was dedicated to the track's General Manager, Dr. Ted Clarke, who retires at the end of this week. In an interview following the dash, Clarke thanked the fans of horse racing for their support of the industry.
To view Wednesday's harness racing results, click the following link: Wednesday Results – Grand River Raceway.
(with files from Grand River Raceway and quotes from OSS)