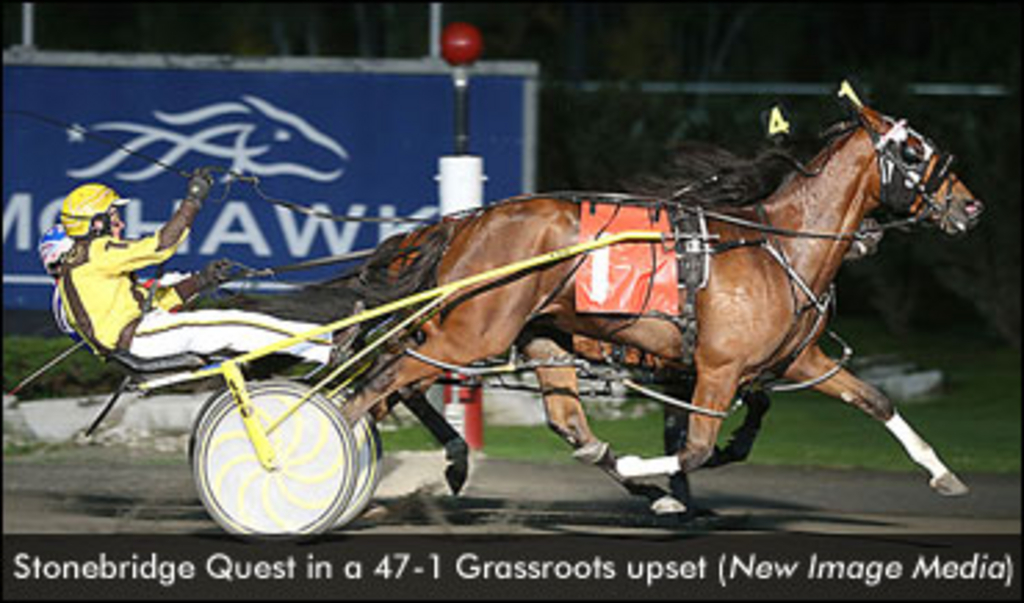 Published:
September 27, 2014 11:48 pm EDT

The top performers in this year's Ontario Sires Stakes Grassroots program faced off in eight $50,000 Finals on Saturday night at Mohawk Racetrack.
The competitiveness of each division was evident in the exciting races, which saw both favourites and longshots victorious. The following are recaps of each final.
Two-Year-Old Trotting Fillies – Second Sister
"I pulled on the right line at the head of stretch and she did the rest." That's how Doug McNair described his trip with Second Sister in the two-year-old trotting filly final.
McNair and Second Sister sat back in fourth during the early going while Wing Flash, who left from post 10, grabbed control for Trevor Henry and reeled off fractions of :27.4, :57.3 and 1:27.1. McNair had his filly three-wide and driving down the lane and she managed to haul down the leader in the final few feet to win in 1:56.3, a new life mark. Wing Flash held for second while Tymal Illbthere got up for third.
"She's been good all year, I've had road trouble with her two or three times when we raced her here. She didn't surprise me at all tonight. I figured if I had no road trouble she'd be good and she was," explained Doug McNair afterwards.
"She trotted :27.2 at the end, that's a big last quarter for a two-year-old trotting filly in the Grassroots. I just let her coast to the end, I was easy on her at the end of the mile."
Trained by Gregg McNair for Jarold Hawks of Michigan, Second Sister was recording her third win in eight tries this year and upped her earnings to $55,000 on the year. Bred by Diamond Creek Farm of Kentucky, the Deweycheatumnhowe daughter, a half-sister to Unshakeable ($210,000), sold as a yearling for $32,000.
Hawks noted that while the filly is eligible to the Breeders Crown, he's fairly certain this will be her final race of the season. "She's had a good season, we'll turn her out and let her mature," he noted.
Two-Year-Old Pacing Fillies – Stonebridge Quest
Longshot Stonebridge Quest dueled with leader and favourite Ms Mac N Cheese in the late going in the two-year-old pacing filly final and prevailed for Trevor Henry.
Ms Mac N Cheese with Sylvain Filion at the controls showed her rivals the way getting the girls by the fractions in :26.2, :55.3 and 1:24. Out from the pocket popped Stonebridge Quest, who managed to get by the leader and hit the wire first in 1:53.1. Ms Mac N Cheese fought gamely to the wire and was a very close second followed by Show Some Leg.
Henry was impressed by the performances of both fillies. "I was sure (he had won) at the wire, but I was a little worried (mid-stretch). She was half way by pretty easy and then Sylvain's horse come back on. His horse fought back well.
"She's a nice filly, when I drove her in Clinton, she didn't know a lot, it was just her second lifetime start. She overcame it and won that day and raced well," he said of Stonebridge Quest's only other win this year back in July.
A daughter of Camluck owned by breeder Angie Stiller of Arva, Ont. and Glenview Livestock Ltd., of Guelph, Ont., Stonebridge Quest is a full sister to $774,000 winner Stonebridge Tonic and $528,000 winner Stonebridge On Ice.
Two-Year-Old Trotting Colts - Mandeville
In the two-year-old trotting colt final, three of the rookies broke stride before the first turn which saw El Diablo Hall on top for Keith Oliver by the opening panel in :28.2. He went past the half in :59.1 and three-quarters in 1:28.1.
For the last half of the race he had pressure from Mandeville and Steve Condren, who went on to win in 1:57.2. El Diablo Hall, who has not finished worse than second in 10 starts this year, held for second while Olympic Son was third.
Trainer Wayne Langille of Harley, Ont. co-owns the winner, a son of Majestic Son, with Brett Burleigh of Paris, Ont. This was the fourth win in eight starts this year for Mandeville, who was bred by Dr. John Brown of Granton, Ont. and sold for $10,000 as a yearling.
After his third place finish in last week's Semi-Finals, Langille was concerned the horse wasn't himself – "he didn't cool out like he should" - and treated him with ulcer medication, which seemed to help.
"I'm going to turn him out tomorrow," Langille said. "The big track suits him, his mistakes this year have all been on the smaller tracks."
Two-Year-Old Pacing Colts – Star Cover
Star Cover played giant slayer in the rookie pacing colt final as he hauled down heavy favourite Thinkofagameplan to win in 1:53.
Jody Jamieson had Star Cover on top early and he hit the first quarter in :26.4. Randy Waples and Thinkofagameplan passed the leader well before the :55.3 half, but he was overtaken by Twin B Scandal before the 1:24.4 third panel. Jamieson had Star Choice back on top as the field swung into the stretch and opened up to win by three lengths. Thinkofagameplan took second while Twin B Scandal was third.
Star Cover was notching his third win in 10 tries this year. Trainer Blake MacIntosh of Waterdown, Ont. -- who co-owns with Stuart McIntosh of Essex, Ont. and Brett Authier of Wheatley, Ont. -- said that this will be the colt's final start of the year.
"We'll turn him out now. Jody gave him a great trip," he praised.
Jamieson noted that it wasn't the trip he'd planned, but it worked out anyway. "I was hoping to be able to follow Randy, but there were a few horses between us. This colt's been improving all the time. I knew if I had room he'd come home well, he has a good closing kick."
Bred by Winbak Farm of Maryland, the Royal Mattjesty son sold for $4,500 at the Forest City Sale. His dam is the former OSS standout Armbro Rosebud, who earned $721,000 in her career.
Three-Year-Old Pacing Fillies – Dana Dearest
Throughout the OSS season Dana Dearest has shown an explosive rally from off-the-pace that carried her to four wins from five starts in the provincial program. She came through again with those tactics in tonight's $50,000 Grassroots Championship for three-year-old pacing fillies, rallying into hot fractions and winning in 1:51.3.
Her Own Land (James MacDonald) led the field of 10 fillies to the opening quarter in :26.1, but Born To Dream (Jody Jamieson) was parked and pressing at that point and she cleared to command in the backstretch. Born To Dream got to the half in :54.4, but Shadows Wonder (Trevor Henry) was out and moving out of third at that point and she became the new leader as they raced into the far turn.
Shadows Wonder reached the three-quarters in 1:22.3, giving the cold shoulder to Her Own Land, who was now first over. Meantime, Dana Dearest and Chris Christoforou were trying to get involved, tracking three-wide cover and then moving four-deep into the stretch.
In the lane Shadows Wonder had kicked away from the field and looked to get to the wire first, but Dana Dearest was in top gear on the far outside and she came with that unrelenting brush all the way to the wire, which she found a length to the good over fellow closer Bet Ya (Jack Moiseyev). Shadows Wonder would finish third.
"It was very hot speed up front, which suits my filly exactly," said Christoforou. "She loves to come into strong fractions and come home good. She raced really well. Everybody was leaving. I looked over to my right and everybody was leaving, I looked to my inside and everybody was leaving, so I was just trying to keep up as much as I could with her. She's not that quick leaving. Luckily, we were just close enough to get the jump on them late.
"There's no pressure driving for my dad (owner/breeder Charalambos Christoforou of Campbellville, Ont.), especially when he's out of the country (in Greece)."
Trained by Casie Coleman, Dana Dearest was winless in four starts last year, but she's turned it around in her sophomore campaign, going nine-for-16. She has season's earnings of $102,820 and a career bankroll of $107,048.
"She'll be turned out now," said assistant trainer Tony Beaton. "We were happy with the race. I expected the speed up front and that works for us as she's a good closer."
Three-Year-Old Trotting Fillies - Quadrophenia
A 13-1 upset was triggered by Quadrophenia and driver James MacDonald in their finale.
Leaving from post position three, Quadrophenia was fast off the wings of the gate and she was first at the :27.4 opening quarter. Public choice Mystical Wishes (Doug McNair) was fourth at that point, but she moved to the outside in the backstretch and took over the top spot just past the :57 second half-mile marker.
Mystical Wishes opened up a gap on the field to the 1:25.3 three-quarters and still had the lead for much of the stretch. However, she got soft inside the final sixteenth and Quadrophenia re-rallied out of the two-hole, passing Mystical Wishes and winning by a head in 1:55.1. Mystical Wishes had to settle for the runner-up position and Missys Ga Ga (Rick Zeron) circled from eighth to third in the final quarter.
"I don't think she deserved to go off at 13-1," said MacDonald. "She was caught in last week. She's a nice filly from a good family."
Dave Menary trains the victorious Kadabra filly for owner Kjell Magne Andersen of Norway. Quadrophenia, who was unraced as a freshman, has five wins from 12 attempts this year to go with a bankroll of $65,300. Quadrophenia won twice in Grassroots competition during the regular season at Mohawk – on June 17 and September 2.
Three-Year-Old Trotting Colts - Kremlin
Kremlin wriggled free off the rail early in the stretch and then passed the leaders late to claim victory in the final for three-year-old trotting colts. The final time was 1:55.2, a new lifetime mark for the winner.
Warrawee Promesse and Wayne Henry showed stout speed early in the proceedings and they worked around Jack Litten and Doug McNair for the lead before the :27.3 opening quarter. Warrawee Promesse then went unchallenged in the second quarter and he got to the half in :56.4.
Around the far turn Warrawee Promesse opened a bit of a gap on his foes, but then first-over challenger Tyrone Haji (Randy Waples) began to chip into the margin before the 1:25.4 three-quarters. Jack Litten was still locked up in the pocket and Kremlin, with Sylvain Filion at the lines, moved up to sit right behind Jack Litten on the inside.
In the stretch Warrawee Promesse drifted out off the rail and Jack Litten was able to slip through and grab the lead. However, Kremlin had gotten to the outside and was taking the overland route. McNair urged Jack Litten to try and get him home, but Kremlin got up late to win by half a length. Jack Litten finished second and Ramas Last Son was up to collect third.
Richard Moreau trains Kremlin, a Kadabra gelding, for owner Mike Wassilyn of Rockwood, Ont. Kremlin, a winner in Grassroots competition on June 9 at Mohawk and in last week's Grassroots Semi Final, scored his sixth triumph from 16 efforts this season and his eighth career victory. Bred by Overseas Farms Ltd., Kremlin has put away $70,472 on the campaign and $80,352 lifetime.
"I'm not sure if we'll keep racing him or give him a break," stated Wassilyn. "That will be up to Richard, who has done a tremendous job with him. Sylvain deserves a lot of credit as well; he's driven him great. We bought him from Riina Rekila in June and she was quite helpful when we first got him. Sylvain said his gait's improved a lot."
Three-Year-Old Pacing Colts - Atomic Million AM
The fractions were hot and the action was heavy, but when the dust settled, public choice Atomic Million AM emerged with a 1:50.3 victory in the final OSS Grassroots Championship of the night, for three-year-old colt and gelding pacers.
Regal Babe (Doug McNair) blasted full bore from the outside post 10 and he cleared his rivals for the lead. However, the first quarter was hot, :25.4 hot, and High Flier (J. Harris) was left on the outside and forced to drive on despite the swift tempo.
Up the backstretch Regal Babe and High Flier hooked up in a duel, but High Flier finally got the top spot at the :53.3 half. While High Flier was clearing Regal Babe for the lead, Atomic Million AM (Rick Zeron) commenced a first-over bid out of the fifth position.
Regal Babe began to fall back on the far turn, so Zeron was able to get Atomic Million AM down to the rail for a couple strides. However, he came right back to the outside and closed more ground on High Flier at the 1:21.4 three-quarters.
High Flier held Atomic Million AM off early in the stretch, but Atomic Million AM forged his way past for good just before the eighth pole. From there Atomic Million AM persevered to the wire, which he reached two lengths to the good over a closing Nirvana Seelster (Phil Hudon). High Flier held third despite the testy tempo.
"I told the owner last week that we'd win tonight," Zeron said. "I was very confident. We got locked in last week. I didn't get the trip I'd hoped for tonight, but he was strong and brave and got the job done."
Alain Martin of Gatineau, Que. bred, owns, and trains Atomic Million AM, a gelded son of Million Dollar Cam-Lady Hustler (Daylon Hustler). This was his 11th win from 17 efforts this year and his 14th career victory. He has earned $110,382 in 2014 and $122,902 lifetime.
"He'll get turned out now. He's been good to me all year and deserves a rest," offered Martin.
Tonight's finals also celebrated the 40th anniversary of the Ontario Sires Stakes. There will be more celebrating when the Super Finals, for the top performers in the Gold division, are contested on October 11 back at Mohawk.
Preferred Pace - Dovuto Hanover
Saturday's undercard featured older pacers in Preferred competition and Dovuto Hanover was back to his winning ways with a 1:49.1 mile for trainer Tony O'Sullivan, with Jody Jamieson picking up the catch-drive.
A winner in two of his last three Preferreds and runner-up in his latest outing, Dovuto Hanover worked his way to the lead, overtaking State Treasurer (Chris Christoforou) past the :27.1 first quarter. However, State Treasurer retook command by the half-mile mark of :54.3.
Sunshine Beach (Sylvain Filion) then launched his attack down the backside and went head-to-head with the leader as they passed three-quarters in 1:22. State Treasurer maintained the slight upper hand over that foe into the stretch, but Dovuto Hanover slipped up the pylons to prevail with the rest of the field spread across the track two lengths behind. Captive Audience (James MacDonald) and Piston Broke (Rick Zeron) came through for second and third, respectively.
Martin Scharf of Lawrence, New York owns the four-year-old gelded son of Dragon Again and Daughterofortune, who earned his ninth win in 27 starts this year. A 15-time winner lifetime, Dovuto Hanover surpassed the $400,000 earnings mark while collecting the lion's share of the $34,000 purse.
To view Saturday's harness racing results, click on the following link: Saturday Results - Mohawk Racetrack.
(With files from OSS)