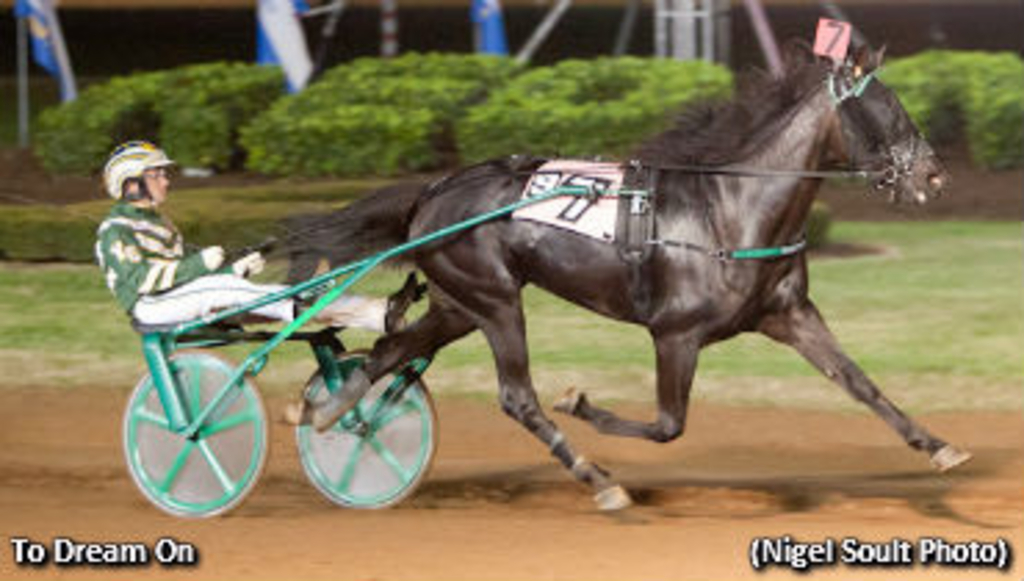 Published:
September 27, 2012 11:44 pm EDT
Four divisions of the Bluegrass Series were presented at The Red Mile on Thursday evening, and five freshman fillies came away victorious.
Heavily favoured Frau Blucher, who was sent off as the 1-5 choice in her $88,250 assignment, kicked things off with a 1:55 triumph in the first division. Dave Palone watched Miss Steele take the field to the quarter pole in :28.2 before marching Frau Blucher to the top. Once in command, she rolled the field through middle panels of :58 and 1:27.3 before using a :27.2 closing quarter to seal the deal. Royal Assets was second, with Miss Steele taking home the show dough.
Chris Oakes trains the daughter of Broadway Hall-My Angel for Hauser Bros RCNG Ent LLC of Orangeburg, NA and Matt Tudisco of Park Ridge, NJ. The $21,000 purchase from last year's Harrisburg Yearling Sale owns a 7-2-1 record from 10 starts in addition to a bankroll that stands at $374,203.
The photo finish camera was put to work in the second division, and when the judges handed in their verdict the result was a dead heat for win between Upfrontluckycarol and Aspidistra Hanover. The fillies stopped the teletimer in 1:56.2.
Sina shot to the lead and stepped past the quarter in a :29-second clip before releasing Upfrontluckycarol to the lead on the way to the mid-way point. Upfrontluckycarol and David Miller carved out middle fractions of :57.3 and 1:29 before coming under attack from Aspidistra Hanover and driver Brian Sears. Those two fillies went into sprint mode, and at the line they were inseparable. Morningstar rounded out the top three finishers.
Kelly O'Donnell trains Upfrontluckycarol, a daughter of Andover Hall-Batbreaker, for Up Front Racing LLC of Amherst, OH and Murray Brown of Hanover, PA. The win improved her record to 2-4-2 from nine starts, and her share of the purse lifted her earnings to $171,151. She was a $35,000 purchase from last year's Harrisburg Yearling Sale.
Paul Kelley conditions Aspidistra Hanover, who was a $50,000 purchase from last year's Harrisburg Yearling Sale, for Kelley Racing Stable LLC of Gansevoort, NY, Joe Sbrocco of Brecksville, OH and William B Weaver III of Freehold, NJ. The daughter of Donato Hanover-Angel Fire Hanover now boasts a 3-2-0 record from seven starts. She pushed her earnings to $165,371 with the win.
Time To Kill prevailed in the third division for John Campbell, who had to survive a judges' inquiry for a possible pylon violation in the lane. Campbell hustled the daughter of Muscles Yankee-Are You Ready to the quarter in :28.1 before taking a backseat to the backstretch-brushing Shared Past, who led through middle panels of :57.2 and 1:26.4. The leader tired and began to drift off the rail, and when Campbell spotted the room he shot through with Time To Kill en route to posting the 1:55.1 win over Shared Past and Antsy Dancey. The judges reviewed the stretch, and eventually ruled Campbell didn't gain an unfair advantage when he shot up the rail.
Ross Croghan trains the filly for Let It Ride Stables Inc and Robert Cooper Stables LLC of Boca Raton, FL. Purchased for $25,000 from last year's Lexington Select Yearling Sale, Time To Kill now owns a 2-3-0 record from seven starts and a bankroll that sits at $108,975.
The quickest winner in the Bluegrass Series was To Dream On, who rolled to a 1:54.3 tally for the tandem of driver Yannick Gingras and trainer Jimmy Takter. The excitable daughter of Credit Winner-Satin Pillows bulled her way to the lead and led the field through intervals of :29.3, :57.4 and 1:27.3 before using a :27-second final frame to seal the deal. Handover Belle came on strong to finish second, and Mistery Woman was third.
Purchased for $200,000 from last year's Harrisburg Yearling Sale by Marvin Katz of Toronto and Al Libfeld of Pickering, ON, To Dream On improved her record to 6-1-0 from seven starts while increasing her earnings to $374,707 with the win.