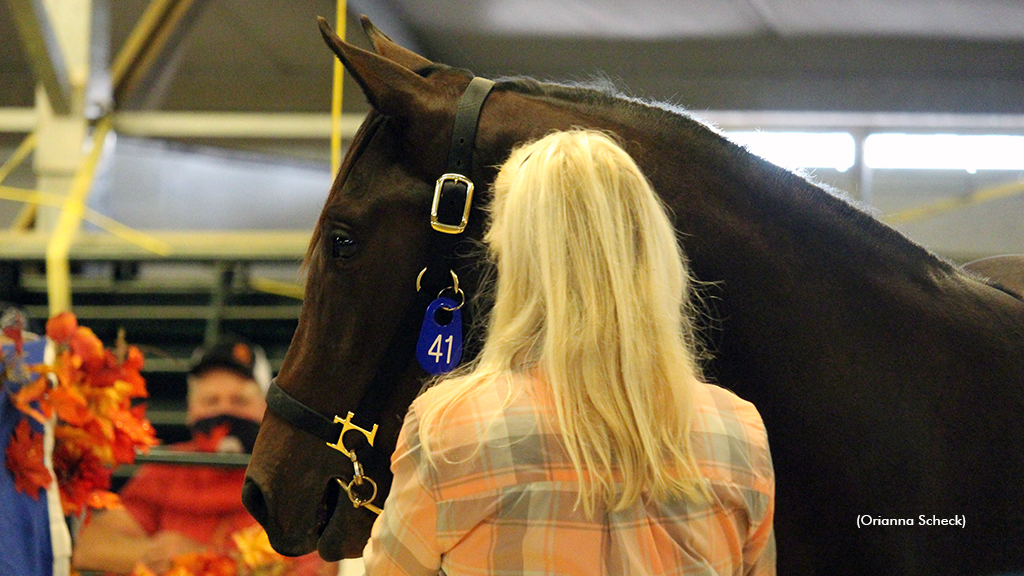 Published:
September 26, 2023 11:25 am EDT
"Phenomenal."
"Incredible."
"Ecstatic."
"Fantastic."
"Over the moon."
Those were just some of the words used to describe Sunday's history-making Alberta Standardbred Horse Association (ASHA) Yearling Sale at Edmonton's Century Mile. Previous records were toppled and crushed and left strewn in the straw all afternoon.
"Phenomenal sale," said ASHA executive director Fred Gillis after 50 yearlings sold for a staggering $1,201,200 (excluding buybacks), which was up 17 per cent over last year making it the highest Standardbred yearling sale ever in Western Canada.
The 50 sold yearlings produced a record average sales price of $24,024, which was up 35 per cent from last year's previous record.
"To be honest, I was hoping to do the same as last year where the average sales price was $18,000," said Gillis, who noted that the average two years ago was just $11,000. "I remember $4,800 averages not all that long ago. I'm glad I was wrong.
"I'm ecstatic. Alberta's breed improvement program -- including incentives for buying mares in foal -- in Alberta is obviously working.
"Last year's sale was good. This was great. People will pay for quality and Alberta breeders are seeing the fruits of their labour. I've received texts from all over congratulating us on an excellent sale."
Shattering the total sales and average price are exceptionally impressive. But, the most startling fact about the sale is that two yearlings sold for more than $100,000: Hip 36 Strutsville, by Huntsville out of the Western Ideal mare, Strut My Stuff, going for $132,000; and Hip 11 Zelensky Rules, by Captaintreacherous out of the Bettors Delight mare, Luck Be A Lindy, bringing down the hammer at $130,000.
Strutsville was consigned by Kelowna's Surdale Farms and was purchased by Nancy Retzlaff and her nephew Derek Stout of Camrose, Alta.
Zelensky Rules was consigned by Okotoks' Gigi Van Ostrand and purchased by Stony Plain's Bob Jones for $130,000.
"There's an excitement level I have never seen before and I've been in the game for over 30 years," said Don McDougall, president of ASHA. "A lot of people are looking to spend money and they did on an incredible afternoon. We've never sold a yearling for over $100,000 -- the previous high was $62,000 last year -- and we sold two and almost a third with Threecurtaincalls, also by Huntsville, going for $90,000."
Threecurtaincalls, Hip 65, a filly out of the mare Encore Deo, was also consigned by Surdale Farms. She was sold to J J J Stables.
"If I said I expected that, I'd be lying," said McDougall, who is also on the board of Horse Racing Alberta. "I never expected those kind of numbers.
"Breeders and owners now know they can make money or at least have a fighting chance with a really good stakes program. There were 10-15 guys or groups that were looking to spend serious money. And they were excited to spend it.
"The breeding side of Standardbred racing is really coming along. And, I still think there is room for improvement."
Kelly MacMillan of the family-owned and operated Surdale Farms, which was the leading consignor selling nine yearlings for a total of $428,000 and an average selling price of $47,556, was similarly thrilled.
"I'm over the moon," said MacMillan. "I had no expectation of that at all."
MacMillan said sales topper Strutsville has it all.
"She checked all of the boxes. She's fantastic."
Doug Stout, Retzlaff's brother-in-law, can't wait to start training Strutsville.
"I really liked her. She's big, strong and straight. Nothing is crooked. When she walks, everything goes straight," said Stout. "And, of course, she's really bred well. So she'll have value after she finishes racing.
"A lot of the big shots were looking at her. I knew it was going to be a bidding war. Jim Marino quit at $80,000; then it was just us and Blair Corbeil and Kelly Hoerdt left.
"Did we go too high? We took a shot. What the hell. I can't change it now. It's too late. It's done. I'll let you know in a year how good she is," said the veteran trainer. "I'll get a stall for her and get started."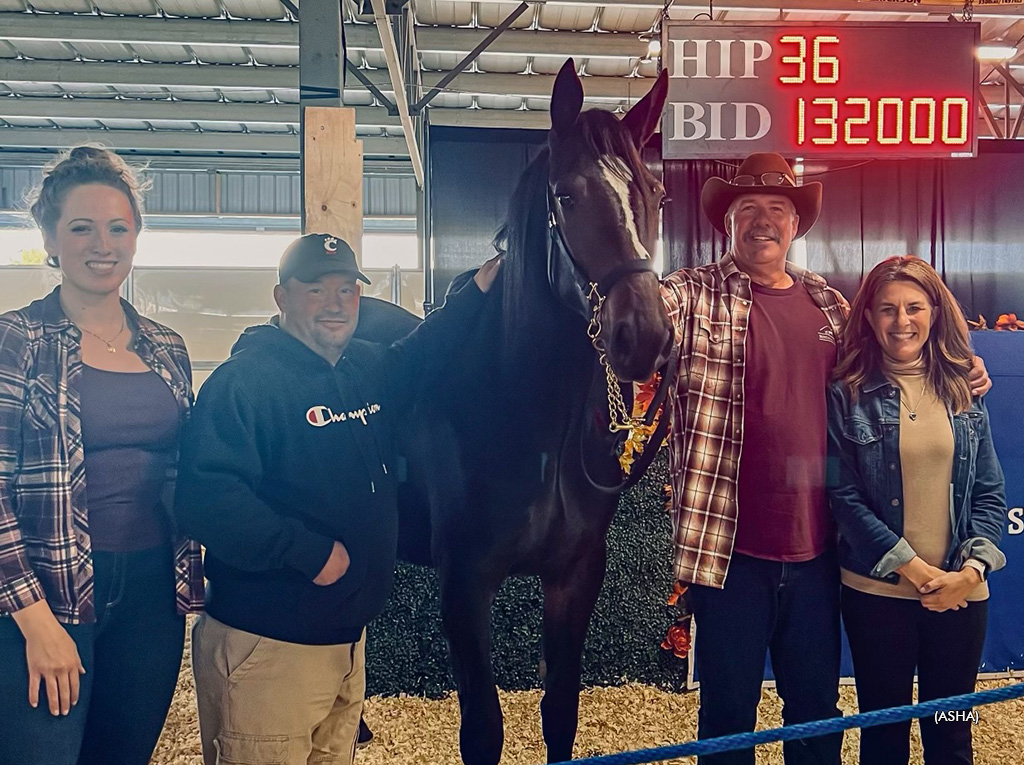 ​
MacMillan said Strutsville's sire, multiple stakes winner Huntsville, who won $1.8 million and took a mark of 1:47.4 at the Meadowlands, is red hot being represented by some very promising two-year-olds.
"Huntsville has always been a good producing stud but he's really having a big year this year," said MacMillan. "He's knocking it out of the park. The timing couldn't be better. I think he'll go down as a great stud when his breeding career is over.
"And he really looks the part. Huntsville is still very affordable at a stud fee of $6,500 American though I assume that will be going up now."
A world champion, Huntsville was voted the U.S.'s Two-Year-Old Pacer of the Year in 2016 and was the fastest three-year-old the following year when he won the Meadowlands Pace in a lifetime mark of 1:47.4. He also won the Breeders Crown and the Bluegrass as a freshman.
Huntsville is the sire of of 14 pacers that have already won in 1:50 or better, including Early Action, who has earned more than $600,000; Huntinthelastdolar and Just Divine, who have earned more than $400,000; and Max Contract, who is a multiple stakes winner with a mark of 1:48.3 and a bankroll topping $400,000.
Strutsville and Threecurtaincalls were both sired by Huntsville. Strutsville is out of stakes winner Strut My Stuff; Threecurtaincalls is out of stakes winner Encore Deo and is a full brother Greg The Leg, who has earned more than $260,000.
Both Strut My Stuff and Encore Deo are co-owned by Surdale Farms and Hall of Famer and perennial leading driver/trainer Keith Clark, who picked out both mares.
"Strutsville comes by her name very well; she's a strutter," said Retzlaff, originally from Saskatoon, who is now doing marketing for ASHA after a career in biopharmaceuticals that landed her in New York. "Her name also suits her because she's strong and quite sassy. She's the boss. She's smart.
"When we were bidding on Strutsville, I kept thinking it was still American dollars. And so when the bidding went to $100,000, I thought that was too high. But I'm stubborn.
"I watched her walk and she was straight as an arrow. She was born in February so she's an early foal so that's another plus. She's a beauty. A straight, solid foal. I'm excited to have her in our barn. I can't wait until she races."
Zelensky Rules, the other $100,000-plus purchase, is by Captaintreacherous who paced in 1:47.1 as a three-year-old. He won $3.1 million and is the sire of 78 horses that have won in 1:50 or better and 404 foals that would go on to win in 1:55 or better, including Lyons Sentinel, a winner of $2.3 million, and Allywag Hanover, a 1:46 world champion with 1:46 with $2.1 million in earnings.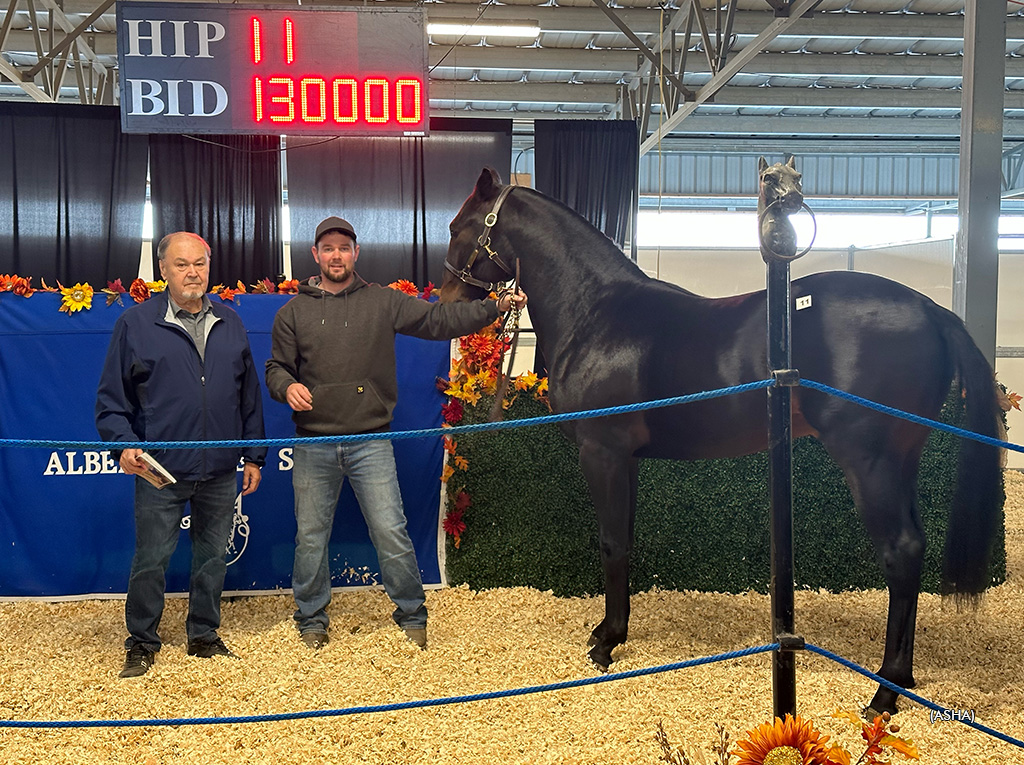 ​
Zelensky Rules is the only son of Captaintreacherous in Alberta.
Zelensky Rules' dam Luck Be A Lindy, who has a lifetime mark of 1:51, is also the dam of the Somebeachsomewhere mare Beachblanketlindy, winner of a Kentucky Commonwealth Series division.
Captaintreacherous is the second richest son of the fabulous Somebeachsomewhere. 
Also like Strutsville, Zelensky Rules's dam side is full of black-type winners.
"I try to breed the best I can to the best I can," said Van Ostrand, the breeder of Zelensky Rules. "I think I've got the best mares in Alberta," he added, with a chuckle.
Van Ostrand has a dozen mares, including Saucy B, whose son Virtual Horizon won his 12th straight start in 12 starts this year this past weekend in an elimination for the Alberta Sires Stakes Plainsman at Century Mile.
Saucy B is also the dam of Stash The Cookies, who is still racing and who has won 27 of his 92 starts including three of her last four -- the other start a troubled trip.
Furthermore, Saucy B, is also the dam of stakes winner Saphire Blue.
Van Ostrand was the second-top consignor at the sale selling four yearlings for a total of $300,000 at an average selling price of $75,000.
As well as Zelenksy Rules, Hip 11, Van Ostrand's yearlings were also Hip 58 Crown The Dragon, a Custard The Dragon filly out of the Yankee Cruiser mare, Contesta Hanover, sold to Bob Jones for $66,000; and Hip 20 McMiracle, a McWicked sired filly out of the No Pan Intended mare, Panagler, sold to Brandon Campbell for $60,000.
"I can't complain about that can I?" said Van Ostrand, who is also a track veterinarian for Horse Racing Alberta. "I never thought they'd go that high. I was very happy with the sale. They said last year's sale was good. This was even much better."
In another bit of irony, Zelensky Rules' dam Luck Be A Lindy was also bought by Clark -- for $45,000 -- for Van Ostrand at the same Harrisburg sale where Clark bought Strut My Stuff and Encore Deo for Surdale Farms.
"Same trip; same sale," said Van Ostrand.
Luck Be A Lindy was in foal to Captaintreacherous at the time.
"He's sweet," Van Ostrand said about Zelensky Rules. "But he's still a stud. Oh, I sure hope he does well. But I just know he is going to be a nice horse. He's not an Alberta-bred; he's a Pennsylvania-bred. But I like to improve the breeding in Alberta so I sell all of my yearlings here.
"I'll have 10 yearlings at next year's sale. And I'm sure I'll buy something else. I might as well spend all the money I've made. I did well this year and I'll see if I can do it again next year."
For complete sale results, click here
(With files from Curtis Stock/thehorses.com)