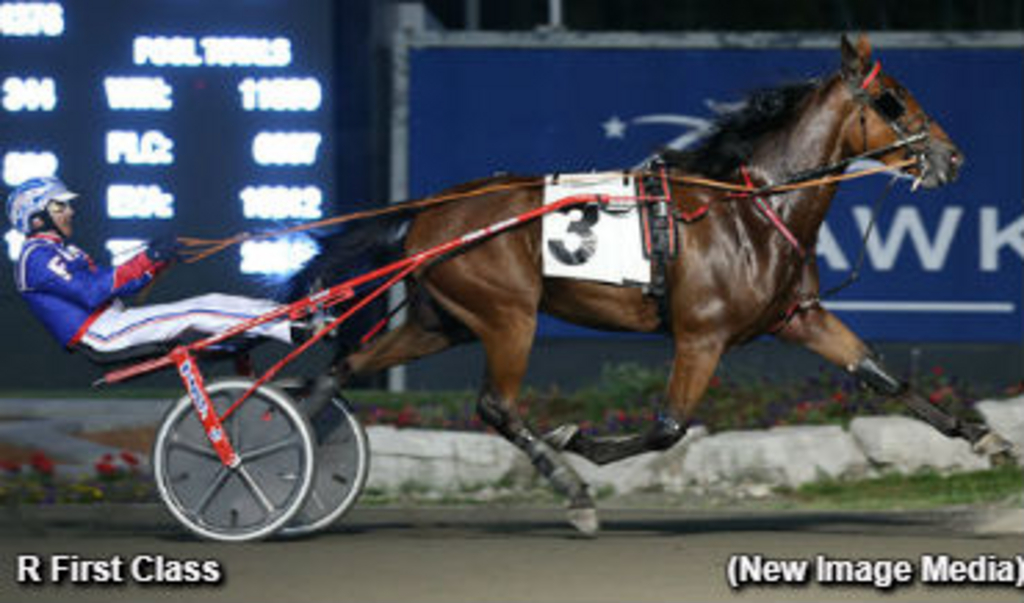 Published:
September 26, 2017 12:45 am EDT

A trio of OSS Gold Series divisions were the featured tilts during Monday's card of racing at Mohawk Racetrack, but those stakes stars had to share the spotlight with driver Sylvain Filion thanks to his five-win performance on the 10-race card.
Two-year-old trotting filly Kadabra Queen scored her fourth straight Gold Series win at Mohawk Racetrack on Monday evening, dropping her personal best by a full two seconds.
Starting from Post 4 in the $126,600 contest, driver Scott Coulter eased Kadabra Queen off the starting gate and dropped into fifth as Illusioneesta battled to a :27.2 opening quarter. Heading for the :57.3 half Coulter tipped Kadabra Queen out behind Collateral Beauty and then sat on that filly's shoulder as she took the field to a 1:26.2 three-quarters. Turning into the stretch Coulter asked Kadabra Queen for another gear and the fan favourite powered home to a three-quarter length victory in 1:55.1. Smoke And Mirrors closed hard to be second and Shamrock Shaker was hot on her heels in third.
"I hadn't really had to get into her too deep or race her too tough, you know, usually on the front or up close and tucked away," said Coulter after the race. "Tonight was the first time she had to do any serious work, and fortunately they were rolling down inside pretty good to the half tonight so I was able to collar them, and once she cleared she just swelled up and trotted away."
All three of Kadabra Queen's previous Gold Series victories had seen her sit in the pocket well into the race, or control the tempo from the front, but Brantford, ON resident Coulter said he knew almost immediately that Monday's trip would be of a different flavour.
"I knew it was only a matter of time before some of the other fillies started to trot off the car with her hard and tonight I could see within two steps there was a handful of them getting out of there as hard, or harder, than she was, and I said this is the time," said the driver. "So it was an easy decision, within moments of the car swinging away I knew that I was not going to be anywhere near the front, I was just going to kind of race her from off cover."
The daughter of Kadabra-Queen Street has lowered her personal best in each victory and Coulter is hoping that trend continues through the last Gold Leg at Flamboro Downs on Oct. 4 and the $225,000 Super Final at Mohawk on Oct. 14.
The reinsman says the gifted youngster is in excellent condition heading into the season's home stretch after enjoying a month long break following the Aug. 18 Gold Leg.
"She's carrying more flesh right now. She put on some weight there and filled out a little wee bit," Coulter noted. "As far as her mannerisms, she's pretty much been that horse from the very get-go, just she's all business, that's what makes her so fun to drive. A lot of two-year-olds there's things you have to worry about and wonder what they're going to do, and she just seems to go to work and that makes her a pleasure."
Campbellville resident Chad Milner conditions the filly, who has now earned $215,880 through eight starts for breeder Harness Horsepower Inc. of Campbellville and Frank Monte of Markham, ON. In addition to her four Gold Series wins Kadabra Queen has one second and three thirds in overnight action, with all but her debut coming at her hometown oval.
Mohawk also hosted two Gold divisions for the three-year-old trotting colts and geldings on Monday and driver Sylvain Filion triumphed in both divisions, piloting R First Class and Capteur De Reve to victory.
In the first $94,800 Gold division Filion sat second with R First Class through the :27.4 quarter rung up by LMC Mass Gem and then sent the fan favourite after the lead. On top by two lengths at the :57.2 half, R First Class fought off a challenge from Head Turning Jag heading by the 1:25.4 three-quarters and then cruised home to a three and one half length victory in 1:53.2. LMC Mass Gem finished second and Head Turning Jag was third.
"He really impressed me again tonight. Every time I sit behind him he seems to be getting stronger and stronger, and tonight he did it all by himself. I tell you the tank wasn't empty at the wire, he was full of himself still," said Filion. "You've got to give credit to Ben (Baillargeon) and his crew, they did a great job with him because at the beginning of the year, he was kind of a sneaky horse, you know, he didn't want to really go to the gate, he'd bail on you, but they got him pretty straightened out. I expect big things from him going forward."
The Kadabra gelding heads into the Oct. 14 Super Final in third spot in the point standings with two Gold Series wins and one second for trainer Benoit Baillargeon of Rockwood and owner-breeders Thomas and Elizabeth Rankin of St. Catharines, ON. In 11 lifetime starts R First Class has only missed the top two on one occasion, making a break and finishing seventh in the Aug. 13 Gold Leg at Rideau Carleton Raceway, and Baillargeon is in full agreement with Filion about the gelding's potential.
"I think he's going to turn out to be a very nice four-year-old," said Baillargeon. "He's a nice tall horse, but I think as a four-year-old he's going to fill out a little more, and I think he's got everything to be a real nice horse."
In the second $95,600 division, Filion employed come-from-behind tactics with Capteur De Reve, waiting until he was rolling off the final turn to ask the Muscle Mass son for a second gear. Capteur De Reve battled to a head victory in a personal best 1:55, holding off Dream Massive. Blameitonthewhisky stayed game for third after a tough trip that saw him parked to the half and forced to check his momentum when On First went off stride while sitting second.
"He's a gutsy little horse. We got a little lucky, you know, there was a bit of confusion at the half and the pace kind of slowed down all of sudden and we were able to get a covered up trip until halfway around the last turn," said Filion, who piloted Capteur De Reve to the win for trainer Maxime Velaye and owner-breeder Ecurie Provoquante of Mirabel, QC. "He kicked home real good; he did what he had to do."
The win boosted Capteur De Reve into sixth spot in the standings with two wins in two Gold Series starts. The top 10 point earners will return to Mohawk for their $225,000 Super Final on Oct. 14.
The stakes scores gave driver Filion two of his five victories on the card. He also posted triumphs behind Histoire Enchantee (1:50.1), Deuce Deuce Deuce (1:56.4) and Its A Big Secret (1:50.4).
Ontario Sires Stakes Gold Series action continues at Mohawk Racetrack on Tuesday evening with one $125,000 division for the two-year-old trotting colts. The colts will compete in Race 5 on the midweek program, which gets under way at 7:30 pm.
(With files from OSS)
To view results for Monday's card of harness racing, click the following link: Monday Results – Mohawk Racetrack.