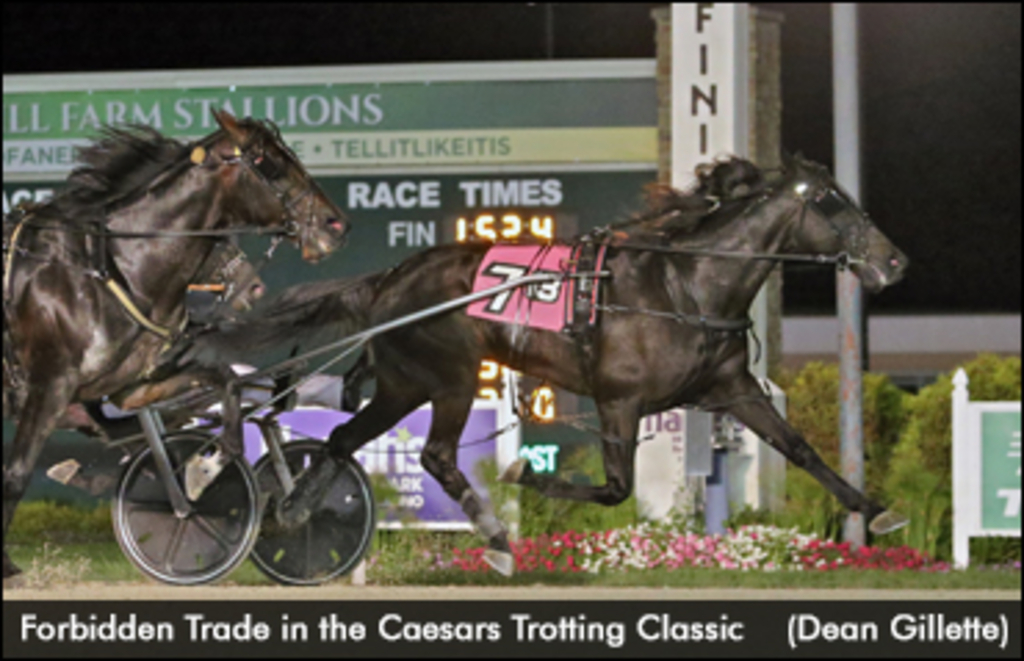 Published:
September 24, 2021 11:46 pm EDT

Canadian trotting star Forbidden Trade took his show on the road and captured the $210,000 Caesars Trotting Classic featured on Harrah's Hoosier Park's Grand Circuit stakes card on Friday, Sept. 24.
Bob McClure drove the 2019 Horse of the Year to the 1:52.4 victory, defeating a field of top trotters for trainer Luc Blais and owner Determination of Montreal, Que.
Leaving together off the gate from posts seven and six, Forbidden Trade out-sprinted Its Academic (Yannick Gingras) to the lead before the first turn, with Guardian Angel AS (Brian Sears) following in third.
Forbidden Trade reached the quarter in :27 and led the way through middle fractions of :56.1 and 1:24.2 while 6-5 favoured Maple Leaf Trot champion Lindy The Great (Andy Miller) advanced first-up into contention, with Ready For Moni (Dexter Dunn) following his cover. However, those rivals posed no threat late in the race as Forbidden Trade remained clear on top turning for home and trotted confidently through the stretch.
Its Academic popped the pocket down the lane and made a late lunge, but couldn't catch Forbidden Trade, who prevailed by three-quarters of a length. Guardian Angel AS finished 1-1/2 lengths behind in third while Ready For Moni was fourth. Lindy The Great finished ninth.
"I wouldn't say I was surprised [Lindy The Great wasn't leaving with us]. Everybody, they go for a different trip," said McClure in a post-race interview with Bob 'Hollywood' Heyden. "I was happy when I got the front so easy and we got a pretty good breather up the backside."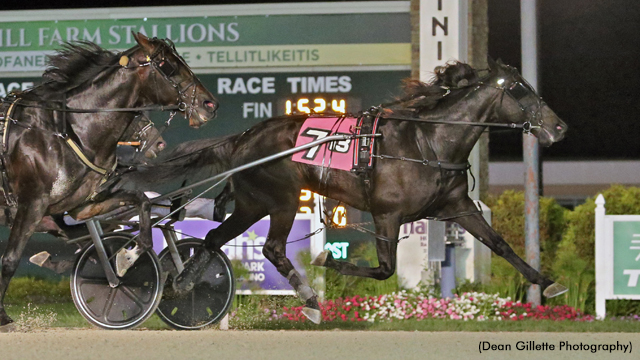 Forbidden Trade, who was runner-up in the Maple Leaf Trot earlier this month after a Canadian record performance in Earl Rowe Memorial Invitational, paid $8.60 to win as the 3-1 second choice.
"This is the best he's ever been," said McClure. "He was off a little while due to injury but that time did him so much good. He's in unbelievable form right now."
After winning just one of his five starts last year, the 2019 Hambletonian champion is four-for-10 this season and has earned just over $400,000. The five-year-old son of Kadabra and Pure Ivory has won half of his 40 career starts while banking $1,888,662 in purses.
Ocean Rock carried his winning momentum into the evening's $182,000 Hoosier Park Pacing Derby, coming out on top after an early tussle and drawing away in the stretch for driver Chris Page and trainer Christi Noble.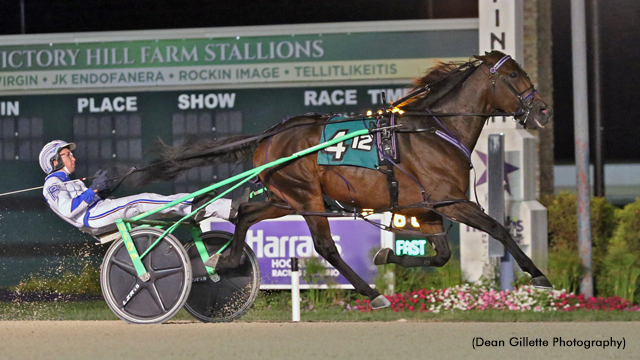 Fresh off his score in the Jim Ewart Memorial, 5-2 second choice Ocean Rock left from post four and fought for the lead early between Workin Ona Mystery (Tim Tetrick) and two-time Hoosier Pacing Derby champion This Is The Plan (Yannick Gingras), the 9-5 favourite. They raced three-wide into the first turn, with Ocean Rock clearing to command after the :26.2 quarter mark.
After landing behind the top trio from the trailing tier, 7-2 third choice Catch The Fire (Scott Zeron) launched his attack and advanced into second through middle fractions of :54.4 and 1:22.3 but Ocean Rock pulled away in the stretch to win by 2-1/2 lengths in 1:49 flat. Little Rocket Man (John De Long) closed inside to finish third ahead of Tellmeaboutit (Michael Oosting).
Ocean Rock has now won three in a row and six of his 14 starts this year. Lifetime, the four-year-old Rockin Amadeus-Ocean Pearl gelding has hit the board in 26 of his 33 starts, including 17 wins, earning $817,622 for owner/breeder Sandra Burnett.
Ocean Rock returned $7.20 to win.
Guided through the passing lane by David Miller, Chase H Hanover prevailed from the pocket with a 1:49.2 career-best effort in Friday's $130,000 Jenna's Beach Boy for three-year-old male pacers.
Leaving from post four, 2-1 slight favourite Chase H Hanover took the lead off the gate ahead of insider Emblaze Hanover (Yannick Gingras) with post eight starter One Eight Hundred (Dexter Dunn) pacing up alongside into the turn and clearing at the first quarter in :26.2.
One Eight Hundred proceeded to lead the field past the half in :55 and three-quarters in 1:22 while Virgo (Trace Tetrick) was flushed first-up from mid-pack with Rogers Image (John De Long) picking up the cover. However, it was his rivals in behind that threatened down the stretch, closing inside to steal the glory.
Chase H Hanover shot through first with Emblaze Hanover getting through along the pylons to finish second one length behind. Virgo rallied for third prize.
Fresh off a victory last Friday in the Keystone Classic at The Meadows, Chase H Hanover returned $6.60 to his backers.
The Captaintreacherous-Calgary Hanover gelding notched his third win from 15 starts this year for trainer Scott Cox, who also shares ownership with Jason Ash. Picking up his seventh win from 25 starts lifetime, the lion's share of the purse pushed his career earnings over the $500,000 mark.
Three-year-old trotting colts and geldings faced off in the $100,000 Phil Langley Memorial, with no surprises as the streaking 1-5 favourite Jujubee cruised to another stakes victory.
In Range (Tim Tetrick), the 9-2 second choice, left quickest of all from the outside post eight and sprinted the first quarter in :26.4 before Andy McCarthy sent Jujubee from fourth to first in a blink of an eye. The Greg Wright trainee hit the half in :55.4 and left his foes 3-1/4 lengths in arrears past three-quarters in 1:24 on his way to the 1:52.1 victory. In Range chased the winner home in second with Take All Comers (Brian Sears) following in third.
Jon Erdner's homebred Creatine-La Cantera colt, who won the Pennsylvania Sires Stakes Championship last time out after a four-week layoff, now has five consecutive wins and is 12-for-15 races this season. Lifetime, he has won 14 of his 20 starts and just over $350,000.
Jujubee paid $2.60 to win.
With the home turf advantage, Indiana Sires Stakes star Swift Swanda tackled open company on Friday night, winning the $115,000 Moni Maker for three-year-old trotting fillies.
Driver Trace Tetrick put Swift Swanda on the lead early before Aunt Irene (Dexter Dunn) swept to command from third down the backstretch after a :28.1 opening quarter. Aunt Irene continued to lead the fillies through a half in :57.3 and three-quarters in 1:26.3 but Swift Swanda popped the pocket and collared her with an eighth of a mile to go en route to the 1-1/4-length victory in 1:54.2.
Swift Swanda paid $6 to win as the 2-1 second choice. Delmonica Hanover Trot and Zweig Memorial champion Darlene Hanover (Andy McCarthy), the 9-5 favourite, moved underway from the backfield turning for home and got up to finish third behind runner-up Aunt Irene.
"Against open company, you're always a bit more worried, but I do think Hoosier Park does have a bit of an advantage for the homebreds," said Erv Miller, who trains the Swan For All-Cheetah Hall filly for Anthony Lombardi and The Kales Company.
"Tonight, you can see, she likes a trip. If she comes off a horse's back, she's better just most of the time with the company she's been racing in, Trace puts her on the front."
Swift Swanda, who is Breeders Crown eligible, earned her eighth win of the season from 11 starts and 14th victory overall while lifting her bankroll to $436,180.
Hoosier Park's fastest freshman pacer Fulfullnmydestiny continued his winning ways with a dominant score in the $120,000 Elevation for two-year-old pacing colts and geldings.
Trainer/driver James Yoder had the 2-5 favourite on the move early through a :27.3 opening quarter and cruised through middle splits of :56 and 1:23.1 before opening up 4-1/2 lengths to win in 1:50.2. Gentle Giant (Trace Tetrick) overtook Ponda Warrior (Brandon Bates) for second-place honours as he closed up the inside.
Owned and bred by Brett Boyd Racing Inc., the Tellitlikeitis-Driven By Destiny gelding entered The Elevation off four straight wins in the Indiana Sires Stakes, including a 1:49.2 triumph -- the track's first sub-1:50 mile by a two-year-old.
"He does it so easy," commented Yoder. "He's such a classy animal and for him to be two and doing what he's doing, it's phenomenal."
Fulfullnmydestiny, who is being pointed to the Breeders Crown beyond the Indiana Sire Stakes, now has five wins and a pair of seconds with $192,190 earned from eight starts.
He paid $2.80 to win.
Two-year-old fillies Joviality S and Lyons Serenity also kept their respective win streaks rolling in the $200,000 Kentuckiana Stallion Management Stakes.
Joviality S kicked off the stakes action early evening, winning the Kentuckiana for trotting fillies.
After getting away fourth through a :28.4 opening quarter, the popular New York Sire Stakes champion charged to command for driver Brian Sears and carved out middle splits of :58.3 and 1:27.1. Early leader Raised By Lindy (Yannick Gingras) took a shot moving off her back midway down the lane, but came up a half-length short as Joviality S prevailed in 1:54.1. Je Suis Si Belle (Andy Miller) followed 10 lengths back in third.
Joviality S extended her win streak to four and equalled her lifetime mark that she took at The Meadowlands in the Jim Doherty eliminations.
Trained by Marcus Melander for AM Bloodstock Inc., the homebred Chapter Seven filly is the first foal out of the multiple Grand Circuit stakes-winning mare Pasithea Face S. She is now six-for-eight with earnings soaring to $324,623.
Joviality S returned $2.40 to her backers as the 1-5 favourite.
Lyons Serenity extended her win streak to six as the 3-5 favourite delivered a career-best 1:52 triumph in the pacing filly division for trainer Jim King Jr. and owner Threelyonsracing of Brantford, Ont.
There were multiple lead changes early on, including a brief appearance by Lyons Serenity and driver Tim Tetrick at the half in :55.4 before 4-1 second choice Cape Cod Hanover (Chris Page) followed her backstretch move and cleared to command. Lyons Serenity then tracked Cape Cod Hanover past three-quarters in 1:24.2 before sneaking through up the inside lane for the half-length defeat. Lorraine Smoke (James Yoder) finished third.
"I was happy when Chris's horse kept following me, that way I could race mine off a helmet," said Tetrick after the race. "The classes that she's been in, she had to cut it -- she's been 1-9 all the time -- but her first start, I did win out of a hole and went up the inside in the passing lane at The Meadows.
"When I first got her up in there, she kind of stalled but the other mare was fighting me too so I don't know if mine was hanging or that one was just fighting us good."
A Southwind Farms-bred daughter of Sweet Lou out of Southwind Serenity, Lyons Serenity is now seven-for-eight in her young career with $181,842 banked in purses. The victory was her biggest to date after competing mostly in the Pennsylvania Stallion Series.
"She's really grown up a lot in her last four or five [starts]," said Tetrick. "She's letting me do my job. Before, she wanted to do it her way. We had to manage her...and she's really learning fast."
Lyons Serenity paid $3.20 to win.
Amid the stakes action, favourite Rockin Nola claimed the $51,000 Jerry Landess Memorial Invitational for fillies and mares as she overtook the front-stepping Mystical Carrie (Trace Tetrick) in the stretch and opened up three lengths before hitting the wire in 1:49.2. Bettors Up (Lewayne Miller) rounded out the top three.
Joey Putnam was in the bike as the five-year-old Rockin Image-Gottogetoutmore mare won for the seventh time this year from 17 starts. Joe Putnam trains the Indiana Sire Stakes graduate, who is a 28-time winner approaching the $700,000 earnings mark. She is owned by J P Racing and Suttons Bay Racing.