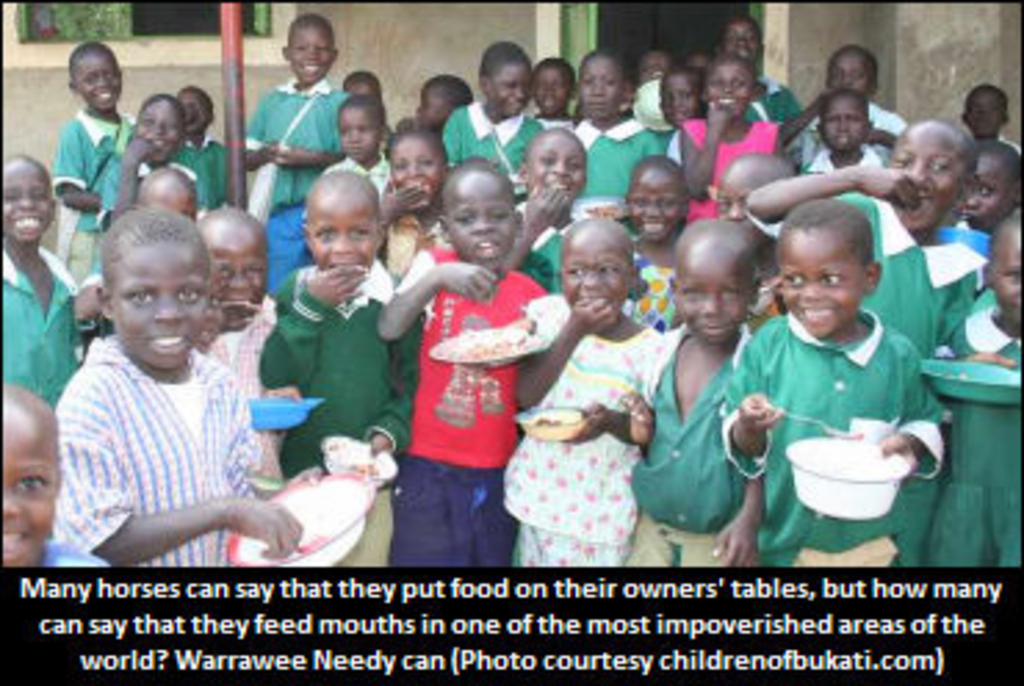 Published:
September 23, 2011 10:19 am EDT
When Warrawee Needy rolls in behind the starting gate at Grand River Raceway on Monday evening, the two-year-old pacing colt will be facing a little more pressure than the rest of the field
.
In spite of his status as the divisional point leader and two-time Ontario Sires Stakes Gold final champion, the pressure will not be coming from peers hoping to knock him out of the top spot or owners hoping to earn a third Gold final trophy. The pressure will be coming from 750 children in western Kenya who are counting on his success to fund their dreams of a secondary school education.
"I'm giving a percentage of what I make from 'Needy' to a charity called Children of Bukati," explained the colt's co-owner and breeder, Dr. Michael Wilson of Rockwood, Ont. "An ex-graduate student of mine went to Kenya three or four years ago and was disturbed to see all of the kids that didn't have enough energy to go to school because they didn't have enough food, so she set up her own school and feeds them. She now feeds 700 children.
"The first class or two have gone on to secondary school, and I am supporting scholarships for girls to go to secondary school," he continued. "I think educating girls can have a tremendous effect on changing the world. So Needy is racing for them."
Dr. Cate Dewey launched the Children of Bukati project (www.childrenofbukati.com) in 2006 and continues to steer the grassroots effort with the support of volunteers in both Canada and Kenya. The primary goal of the project was to enable all AIDS orphans and destitute children in the rural village of Butula to attend the Bukati Primary School, and with the initial school expected to be self-sustaining by June 2012, the project has expanded to neighbouring Bwaliro and Samia.
Warrawee Needy will have a slightly-larger-than-usual opportunity to spur change Monday, as the purse money from the Gold elimination has been added to the Gold final purse, making the event worth $170,000. The Gold elimination was cancelled when Grand River Raceway was forced to halt last Monday's program after just four races due to unsafe racing conditions. With one colt scratched out of that event, all nine hopefuls proceeded directly to this Monday's Gold final.
Regular reinsman Jody Jamieson will steer Warrawee Needy from Post 5 for Wilson and his partners, trainer Carl Jamieson of Princeton, Ont., Thomas Kyron of Toronto, Ont. and Floyd Marshall of Jarvis, Ont. While admitting his bias, Wilson is confident that the strapping son of E Dees Cam and Great Memories can land his third Gold final victory from the middle of the starting gate.
"I am more than marginally biased, but I don't think it really matters where he starts," said Wilson. "Which is not to say he is going to win, but if he is on form and no mishap occurs, I don't think it matters."
Warrawee Needy has raced over the Grand River Raceway oval on two previous occasions. He dominated his July 25 Battle Of Waterloo elimination with a 13-length victory in 1:53.4 and finished third in the final one week later behind Machapelo.
Machapelo will be hoping to repeat that order of finish from Post 6 in Monday's ninth race, while reigning Gold final champion I Found My Beach is handicapped by the outside Post 8.
"It's a horse race, and, as Needy has shown, all kinds of things can happen in horse races," noted Wilson. "It all depends on how the race unfolds Monday."
Grand River Raceway will send its first race behind the gate at 7:10 p.m. on Monday, and all eyes will be on Warrawee Needy and his peers as they battle for $170,000 in Race 9.
Before the Gold final, Grand River Raceway fans will have another opportunity to enter the Ontario Sires Stakes program's 'Win The Thrill' contest. Monday's Win The Thrill finalists will be awarded a Grand River Raceway betting voucher and earn a shot at the grand prize — one share in the Standardbred Breeders of Ontario Association's (SBOA) New Owner Mentoring Program.
The grand prize draw will be held at Mohawk Racetrack during the October 1 Grassroots Championships, with the winner joining eight other first-time owners and mentor Brian Webster in partnership on Ontario-sired pacing colt Bad Boy Matt, who will be trained by Tony O'Sullivan in hopes of competing in the 2012-2013 Ontario Sires Stakes program.
More information about the Win The Thrill contest and the SBOA New Owner Mentoring program is available at ontariosiresstakes.com and standardbredbreeders.com. Ballots and details are available in the official Grand River Raceway program.
To view the harness racing entries for Monday at Grand River Raceway, click the following link: Monday - Grand River Raceway
(OSS)