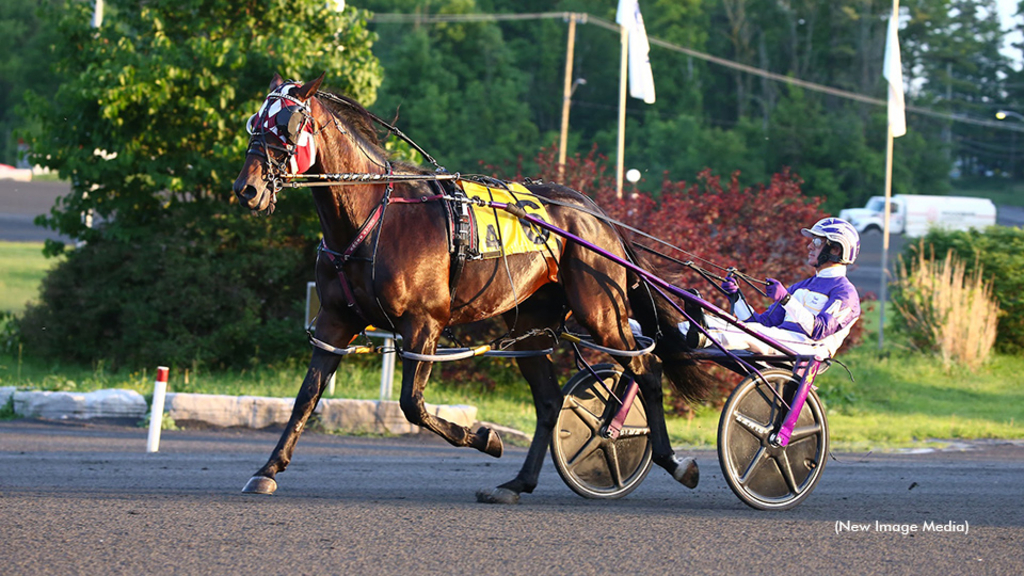 Published:
September 22, 2022 11:57 am EDT
Brian Brown knows what it is like to come close to winning the Little Brown Jug. This year, he hopes to experience the thrill of victory.
Brown will send out three horses in Thursday's Little Brown Jug for three-year-old pacers at the Delaware County Fairgrounds: Night Hawk, Gulf Shores and Six Feet Apart. Night Hawk is in the first of the event's two $50,000 eliminations and is 7-2 on the morning line. Gulf Shores and Six Feet Apart are in the second elim, at morning-line odds of 5-1 and 6-1, respectively.
The top four finishers from each elimination advance to the $541,550 final later in the day.
Brown, who is stabled at the fairgrounds, finished second in the 2015 Little Brown Jug with Lost For Words, who was beaten by a nose by eventual U.S. Horse of the Year Wiggle It Jiggleit in one of the most memorable editions of the race in its 76 years.
"It would be [special to win]," Brown said recently in a Trackside Live interview hosted by Ohio Harness Horsemen's Association Outreach and Public Relations Coordinator Frank Fraas. "It's something you grow up dreaming about, wanting to do. I've been close once, but I haven't got there yet."
He remembered once being told, "Not only do you have to be good to win the Jug, you've got to be lucky."
"I've never considered myself lucky," Brown added wryly, "so I don't like to deal with that."
Night Hawk has won four of 12 races this year and earned $292,502 He heads to the Jug off a third-place finish in the Pennsylvania Sire Stakes championship. He starts his elimination from post five in a five-horse field. David Miller will drive Night Hawk. Miller is tied with Billy Haughton and Mike Lachance for the most Jug trophies in history with five.
"I don't like my post position, even in a five-horse field; I still drew the outside," said Brown. "A lot of times in the small fields, if they line up real quick, then they go real slow fractions. You're still sitting last and it's hard to pass anybody when they're going slow fractions and come flying home. I leave that part to David Miller. He'll figure it out.
"The horse is good. He gets around the track well. He trains here, so he'll have no problem with the turns. It's just how things work out."
Gulf Shores was voted Ohio's top two-year-old male pacer in 2021 after finishing no worse than second in nine of 10 races, winning six and earning $493,967. This season, he has won three of 10 races and earned $147,888. He will start his elim from post two in a field of six. Yannick Gingras will be in the sulky.
"We really haven't put our finger on [what has been wrong]," said Brown. "We've gotten a lot of different opinions, but nothing has turned him back into who he was last year. He's only had two terrible starts. His other starts have been OK, but not 'Gulf Shores' OK. It's been very disappointing because we know he's a better horse than this."
Six Feet Apart is winless in eight races this year after winning five of nine last season and earning $99,225. He will start his elimination from post four with Miller in the bike.
"It will be tough for him because he drew the four-hole," said Brown. "He's not a quick speed horse, so he's a little more susceptible to the fractions. If they roll along, this horse races really good when they do that. In a short field, are they going to have any speed? This horse can rough it if that's what he needs to do. David will figure that out."
Bythemissal is the 8-5 morning-line favourite in the first Little Brown Jug elimination while Fourever Boy is the 9-5 choice in the second.
To watch the Little Brown Jug and all the action Thursday from Delaware courtesy of Ohio Harness Horsemen's Association, click here.
(USTA)