Published:
September 22, 2011 11:07 am EDT
Sure, the Caretakers Classic was only an exhibition race, but try to tell that to the five grooms that participated. To say they were out for blood would be an overstatement, nevertheless, each groom certainly wanted to win Wednesday, September 21 at Monticello Raceway.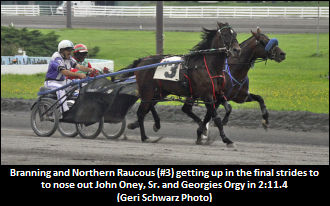 After a very interesting stretch battle, driver Jeff Branning and Northern Raucous outdueled John Oney, Sr. and Georgies Orgy to score a 2:11.4 win. The race was contested in jog carts and without the use of whips. Constance Lawrence rallied late on the far outside with We Shall See N to finish third.
Branning has been a caretaker for the John Stubits Stable since the early 1980s, while Oney has been a longtime groom in the Frank Yanoti Barn. Lawrence works in the Peter Stratton Stable.
Oney and Georgies Orgy set the pace from the pole position, and Branning stalked them with Northern Raucous until the five-eighths pole, at which point he moved his pacer and ranged alongside the leader. From there, the two raced as a team around the final turn in through the stretch. It turned out to be a great battle all the way to the wire.
"I was an also-eligible last year and didn't get a chance to race, so I really wanted to win this time," Branning told Shawn Wiles, the track's assistant general manager who presented the trophy. "Me and John (Oney, Sr.) were rockin' our jog carts in the stretch and my horse finally got the best of his just before the finish."
Daniel Houghtaling, from the Gary Campbell Stable, finished fourth. After having made a break at the start, Cody Houghtaling, from the Vernon James Barn, finished fifth with Bay Street.
The Caretakers Classic is a series of two races for grooms. The second dash will head postward Thursday, September 22 and will take place between Race 5 and Race 6 on the pari-mutuel card.
(Monticello)