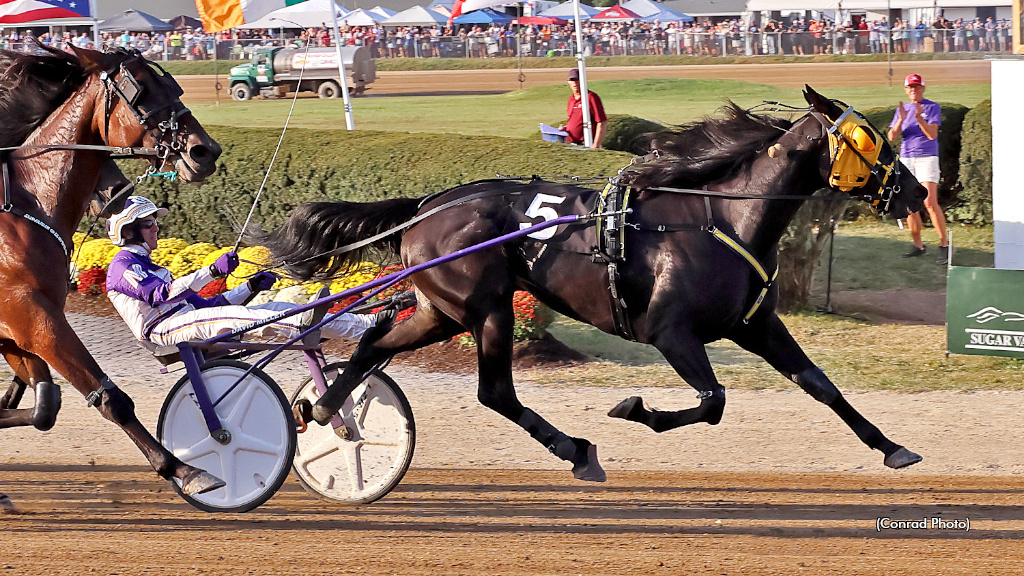 Published:
September 21, 2023 07:03 pm EDT
While the main event was one for the record books, the undercard for the 2023 Little Brown Jug on Thursday, Sept. 21 definitely had its share of memorable moments.
M Ms Dream Has Gutsy Effort in the Ms. Versatility Final
The heavily favoured M Ms Dream (pictured above) was forced to race first-over for much of the mile and gutted out a three-quarter length victory over a fast-closing Adare Castle (James MacDonald) and Warrawee Xenia (Tim Tetrick) to win the $90,000 Ms. Versatility Final.
M Ms Dream is a daughter of Swan For All. She is owned by Eleven Star Stables, Frank Baldachino and Hillside Stables. Ron Burke trains the career winner of $1.2 million.
The winning time was 1:52.4.
Miller And Herodotus Take Home The Bucket
David Miller made his 243rd trip to the Delaware County Fair winner's circle in the $100,000 Old Oaken Bucket for three-year-old trotting colts.
Miller guided Herodotus to a 2-1/2 length win over Talent Scout (Dexter Dunn), who was elevated to second when Drink Up Drink Up (Aaron Merriman) made a lapped-on break at the wire.
The winning time of 1:53.1 established a new track record for three-year-old gelding trotters.
Herodotus now has eight lifetime wins for Burke Racing Stable, Hatfield Stables and Weaver Brucsemi.
Janelle Granny And Rose Run Zane Take Ohio Breeders Sophomore Colt Pace Divisions
Janelle Granny (Brett Miller) rebounded from a third-place finish in the $300,000 Ohio Sires Stakes Final on Sept. 9 and held off a persistent Racing Rebel (Sam Widger) and Outer Banks (Chris Page) to win the opening division of the Ohio Breeders Championship (OBC) for three-year-old pacing colts in 1:52.2.
Betty Jo Clegg owns and trains the Fear The Dragon colt, who has finished on the board in all but one of his 15 starts this season.
The lightly-raced Rose Run Zane (Austin Hanners) took the final $75,000 division in a lifetime best 1:51.1.
Unraced at two and making only his sixth start of the season, the Racing Hill gelding went gate-to-wire to defeat a challenging Fear The Image (Tyler Smith) and Midwind Beach Boy (Yannick Gingras).
The winner is owned by John and Leann Saunders and trained by Dan Venier.
OBC Sophomore Colt Trots To Jet Hill, John Dutton
Jet Hill (Ronnie Wrenn, Jr.) got some redemption from Grand Revival (Brett Miller) and took the opening division of the Ohio Breeders Championship for three-year-old colt trotters.
The winner benefited from breaks in stride in the final turn by Grand Revival and K J Alexander (Austin Hanners) and cruised to a four-length 1:53.2 win over Rose Run Yorick (Chris Page) and Jogging Full Trot (Dan Noble).
The What The Hill gelding is owned by the Serenity Racing Stables and trained by Edward Miller. He has won eight of 12 seasonal starts.
Jet Hill finished second to Grand Revival in the $300,000 Ohio Sire Stakes championship on Sept. 9.
Chris Page sent John Dutton to the early lead and never looked back in the second $59,000 division.
John Dutton was a half-length better than Black Magic (David Miller) and Burtons Hill (Dexter Dunn). The mile was timed in 1:55.
The What The Hill gelding is trained by Ron Burke for Burke Racing Stable, Knox Services, Johnny Yoder and RAS Racing. The $29,500 first place check pushes his career earnings to over $400,0000.
Stakes Record Broken in OBC Three-Year-Old Filly Pace
McSeaside (Chris Page) and Somwherunderheavn (Tony Hall) both broke the stakes record with their 1:51.4 victories in the OBC for three-year-old filly pacers.
Somwherunderheavn won the first $63,500 division by 2-1/4 lengths over Celebrate Me Home (Chris Page) and Cruise Alert (Brett Miller).
The Steve Carter-trained daughter of Nob Hill High is co-owned by Jeff Fought Racing, Brian Carsey, Adam Friedland and Patty Carter.
McSeaside is the daughter of Downbytheseaside and is trained by Ron Burke for Burke Racing Stable, Beasty, J & T Silva Stables and Knox Services.
She defeated Fear The Britches (Trevor Smith) and Kassagi (Sam Widger) by 2-1/2 lengths.
Racing Rampage, Rockmelikeyameanit Score OBC Wins In Sophomore Colt Pace
It was a long time coming, but the 2022 Ohio 'Two-Year-Old Pacer of the Year' was back in the winner's circle in the Ohio Breeders Championship for sophomore colt pacers in a lifetime best 1:51.
Brett Miller drove Racing Rampage to a gate-to-wire victory by three lengths over Somewhere Vintage (Dexter Dunn) and a closing Trooper L (Hank Levan).
The Racing Hill gelding is co-owned by trainer Darren Dowler and Lawrence Bettler.
Racing Rampage picked up his first win of the season and the sixth of his career. He has more than $318,582 on his card.
The first $61,500 division went to Rockmelikeyameanit who survived a wild finish in 1:52.2.
Rockmelikeyameanit was 1-1/4 lengths better than Dynamite Dylan (Brett Miller) and Act Fast (hris Page) who hit the line together in a dead heat.
Dan Noble drove the winner, who is trained by Christi Noble, for Dennis R. Owens, Norman Rae Racing and James F. Morris. He has earned $422,103 during his career.
Bird And Grenade Breaks Maiden In The Standardbred
Bird And Grenade was winless in his first eight starts, but broke his maiden in the $50,000 Standardbred trot for two-year-old colts with a 1:56.3 victory.
Brady Brown steered the winner for trainer Steve Schoeffel and co-owners Kathy Schoeffel and Four Cousins Stable.
Flirtnwiththepilot (Peter Wrenn) and Vanguard (Tim Tetrick) was second and third.
Silken Sweet Was Smooth In Standardbred
Silken Sweet (Yannick Gingras) won the non-wagering $40,000 Standardbred for freshman pacing colts in 1:52.3.
The pacesetting Solid Character (David Miller) was second and Special Menu (Dexter Dunn) was third.
D Racing Stable and Donald G. Mac Rae are the owners of the Betting Line gelding. He is trained by Deborah Daguet.
Silken Sweet was a $15,000 yearling purchase and now won three of his 10 two-year-old starts.
Oldford Stars For GLADA In Jug Day Hall Of Fame Trot
Steve Oldford has had quite a week in Ohio. 
Veteran amateur driver, first, achieved a win on opening day of Little Brown Jug week with his own Muscles For Life  as the Spanish-American Friendship competition got under way in Delaware, Ohio.
In a post-race interview after that event, Oldford said, "Yes, he's 10 (years-old) but he's got the heart of a lion and he's only had a couple of starts this year and he's going to get even better."
No truer words were ever spoken.
On Little Brown Jug day, Oldford brought Muscles For Life back for a second helping in the Hall Of Fame and Museum Amateur Racing Series and, after an early tussle in the opening stages in that mile, the 10-year-old was never headed sawing through panels of :27.4, :56.1 and 1:25.2 before coasting home a six length winner in 1:55 — his fastest winning performance since December of 2021 and his fastest win on a half-mile track ever!
It was the 45th lifetime win for Muscles For Life and, with his 2-1-0 scorecard in only three starts this year, vaulted his lifetime bounty to $526,841. 
"'Bucky' (trainer Goldschmidt) does a superior job training him and keeping his healthy and he's a big reason for the successes."
Muscles For Life paid $5.00 to win.
Spain was also represented proudly in this event as Vicente Mata, a native of Mahon, Spain, the capital of the Spanish island Menorca, finished second with Baby Yoda.
MJS Wishinforpete, driven by Lukas Harper, was third while Devan Miller, driving Pass The Vape, was next. Alesha Binkley was able to complete to the top five with Stone Throw Away.
The Spanish-American Friendship competition was a huge success providing always needed camaraderie between countries and Oldford said it is expected to continue and expand further in future competition featuring amateur drivers.
(with files from LBJ / GLADA)