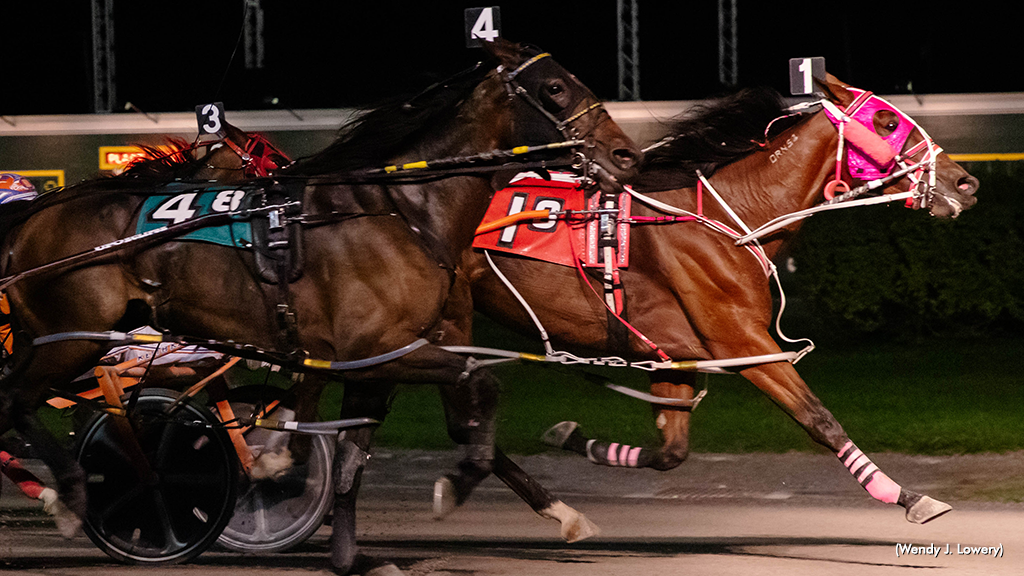 Published:
September 21, 2022 10:34 pm EDT
There was a major upset in the $15,000 Fillies and Mares Open Pace on Wednesday night (Sept. 21) at Batavia Downs after Pretty Blue Angel got a perfect trip and scored an 81-1 upset victory in the program's eighth race. 
Winning Words was the only leaver and took the front ahead of the pylon starting Pretty Blue Angel and went to the quarter in :28.2 and the half in :58. As the race approached the five-eighths, Dontustopbelieven N pulled from third and had the heavy post-time favourite Dashintothebeach N right on her back.
Winning Words continued to look strong and hit three-quarters in 1:26.2 while Dontustopbelieven N stalled in her bid, forcing Dashintothebeach N three-wide before the last turn. At the apex of that final bend, Pretty Blue Angel pulled the pocket and went on the attack against Winning Words. Under urging, Pretty Blue Angel got the advantage in deep stretch and then had enough left to hold off the fast closing Dashintothebeach N to win by one-quarter length in 1:55. 
It was the fourth win and fastest mile of the year for Pretty Blue Angel who returned $164.50 for the win. The five-year-old Big Jim-Blue Angel Cam mare is owned by Justina Ohol and is trained by Mike Ohol. Keith Kash Jr. drove the winner.
Jim Morrill Jr. remained red hot on Wednesday, winning five more races at Batavia. 
In the co-featured $11,000 upper-level distaff pace, Morrill won with Ruthmae Hanover, who cut the mile to the half in a very pedestrian :59.2, briefly give up the lead to How About Murph at three-quarters and then regained the front to hold off a late bid from the tripping Misty Memory N to win by one-quarter length in 1:57. 
Ruthmae Hanover is trained by Angelo Nappo for owner Steven Goehle. He paid $3.20 to win.
Morrill also won with Payara (1:55.3 winning time, $3.90 to win), Ideally Sweet (1:57.4, $4.30), Queen Of Thrones (1:55.3, $3.80) and Tucson Breeze (1:58, $2.30). 
Shawn McDonough led all trainers on Wednesday with two wins. 
Live racing resumes at Batavia Downs on Friday (Sept. 23) with post time at 6 p.m. (EDT).
(Batavia Downs)