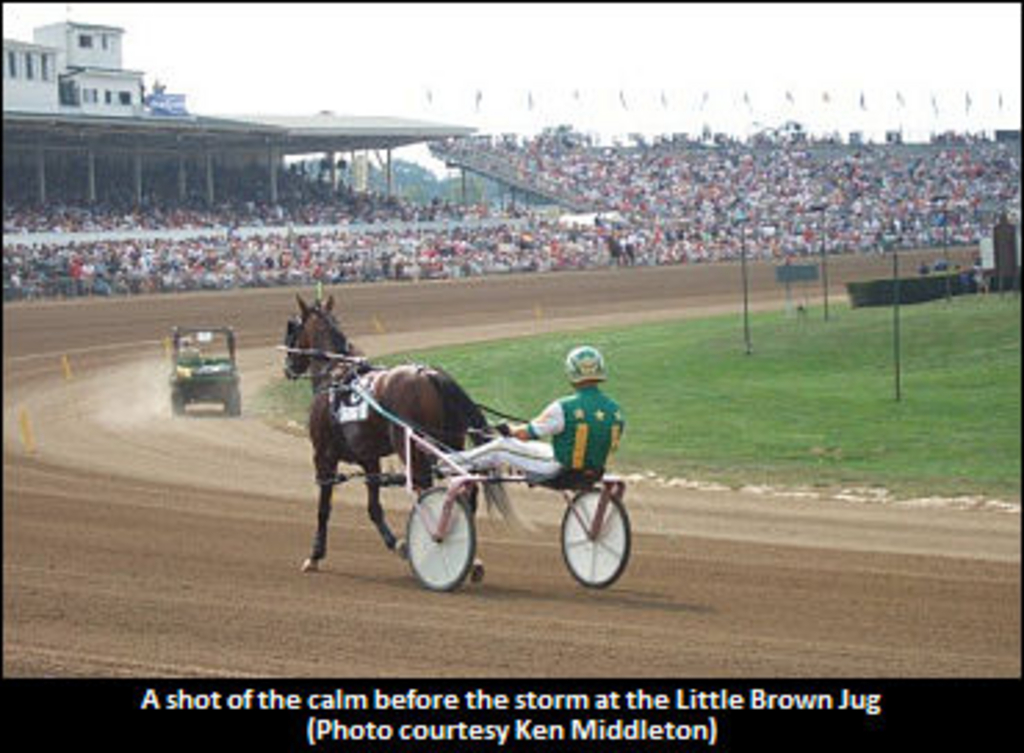 Published:
September 20, 2010 02:48 pm EDT
Meadowlands Racetrack Statistician Bob Heyden has once again been back in his lab crunching numbers. With the highly anticipated Little Brown Jug just days away, 'Hollywood' has taken a close look at Rockin Image, Rock N Roll Heaven and One More Laugh
.
The Little Brown Jug will be contested Thursday, September 23 at Ohio's Delaware County Fair. To view the post position draw for the first heat of the Little Brown Jug, click here.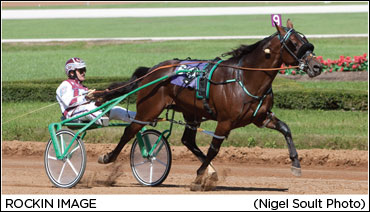 • Will it be back-to-back Jug wins for Lothlorien? It could do no wrong last year with Jug winner Well Said. Lothlorien also sent Rockin Image's sire, Rocknroll Hanover, postward in the 2005 Jug (he finished second in his opening heat and third in the final)
• Rockin Image finished fourth in the Meadowlands Pace. When was the last time a horse was fourth in the Meadowlands Pace and then won the Jug? The year was 2003 and the horse was No Pan Intended, who ended up winning pacing's Triple Crown
• Rock Image's trainer, Jimmy Takter, won his Little Brown Jug debut in 2006 with Ontario-sired Mr Feelgood
• Rockin Image is from the first three-year-old crop of Rocknroll Hanover, the 2005 Horse of the Year in the United States
• Five of the 10 winners in the last decade in the Jug were sired by a Horse of the Year
• Rockin Image's dam, Kikikatie, was the United States' Two-Year-Old Pacing Filly of the Year in 2003
• Takter is looking for his first Pacer of the Year. He had the American trotter of the year four times (consecutively from 1997-2000)
• Rock N Roll Heaven's driver, Dan Dube, was second with the United States' 2000 Horse of the Year Gallo Blue Chip
• Rock N Roll Heaven was favoured in both the Pepsi North America Cup (where he finished fourth) and the Meadowlands Pace (second)
• Rock N Roll Heaven finished second in the Meadowlands Pace this year, and six times the Meadowlands Pace runner-up has gone on to win the Jug (Hot Hitter [1979], Life Sign [1993], Astreos [2000], Bettors Delight [2001], Timesareachanging [2004] and Tell All [2007])
• Dube is a native of Canada, and 20 of the last 32 Jug-winning drivers were born in Canada
• Rock N Roll Heaven will head to Australia for stud duty after the racing season (Most Happy Fella in 1970 was sold the day before the Jug)
• Bettors Delight is the last Pepsi North America Cup favourite to win the Little Brown Jug (2001)
• One More Laugh and Rock N Roll Heaven were 1-2 in the Meadowlands Pace. When was the only other time that the 1-2 'Pace' finishers were also the 1-2 Jug finishers? That was in 1980, when Niatross beat Storm Damage. The order happened in reverse in the year 2000; that is when Pace runner-up Astreos turned the tables on Pace winner Gallo Blue Chip
• Trainer Bruce Saunders looking for his first Jug winner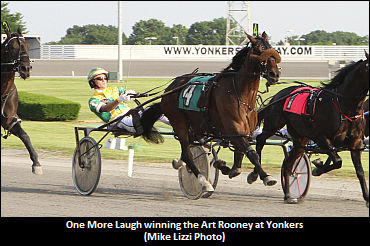 • It has been 27 years since the last horse won the Little Brown Jug, the Cane Pace and the Meadowlands Pace. The horse was Ralph Hanover and the year was 1983. Niatross in 1980 is the only other horse to accomplish the feat
• One More Laugh enters the Jug with a mark of 1:47.4, but that's not the fastest coming in. Art Official had a mark of 1:47 when he contested the Jug in 2008
• One More Laugh just posted the fastest mile in the history of Freehold Raceway with a 1:50.3 scorcher in the Cane Pace
• Ray Schnittker is making a bid to become just the fifth trainer ever to have a Trotter of the Year and a Pacer of the Year (Stanley Dancer, Billy Haughton, Steve Elliott and Blair Burgess have done so prior)
• One More Laugh is a gelding. A gelding (Western Dreamer) won the Pacing Triple Crown in 1997 even though he was not favoured in the final of the Jug. He was 3/2, while Dream Away made a break at even money
• Three geldings in the past 15 years have been Pacer of the Year in the U.S. (Red Bow Tie, Gallo Blue Chip, Western Dreamer)
• There are five sub-1:50 freshmen in the sport's history:
Sportswriter - 1:49.2 - (retired)
One More Laugh - 1:49.2 - (one of the horses to beat in 2010)
Somebeachsomewhere - 1:49.3 - (did not contest the 2008 Jug)
Sheer Desire - 1:49.3 - (did not contest the 2009 Jug)
Rocknroll Hanover - 1:49.4 - (finished second and third in the 2005 Jug)
• Ray Schnittker was recently inducted into the USHWA Upstate New York Hall of Fame
• One More Laugh's sire, McArdle, won 28 of his 54 lifetime starts and finished in the money 47. He was involved in 10 career photo-finishes (nose, head or a neck) and won them all