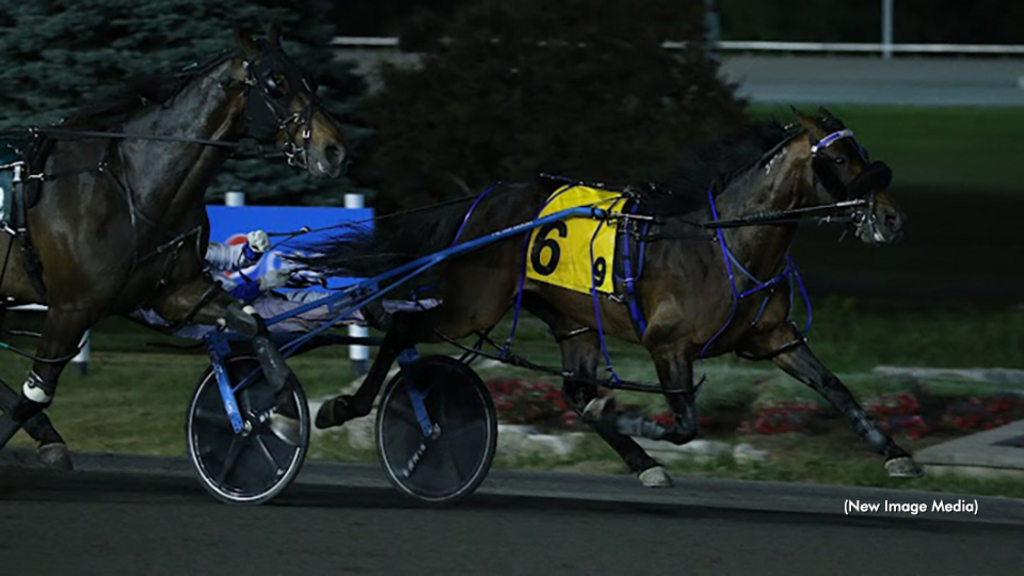 Published:
September 2, 2022 05:32 pm EDT
Tattoo Artist, a 27-time winner and earner of more than $1.6 million, will look to add another triumph to his tremendous racing career, this time in Saturday's $650,000 Canadian Pacing Derby at Woodbine Mohawk Park.
Trained by Dr. Ian Moore for owners Let It Ride Stables, Frank Cannon and Diamond Creek Racing, the five-year-old son of Hes Watching - Stylish Artist arrives at his latest engagement off a third in his Pacing Derby elimination on August 27.
Bred by Tara Hills Stud Ltd., the bay will face a formidable field of foes in the final, a group that includes world-record holder Bulldog Hanover, multiple stakes winner Jimmy Freight and last year's Pepsi North America Cup champ and Canada's Horse of the Year, Desperate Man.
"He's doing fantastic," said Moore. "With the eight-hole, he can leave well from there. I don't think it will be a big challenge for us. It will be interesting to see how the race sets up. Obviously, there are some very good horses in there."
Last week, Tattoo Artist's race line contained the abbreviation 'BE,' denoting broken equipment.
"He kind of had broken equipment," started Moore. "He wears cheek rolls, which is essentially where you can't see back bridle. One of them fell off at the quarter-pole, apparently. I'm not sure how it happened. Velcro keeps them on. I was warming up another horse before that race and I didn't get to check it before he went out. Somehow, it got loosened up and fell off during the race. But he raced well last week. Unfortunately, we didn't get him until Thursday. He came Wednesday night and I hoped to have him a little earlier than that. We didn't have a lot of time to prepare him, but he's much better prepared this time. I trained him at the farm track today [Thursday] and we're looking to forward it."
Moore is simply happy to have the highly productive pacer back in his barn.
It has been somewhat of a nomadic life for Tattoo Artist over the past couple of campaigns.
"We had him almost the first three years of his Standardbred career and then, the second year, last year, when the coronavirus really hit hard in May and June, we sent him down to [trainer] Chris Ryder in the U.S," offered Moore. "We've had the horse back and forth a few weeks at a time since then. This is probably the third time."
Moore isn't the only familiar face to have welcomed him with open arms.
"It's always great to have him back in the barn. Giselle Loder, who looked after him when he was younger, as a two-year-old, still looks after him. He's turned into a super little horse in every which way possible. When he jogs, he just lopes along like an old 10-year-old, and when you need him to be, he's all business."
Moore's lofty praise of the 2020 O'Brien Award winner as Canada's Three-Year-Old Pacing Colt of the Year doesn't end there.
The veteran conditioner, who has campaigned several outstanding stars over the years, lauded one particular element of Tattoo Artist's Swiss army knife-like skillset.
"He probably has the quickest turn of foot of any horse I've ever had, how he can go from one speed and transition to another. It's really amazing. When he was younger, he used to scramble a bit to get into that next gear. Now, you don't have to even ask him. You just release your grip on the reins a little bit and he just takes off on his own."
Fashioning a seasonal mark of 7-5-3 from 17 starts, Tattoo Artist, who will have leading Mohawk driver James MacDonald in the sulky on Saturday, is all systems go according to Moore, and he has come a long way from his early days in the game.
"He was a little rat to break. He was very rude and ignorant, I guess would be the way to put it. We had to tow him in the golf cart for a while to get him going. Now, you wouldn't find a more perfect horse. You just walk to the track, and he'll stop and look around. He's just a lovely horse to do anything with and there's no fault to him at all. I love him."
That adoration, however, does have its limits.
Moore draws the line at adding some ink if Tattoo Artist happens to cross the line first tomorrow evening.
"No, I probably won't. I don't have any now, and I don't think I ever will."
The field for the Canadian Pacing Derby final is listed below:
1. Rockyroad Hanover (Todd McCarthy - Tony Alagna) - 10-1
2. Jimmy Freight (Louis-Philippe Roy - Richard Moreau) - 4-1
3. Abuckabett Hanover (Tim Tetrick – Tony Alagna) - 12-1
4. Bulldog Hanover (Dexter Dunn - Jack Darling) - 6-5
5. Poseidon Seelster (Bob McClure - Donald Lindsey) - 15-1
6. Desperate Man (Trevor Henry - Kathy Cecchin) - 8-1
7. Lous Pearlman (Yannick Gingras - Ron Burke) - 15-1
8. Tattoo Artist (James MacDonald - Dr. Ian Moore) - 10-1
9. Workin Ona Mystery (David Miller - Ron Burke) - 15-1
10. Warrawee Vital (Sylvain Filion - Rob Fellows) - 15-1
AE. My Pal Joe (Doug McNair - Gregg McNair) - 20-1
To view the entries for Saturday's card of harness racing at Mohawk, click the following link: Saturday Entries - Woodbine Mohawk Park.
(Woodbine)