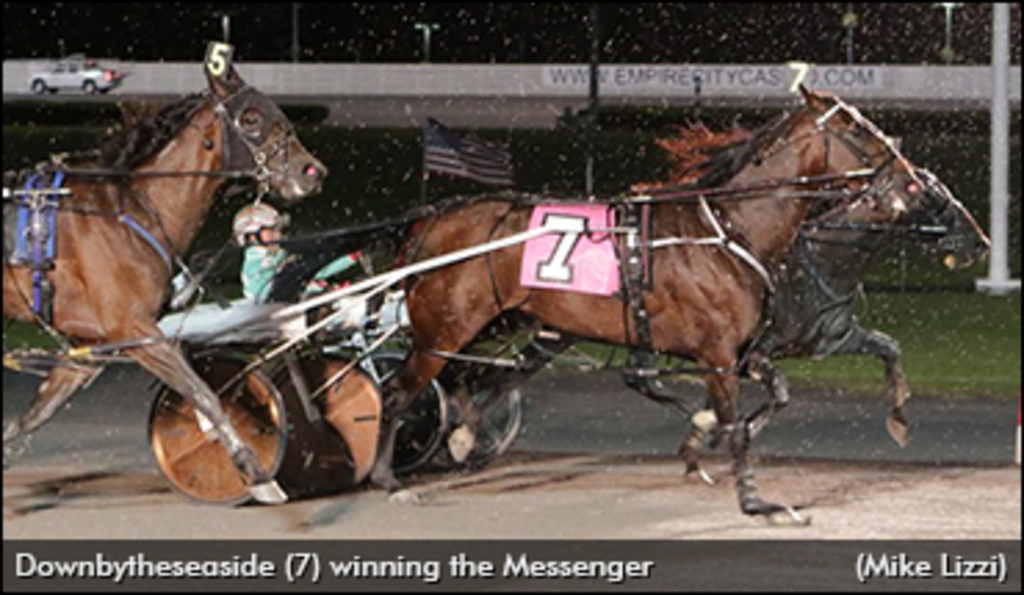 Published:
September 2, 2017 08:47 pm EDT
Grabbing the lead before the quarter, Downbytheseaside fended off late challengers to narrowly take the $500,000 Messenger Pace in 1:52.1 among a quartet of sophomore stakes events at Yonkers Raceway on Saturday, September 2.
Passing the quarter in :27.1, Downbytheseaside slowed the tempo through a :56 half as Miso Fast, tipping wide from fifth, began his pursuit towards the lead approaching the backstretch. Art Scene, on his back, managed to slide into the pocket vacated by Blood Line, who faltered approaching three-quarters, while Downbytheseaside maintained the lead from Miso Fast through a 1:24.1 third-quarter.
Art Scene dove into the passing lane moving into the stretch and Funknwaffles edged off cover to lunge after Downbytheseaside, who held the front by a nose at the wire from Art Scene, with Funknwaffles settling for third and Miso Fast checking in fourth.
A three-year-old colt by Somebeachsomewhere from the Allamerican Native mare Sprig Hanover, Downbytheseaside, paying $2.10 to win, won his eighth race in 12 starts this year and his 16th overall in 25 starts, compiling $1,533,322 in earnings for owners Country Club Acres, Joe Sbrocco, Richard Lombardo, and Diamond Creek Racing. He is trained by Brian Brown and was driven by Brian Sears.
Pulling first over on his stablemate, Top Flight Angel slid to the lead in the stretch and held off a passing-lane bid from Yes Mickey to win the $500,000 Yonkers Trot in 1:56.3.
Devious Man set a soft tempo of :28.4 and :58.4 after the other elimination winner Guardian Angel As broke at the start. Yes Mickey rode the pocket and Top Flight Angel tracked from third. Driver Brian Sears edged Top Flight Angel wide of Yes Mickey midway down the backstretch, boxing in the 9-5 second choice as even-money favourite Devious Man hit three-quarters in 1:27.3.
By Archangel from the S J's Photo mare Top Photo, Top Flight Angel, trained by Julie Miller, won his fifth race in 20 starts overall, earning $373,421 for owner Legendary Standardbred Farm. He paid $16.20 to win.
Top Flight Angel swiftly took the lead in the stretch. Yes Mickey angled into the passing lane, supplying a final challenge to the new leader but coming a nose shy at the wire. Devious Man finished third, and Southwind Cobra finished fourth.
Celebrity Ruth took the $119,010 Hudson Filly Trot going wire to wire in 1:56.3. The three-year-old Archangel filly out of the Tom Ridge mare Celebrity Obsesion went unchallenged through fractions of :28.1 and :58.2 before enduring minor pressure from Sunshine Delight around the final turn. Following three-quarters in 1:27.2, Sunshine Delight lost stride and Celebrity Ruth turned for home clear of Chapter Too chasing in second and Mamora Bay rushing into third.
Racing for owner White Birch Farm, Celebrity Ruth, conditioned by Trond Smedshammer and driven by Jason Bartlett, won her fifth race in 11 starts, amassing $280,938 in earnings. Sent off the 8-5 favourite, she paid $5.40 to win.
Launching to the lead, World Apart yielded for a pocket trip and slingshot passed tempo-setter and 4-5 favourite Angels Pride to win by a nose in the $113,880 Lady Maud in 1:53.3.
Angels Pride circled to the lead following a :27.3 opening quarter and was unchallenged through splits of :56.1 and 1:24.3. World Apart edged out of the pocket at the top of the stretch, and the two match strides well in front of Robin J taking third from Awash tiring in fourth.
Competing for owners South Mountain Stables, Bay's Stable, Little E LLC and Radio Racing Stable, World Apart, by Art Major out of the Rocknroll Hanover mare Polar Opposition, won her sixth race in 21 starts, earning $235,365. Trained by Linda Toscano and driven by Jason Bartlett, she paid $14.90 to win.