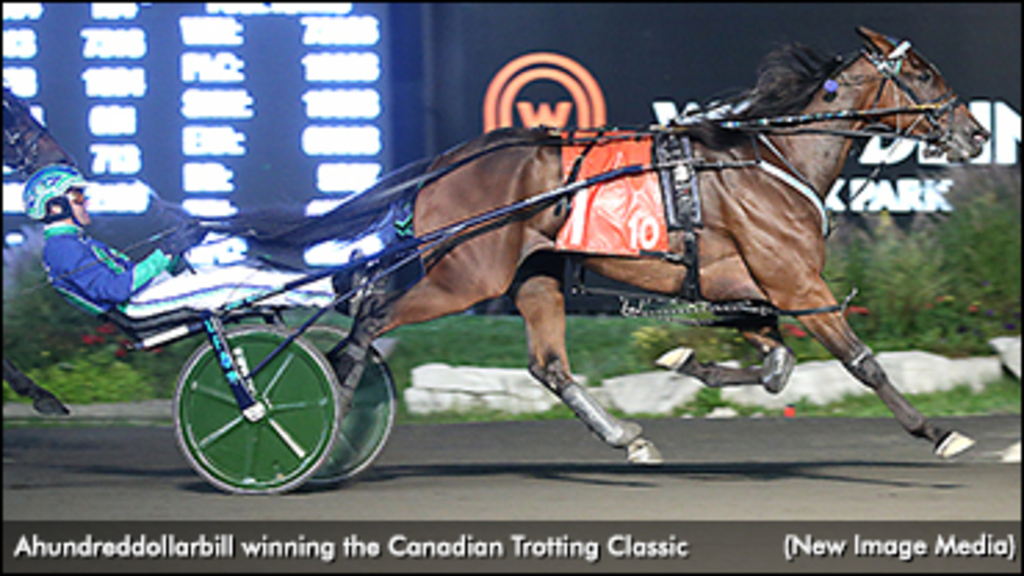 Published:
September 18, 2021 11:19 pm EDT

New York dynamo Ahundreddollarbill made his first start outside state-bred company since a defeat in the Yonkers Trot and worked a lucrative trip to collect in the $606,500 Canadian Trotting Classic on Saturday (Sept. 18) at Woodbine Mohawk Park.
Winning Ticket, who supplemented into the final, fired from post 10 to click a :26.3 first quarter with In Range his closest pursuer. On A Streak raced gapped from third to the backstretch and gradually closed on the loose duo with the backfield following suit. As the field recompacted, 4-5 favourite Fashion Frenzie pulled first over to take a shot at Winning Ticket to a :55.2 half with Ahundreddollarbill following his cover from second over.
Fashion Frenzie pressed Winning Ticket to three-quarters in 1:23.2 while Ahundreddollarbill readied to roll off a helmet. Driver Andrew McCarthy angled the Chapter Seven gelding three-wide off the turn and swept to the lead before stopping the clock in a track-record 1:52. In Range rallied through a gap to the pylons to take second with Winning Ticket holding third and Fashion Frenzie fading to fourth.
"I guess last year's was unexpected; it was a very nice surprise," said McCarthy, who scored a large upset in the 2020 Canadian Trotting Classic with Chestnut Hill. "A little ducking and weaving in the stretch there. But this year, I really thought I had the best horse in the race. He's had a little time off, and obviously we talked about him unfortunately tying up before the New York Sires Stakes Final, but I went second trip tonight and he felt slick as a needle. I thought I was in a pretty good spot tonight.
"This horse has been racing on half-mile tracks most of the year, and it's kind of crazy not to send them on the halves. But he is a lot better with a trip," McCarthy also said. "He relaxes well and races great off a helmet, so I kind of wanted to work out a second-over trip tonight if I could. Worked out great that it was Louis [Roy and Fashion Frenzie] I was following. I didn't see that much speed from the outside on paper, but still just trying to find someone to follow. We ended up getting the right one. He was definitely swelled up in the last turn; he was ready to rock 'n roll."
Owned by Crawford Farms Racing and James Crawford, Ahundreddollarbill won his eighth race from 10 starts this season and his 10th from 16 overall, pushing his earnings to $755,107. Tony Alagna trains the $10.90 winner.
The Canadian Trotting Classic topped a stakes-packed program at Woodbine Mohawk Park on Saturday (Sept. 18). Read all the recaps in the Mohawk Saturday Stakes News Centre.