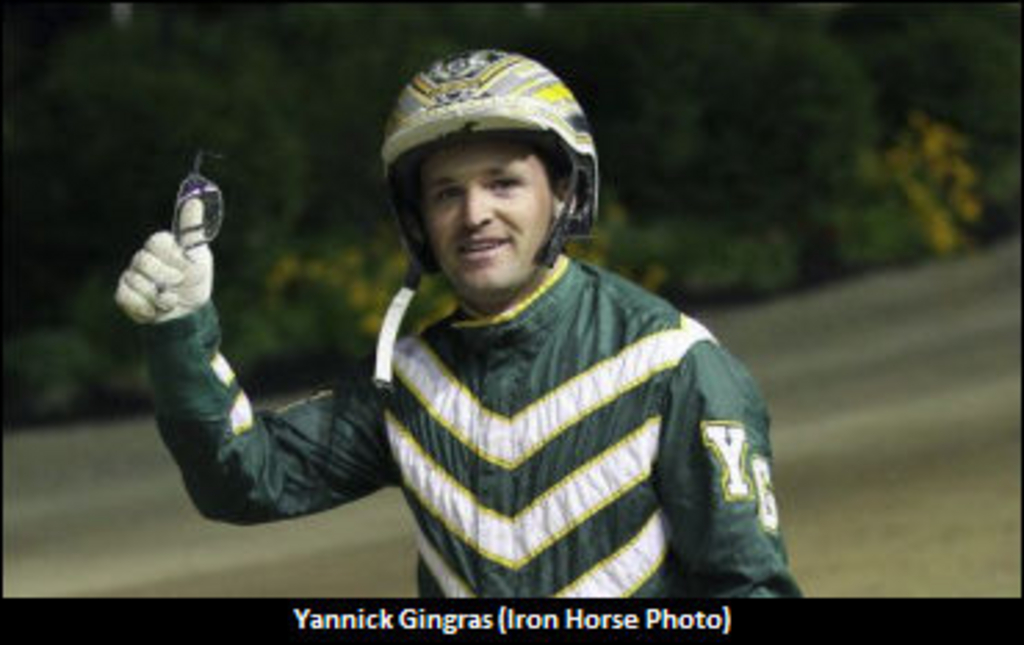 Published:
September 18, 2012 12:05 pm EDT
Yannick Gingras knows what it is like to have a dream fulfilled. Now he will try to return the favour.
In July, Gingras won the Meadowlands Pace, thanks to three-year-old pacer A Rocknroll Dance and trainer Jim Mulinix. On Thursday, Gingras and the colt will look to give Mulinix a victory in the $487,550 Little Brown Jug.
Mulinix was born in Toledo, Ohio, and lives in nearby Wauseon. The Jug, which is the second jewel in the Pacing Triple Crown and contested at the Delaware County Fair in central Ohio, is one of the most sought-after trophies in harness racing, particularly by horsemen from the Buckeye State.
"It would be great to win for myself, but it would be great to win for Jim," Gingras said. "My race was the Meadowlands Pace and we got that accomplished. I know the thrill; I know how he would feel. Really, maybe I could only imagine how he would feel, because he is older than me and he's dreamed of winning (the Little Brown Jug) a hundred times in his head. It would be a thrill to get it done for him."
Fourteen horses entered the Little Brown Jug, which is contested in heats. The field was divided into two seven-horse opening-round heats, with A Rocknroll Dance the 2-1 morning-line favourite from Post 7 in the second division. Michaels Power, the sport's leading money-winning pacer, is the 2-1 favourite from Post 3 in the first.
The top four horses in each of the opening divisions will advance to the $234,024 second heat. If a first-heat winner scores in the second heat, he will be the Jug winner. Otherwise, the three heat-winners will return for a $97,510 race-off. The last time a race-off occurred was in 2000, when Astreos defeated Gallo Blue Chip, George Scooter and Profita.
A Rocknroll Dance, owned by the A RockNRoll Dance Stable, has won four of 13 races this year and earned 990,447.
The son of Rocknroll Hanover--Wichita Hanover has several major stakes victories to his credit this year, including the $600,000 Meadowlands Pace (with a wire-to-wire effort of 1:48.1), the $500,000 Battle of the Brandywine (in a track-record 1:48.1 at Harrah's Philadelphia) and the $300,000 Max Hempt Memorial (in a stakes record of 1:48.3).
For his career, A Rocknroll Dance has won 11 of 24 starts and accumulated $1.85 million.
"I know that Jim will have him totally on his toes for (the Jug); that's the race he's been aiming for all year," Gingras said. "He'll be ready.
"He's got all the qualities you want in a good horse. He's got speed and he's big and strong; very good gaited. As for the Jug, he's got great gate speed; he's shown that already. And he's shown his toughness, too. I don't think the two heats will ever bother him. He's a horse that thrives on racing a lot. I like my chances."
A Rocknroll Dance heads to the Little Brown Jug off a second-place finish to Panther Hanover in the $257,571 Simcoe Stakes at Mohawk Racetrack in Ontario. A Rocknroll Dance started in the second tier in the 12-horse field, from Post 12, and was nine and a half lengths behind at the halfway point before getting the lead briefly in the stretch.
"He definitely had some traffic; from Post 12, you figured it was going to happen," Gingras said. "It got a little crowded in the first turn, and then from there I was hoping to get some cover. For once when I wanted cover, I didn't get it. But I thought he raced really good. It just shows how tough he is. He's shown it all year."
Gingras, who ranks No. 2 among all drivers in North America for purses, with $9.74 million, is looking for his first Jug winner. His best finish came in 2010 when he was fourth with Rockin Image. He knows racing at the Delaware County Fair is a special event.
"It's definitely a huge thrill for us having that many people there," Gingras said. "The Jug is so different because people are right on top of you. They're right there on the fence and on Jug Day there will be anywhere from 40,000 to 50,000 people and it feels like they are so close compared to the other tracks. The two heats go back to tradition, so it's definitely a very special day."
Below is the field for the $487,550 Little Brown Jug, in post position order, with drivers, trainers and morning line odds.
$78,008 First Elimination
HN-Horse-Driver-Trainer-Line
1. Escape The News-Tim Tetrick-Joe Holloway-10-1
2. Major Bombay-Jim Morrill, Jr.-Tony Alagna-8-1
3. Michael's Power-Scott Zeron-Casie Coleman-2-1
4. Bolt The Duer-Mark MacDonald-Peter Foley-5-2
5. Thinking Out Loud-Randy Waples-Robert McIntosh-7-2
6. One Through Ten-David Miller-Jim Arledge, Jr.-15-1
7. Time To Roll-Jimmy Takter-Jimmy Takter-6-1
$78,008 Second Elimination
HN-Horse-Driver-Trainer-Line
1. Sweet Lou-Dave Palone-Ron Burke-3-1
2. Bettor's Edge-David Miller-Linda Toscano-5-1
3. Simply Business-Ron Pierce-Jimmy Takter-10-1
4. Carol's Comet-Brett Miller-Ron Potter-12-1
5. Dapper Dude-John Campbell-Robert McIntosh-8-1
6. Bakin On The Beach-Tim Tetrick-Mark Harder-15-1
7. A Rocknroll Dance-Yannick Gingras-Jim Mulinix-2-1
---
This story courtesy of Harness Racing Communications, a division of the U.S. Trotting Association. For more information, visit www.ustrotting.com.