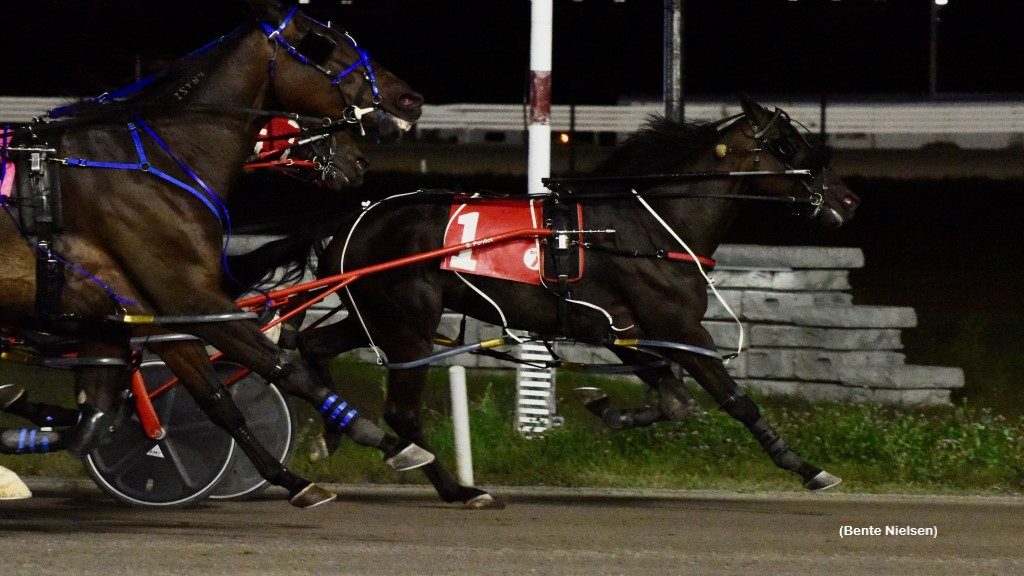 Published:
September 17, 2023 11:18 pm EDT
Preferred pacers highlighted the 11-race Sunday (Sept. 17) card at Rideau Carleton Raceway, with Shotgun Jerry teaming up with Stephane Pouliot to pull off the 11-1 upset victory.
Leaving from the rail in the field of seven in the $10,000 Preferred Handicap, Pouliot landed Shotgun Jerry in the pocket to the opening quarter as Lovemyrockinbird and Pascal Berube led to that station in :27.3. Lovemyrockinbird continued to have things his way up front to the halfway point in :57.3 as Shotgun Jerry patiently waited in the pocket. Race favourite The Light Speed and Guy Gagnon were the first to move from third, engaging Lovemyrockinbird at three-quarters in 1:24.4.
As the field turned for home, Shotgun Jerry surged up the passing lane for Pouliot with a :28.2 final quarter to get the jump on the field in a scramble for the wire. Shotgun Jerry prevailed by a half-length in 1:53.2. The Light Speed finished second, with Lovemyrockinbird holding for third. Shotgun Jerry returned $25.60 for his backers at the windows.
The victory was the eighth in 2023 for Shotgun Jerry, who is also trained by Pouliot for owner 9096 9205 Quebec Inc. Shotgun Jerry is a four-year-old gelded son of Royal Mattjesty-Michiko and pushed his career bankroll into six figures with the victory, now banking $101,924.
To view Sunday's harness racing results for Rideau Carleton, click the following link: Sunday Results - Rideau Carleton Raceway.