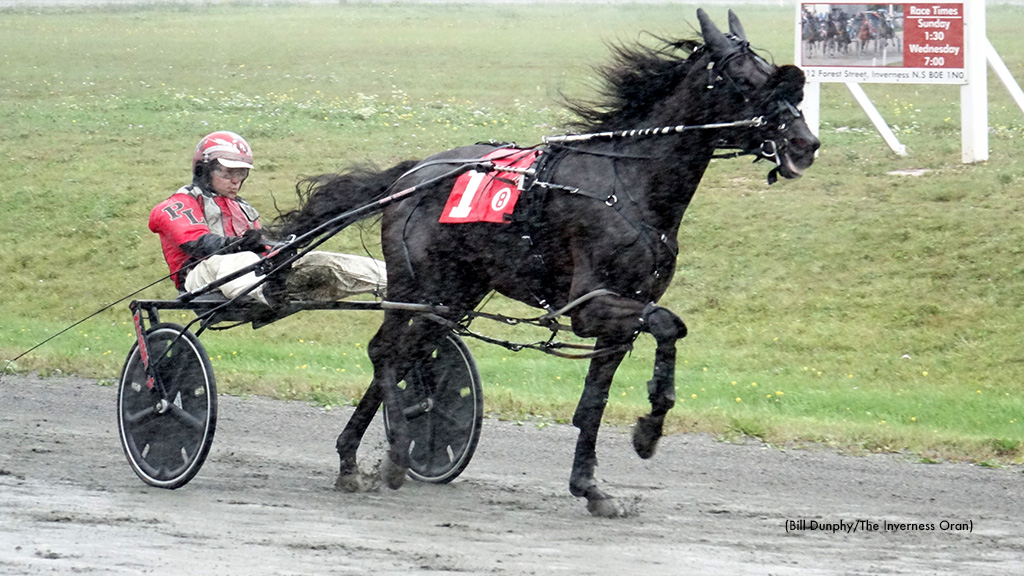 Published:
September 17, 2023 05:16 pm EDT
Four races topped the Inverness Raceway card on Sunday (Sept. 17) as the feature races and each race was won from gate-to-wire, including the $20,620 Atlantic Sires Stakes "A" division for three-year-old pacing colts won by Malignity.
In fact, of the 10 races on the card, nine were won from gate-to-wire.
In the ATSS, Paul Langille and Malignity distanced themselves from the pack with every panel to post the gelding's eighth victory in a row.
After posting fractions in :28.4, :58.1 and 1:28, Malignity pulled away to a 14-1/4-length achievement in 1:57.2. Proudofyatoday (Redmond Doucet) finished second with Bacononabiscuit (David Dowling) third.
Owned by Debbie Francis and Rosanne Langille, the three-year-old Malicious gelding is trained by Paul Langille. The win was his ninth victory in 11 starts this season and 18th career victory. He now shows $70,080 earned this year and $141,833 earned lifetime. He paid $2.80 to win.
Saulsbrook Mabel and David Dowling shared in the gate-to-wire wealth to take the $15,980 Phil Pinkney Memorial for three-year-old pacing fillies.
Leading through panels in :31.4, 1:02.3 and 1:32.1, the Joseph Baxter trainee never looked back to win by 4-3/4 lengths in 2:00.4. Redlandbethany Jean (Brodie Mac Phee) was second and Woodmere Jade (Donald Gillis Jr.) rounded out the top three.
Baxter co-owns the three-year-old daughter of Malicious with Saulsbrook Stables Inc. Saulsbrook Mabel moved her seasonal record to 3-5-0 in eight starts and career record to 6-5-0 in 11 starts. She now has $58,277 earned. She returned $2.90 to her backers.
Bee Two Bee earned the early command of the field of five going for $8,000 in the Inverness Invitational Pace and led every step en route to a three-length achievement. 
Driven by his trainer, Bee Two Bee and Jason Hughes controlled the tempo with panels in :29.4, :59.1 and 1:28 before winning in 1:57.3. Batterup Hanover (Langille) was second and Rollwithhottytoddy (Myles Heffernan) took the show spot.
Donald MacRae and Blair MacLauchlan co-own the six-year-old son of Sunshine Beach as he earned his fourth win of the season and 23rd victory lifetime. Bee Two Bee moved his bankroll to $372,922. He paid $2.90 to win.
Euchred pocketed the winner's share of the $1,800 purse after winning every step of the Winners Over Pace.
Walter Walker and his trainee rolled out panels in :30.1, 1:01.1 and 1:31.3 before hanging on at the wire to win by a quarter of a length in 2:02.3. Solid Silver (Rodney Gillis) grabbed second and JJ Scarlett (Doucet) completed the top trio. 
Owned by Kayla Habicht Walker, the 11-year-old Shadow Play gelding won his fourth race in 11 starts this season and his 80th career tally. He boasts $164,115 in career earnings. He paid $4.20 to win.
To view Sunday's harness racing results, click the following link: Sunday Results - Inverness Raceway.