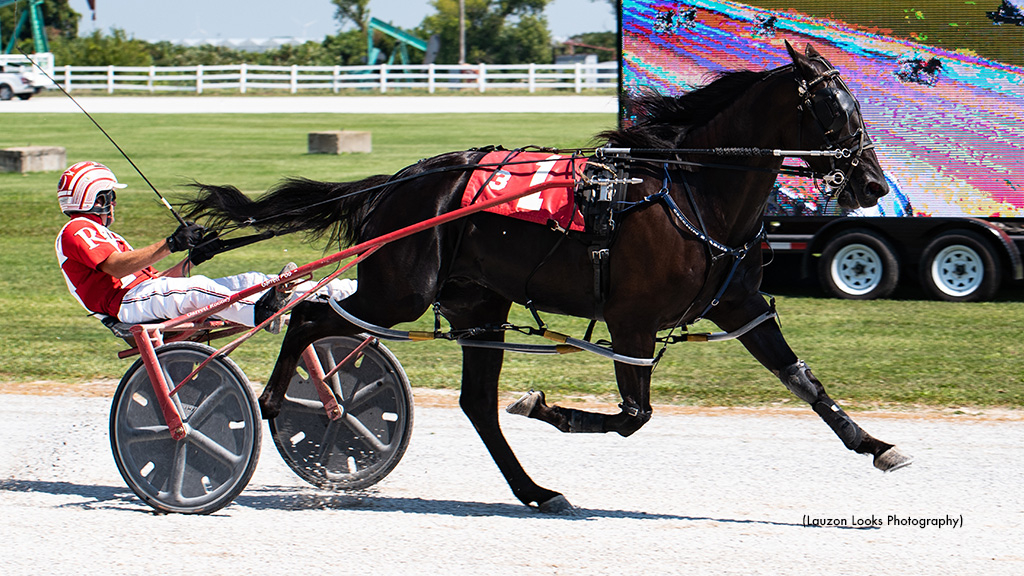 Published:
September 17, 2023 12:58 am EDT
Crazy World is quietly putting together one solid sophomore season.
Unraced at two, the son of Control The Moment - One For The World has posted a 8-7-2 summary from 18 sophomore starts for owners John & Kathy Cecchin of Arthur, Ont. Only once he's missed the top three, and that came in a race where the brown gelding suffered broken equipment. 
On Saturday, Sept. 16 at Hiawatha Horse Park, Crazy World was never better. He faced eight rivals in the single $8,900 Prospect Series division, and paced away from those rivals in a lifetime best 1:53 score for driver Garrett Rooney. Leave It To Luther (Scott Wray) and It Takes Two (Lorne House) rounded out the top three.
Crazy World paid $4.40 to win as the 6-5 favourite, and — should he enter — he'll be one of the major players in the Prospect Series final in the Cecchins' backyard at Grand River Raceway on Wednesday, Sept. 27.
Rooney swept the features on the Saturday night card in Sarnia, finding a seam late with Wrap And A Hooey ($7) in the $5,000 Preferred 3 Trot to just nail Workininonbroadway (Donnie Rankin Jr.) in the absolute final strides of a 1:58.2 mile. Pacesetter Hot Fudge Sundae (Alfie Carroll) stayed for third.
Greg Price trains and co-owns seven-year-old Wrap And A Hooey (Dontyouforgetit - Flanery Hall) with Dominic De Santis of Windsor, Ont. and Tom Jacobs of Kingsville, Ont. With his second win this year and 23rd lifetime, the trotter sports $142,004 in purse earnings.
To view the results from the Saturday night card at Hiawatha, click the following link: Saturday Results - Hiawatha Horse Park.
(Photo of Crazy World from win at Leamington)