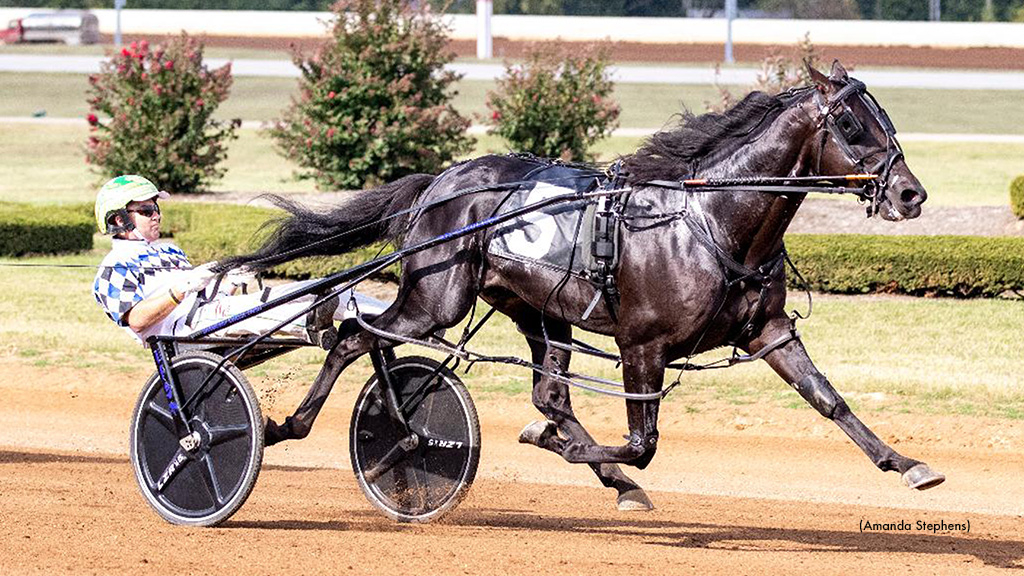 Published:
September 17, 2023 08:06 pm EDT
Two of the sport's brightest stars, Confederate and Geocentric, sparkled on a superb 10-race card, which offered $3.4 million in prize money and included eight $400,000 Kentucky Championship Series finals and two $100,000 Kentucky Commonwealth Series finals for freshman and sophomore trotters and pacers on Sunday (Sept. 17) at Red Mile.
Confederate (Tim Tetrick), the swiftest three-year-old in harness racing history, won as he pleased with a final time of 1:49 in the final for sophomore male pacers. His stablemate, Command (Todd McCarthy), was second with For Once Inmy Life (Andrew McCarthy) coming home in third.
For Once Inmy Life strode to the top right at the beginning of the contest for three-year-old male pacers and established fractions of :26.3, :55.3 and 1:23. Shortly before the three-quarter pole, Confederate, who was sitting in fourth, could wait no longer and went first-over on the backside. He was second in a flash and paced away from his competition rounding the final turn to win in hand. Although he rattled off a :25.3 final quarter panel, Tetrick had the colt geared down as they neared the finish line.
The Brett Pelling trainee is by Sweet Lou and out of Geothermal. The sport's top-ranked horse has a record of 16-13-2-1 and has banked $1,633,504. The Meadowlands Pace winner is now a two-time Kentucky champion and has not lost since the North America Cup final, in which he finished second.
Confederate competes as a homebred for Diamond Creek Farm and the facility's Adam Bowden made a special announcement in the winner's circle regarding the colt's future.
"Both are homebred colts and it's exciting to finish first and second," he said, also referencing Command. "This is what we do, and to get a horse like Confederate, we are pretty excited. Everybody that has been associated with the horse has done a heck of a job with him.
"We are not sure yet if he's going to race both weeks here at the Grand Circuit, but he'll race at least once more and then the Breeders Crown and then from there, we will see from there."
When asked about a four-year-old campaign, Bowden was clear: "He will stand at stud."
Confederate paid $2.10 as the 1-9 favourite.
Geocentric explodes in two-year-old filly pace
The undefeated Geocentric (Tetrick) demonstrated why she was the 1-9 public choice as the Pennsylvania champion demolished her seven foes in 1:50.2 to become a Kentucky champion. Gifted One (T. McCarthy) paced her heart out to be second and so did Seeyouonthotherside (Tony Hall) to be third. The fillies, however, were no match for the sport's latest superstar.
The daughter of Sweet Lou-Geometry was in the fourth as Gifted One led the field through the first quarter-mile in :27.1, but prior to the reaching the half-mile marker, the filly made first-over move on the backside to assume command with the half in :55.4 and three-quarters in 1:24.1. Once they reached the stretch, it was all Geocentric as she pulled away well within herself to collect her seventh victory in as many starts.
"I'm skipping the first week [of the Grand Circuit] here in Lexington with her," said trainer Brian Brown. "She's going home and will be turned out for a week in the field. I don't want too many starts with her before the Breeders Crown, but she will be back the second week.
"I saw nothing wrong with her on her yearling catalogue page and to this day she looks just as perfect. She went through a bit of tying up 12-10 days ago, but there has never been a problem with her other than that."
Bred by Diamond Creek Farm, Geocentric was purchased for $55,000 at last year's Standardbred Horse Sale by Milton Leeman, Alan Keith, James Stambaugh and Joe Sbrocco.  The filly's granddam is champion See You At Peelers. She has now earned $494,501.
Geocentric paid $2.10 to win.
Date Night Hanover bests Allegiant
Date Night Hanover (Brian Sears) sprung the upset over 2-5 favourite Allegiant (Scott Zeron) to trip the timer in a lifetime best 1:53.4 in the championship event for freshman filly trotters. Volcanic Blue Chip (Ake Svanstedt) was second and Dolce Amara (Tetrick) was third.
Bred by Hanover Shoe Farms, Date Night Hanover was purchased for $600,000 at the 2022 Standardbred Horse Sale, which topped the second day of the event, by Jeffrey Snyder and Onda Racing Stable.
She is a half sibling to Delayed Hanover (sired by Southwind Frank, $587,736 in career earnings) and is trained by Marcus Melander.
Date Night Hanover has now improved her record to 7-4-0-0 and boosted her bankroll to $288,025.
She paid $7 to win as the third choice.
Twin B Joe Fresh defends her title in style
Twin B Joe Fresh (Dunn) stormed by rival Strong Poison (Yannick Gingras) to collect her second Kentucky crown in 1:48.4. Strong Poison was second and Charleston (Tetrick) was third in the event for sophomore filly pacers.
The daughter of Roll With Joe-Fresh Breeze won her sixth consecutive race and her winning streak includes the $250,000 James Lynch Memorial final and the $107,000 Empire Breeders Classic. The filly was a New York champion as a freshman and has not lost since a second-place finish to Dan Patch and O'Brien Award winner Sylvia Hanover in the $169,00 Mistletoe Shalee on July 15.
Bred by Brittany Farms, the filly is co-owned by her driver, her trainer Chris Ryder, in addition to Peter Trebotica and Barry Spak. Twin B Joe Fresh is the first foal out of an unraced dam and was a $65,000 purchase at the 2021 Standardbred Horse Sale.
She improved her record to 21-16-3-1 and her bankroll stands at $1,219,439.
The filly paid $2.80 to win.
Karl remains undefeated
The impressive youngster Karl (Gingras) not only became a Kentucky champion but remained perfect as he hit the line in 1:53.1 in the final for freshman male trotters. Dame Good Time made it interesting in the drive to the finish line with a strong closing kick, but not could not pass the son of Tactical Landing and Avalicious. Duke Of Walner (Tetrick) was third.
Trained by Nancy Takter, Karl was purchased for $135,000 at last year's Lexington Selected Yearling Sale by his trainer, Christina Takter, Black Horse Racing, Crawford Farms Racing and Bender Sweden Inc.
Karl was bred by Crawford Farms and is a half-sibling to Lucius Vorenus (Father Patrick, $238,085). His dam earned $202,438 during her career.
Karl four-for-four in his young career and has banked $290,000.
The colt paid $2.22 to win.
Better Is Nice collects second championship
New Jersey champion Better Is Nice (A. McCarthy) rebounded from a second-place finish in the final leg of the Kentucky Championship Series to collect a second crown in a lifetime best 1:50.3 in the event for freshman male pacers. Ivy Park (Gingras) was the runner-up with Tua Many Captains (Andy Miller) completing the trifecta.
Better Is Nice collected his fifth victory in his seventh start. His only losses were a third-place finish in his career bow in New Jersey Sire Stakes action and a second in the Bluegrass.
Trained by Tony Alagna, Better Is Nice was purchased for $30,000 at the 2021 Lexington Selected Yearling Sale by Alagna Racing, Pryde Stables and Birnam Woods Farm. He is from the first crop of champion Bettors Wish.
The colt, who has earned $438,600, was bred by Alagna Racing and Marvin Katz.
He paid $3.20 to win.
Ari Ferrari J Lives up to His Potential
Ari Ferrari J (Dunn) scored a mild upset when he defeated Kilmister (Sears) by a head in a lifetime best 1:50.3 in the contest for sophomore male trotters. French Wine (A. Miller) was third. Tactical Approach (Zeron), the Hambletonian winner and favourite, was fourth.
Point Of Perfect (Gingras) put the pedal to the metal right from the start and led the field of eight after the scratch of Brodeur through the first quarter in :27, but Ari Ferrari J had another plan and strode to the lead.
Trained by Tony Alagna, Ari Ferrari J is a son of Walner and Dream Child and was a $620,000 yearling purchase by Ken Jacobs at the 2021 Lexington Selected Sale under the name Earthquake Bi. He was bred by M Biasuzzi Stable.
Ari Ferrari J is a half sibling to You Ato Dream (Donato Hanover, $593,852) and Dribbling Bi (Cantab Hall, $170,526).
Ari Ferrari J's his resume, which also includes the $350,000 Zweig Memorial Trot, now stands at 27-6-10-3 and his bankroll climbed to $754,711.
The colt paid $16.90 to win.
Mommamia Volo upends Special Way in three-year-old filly trot
Mommamia Volo (T. McCarthy) took advantage of a tough trip by last year's Kentucky champion and Dan Patch Award winner, Special Way (Svanstedt), to score in 1:50.
Special Way, who lost for the first time since July 29, 2022, stayed on for second-over Caviart Gwen (A. McCarthy). The final time was a fifth of a second off the world record (1:49.4) shared by Plunge Blue Chip (2018) and Im Pinktoo (2018).
The homebred filly is trained by Carter Pinske and is owned by Kentuckiana Racing Stable and Jorgen Jahre Jr.
Mommamia Volo's resume now stands at 15-4-2-0 and she has earned $337,882.
The daughter of Tactical Landing and the prolific Margarita Momma is a half sibling to Marquis Volo (Credit Winner, $394,291), Reign Of Honor (Father Patrick, $613,676) and champion Amigo Volo (Father Patrick, $2,267,976).
Mommamia Volo paid $24.80 to win.
French Champagne, Admiral Hill win Commonwealth Series Finals
French Champagne (Svanstedt) improved to a perfect five-for-five with a facile score in the $100,000 Kentucky Commonwealth Series final for two-year-old filly trotters. The daughter of Muscle Hill-French Cafe stopped the clock in 1:54.1. Bonn (Peter Wrenn) was the runner-up and One World (Dunn) completed the trifecta.
Trained by her driver, French Champagne competes as a homebred for Marvin Katz and Al Libfield. She is the first foal out of her stakes-placed dam and her granddam is 2008 Hambletonian Oaks winner Creamy Mimi. French Champagne has earned $110,000 in purse money lifetime.
She paid $3.38 to win as the 3-5 favourite.
Admiral Hill (Dunn) collected his fifth victory in his last four starts in a lifetime best 1:48.3 in the $100,000 Kentucky Commonwealth final for three-year-old male pacers. Tip Top Cat (Gingras) was second and Combustion (T. McCarthy) was third.
Trained by Chris Ryder, the gelding races as a homebred for Tom Hill.
His record now stands at 20-8-5-3 and he boosted his bankroll to $263,658.
Admiral Hill paid $8.88 to win.
Red Mile offers a rich buffet of wagering items including a 20-cent Pick-6 with 15 per cent takeout, a 50-cent Pick-5 with an industry low 12 per cent takeout, a Super Hi-5 15 per cent takeout, and Pick-4 events, with a $10,000 guaranteed pool in conjunction with the U.S. Trotting Association's Strategic Wagering Program.
Red Mile races on a Sunday, Monday, Tuesday schedule with a 1 p.m. EDT post time through Oct. 8. Free program pages are available at the Red Mile website in addition to race replays and a daily livestream of each card.
Sire stakes action continues on Monday, Sept. 18 with six $100,000 Kentucky Commonwealth Series finals and on Tuesday, Sept. 19 with eight Kentucky Golden Rod Series finals for freshman and sophomore trotters and pacers.
(With files from The Red Mile)