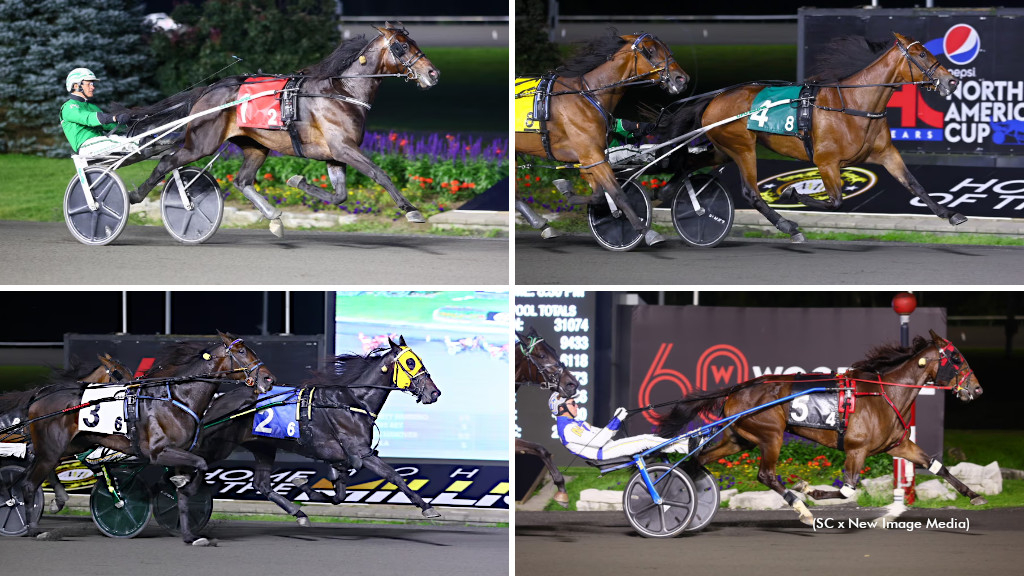 Published:
September 16, 2023 11:44 pm EDT
North America's top sophomore trotters were on display on Saturday, Sept. 16 at Woodbine Mohawk Park -- the fillies in two $35,000 eliminations of the Elegantimage while the colts contested a pair of $40,000 Canadian Trotting Classic splits.
Noted trotting trainer Ake Svanstedt sent out two winners in the four eliminations. The top five finishers in each will return for the rich finals next Saturday as part of the spectacular Mohawk Million card.
In the first Canadian Trotting Classic elimination, Challenger (Dexter Dunn) marched the field of six past the opening quarter in :27 and tripped the halfway timer in :56.2. Up Your Deo (Svanstedt) got into the outer flow from the garden spot before the 1:24.1 three-quarters and trotted by the leader and away from the field to win easily in 1:51.2, a new lifetime mark. It was tight for second with Hasty Bid (James MacDonald) edging out Chapercraz (Joe Bongiorno). Tuscan Prince (Louis-Philippe Roy) and Challenger earned the last two spots into next week's rich final.
It was the fifth win in 10 tries this year for Up Your Deo, a Walner colt owned by trainer/driver Svanstedt along with Suleyman Yuksel Stables, Deo Volente Farms and Van Camp Trotting Corp. Tonight's effort put him over half a million in earnings this year.
Svanstedt noted it was the perfect trip for Up Your Deo, who prefers not to lead but rather follow a helmet.
A $100,000 yearling, Up Your Deo is the first foal of the Cantab Hall daughter Grand Stand. His third dam is the great Cameron Hall, winner of the 2002 Elegantimage elimination and final.
Osceola (Doug McNair) was swiftest afoot in the second test but quickly had a challenger in Ghostly Casper (Jody Jamieson), who had the lead by the opening quarter in :27.2 but not for long. Osceola quickly retook command and hit the half in :57. Andy Miller had Little Expensive first up and was at the leader's wheel at the 1:25.2 third panel.
Three trotters from the rear overtook the leaders and were charging hard down the stretch with favourite Celebrity Bambino and Yannick Gingras hitting the wire first in 1:52.4. ​ Winners Bet (Dunn) took second followed by Gaines Hanover (Sylvain Filion). Osceola held for fourth with Little Expensive picking up the last spot in the final.
"Today the trip worked out great," noted winning pilot Gingras, who considers Celebrity Bambino to be one of the best in this division.
Trainer Ron Burke co-owns the Muscle Hill colt with JandT Silva Stable, Knox Services and Phillip Collura. This was his third win in 11 attempts this year including his Hambletonian elimination (fourth in final).
The $660,000 Canadian Trotting Classic final will go postward as follows:
1. Osceola
​2. Hasty Bid
​3. Challenger
​4. Up Your Deo
​5. Celebrity Bambino
​6. Little Expensive
​7. Winners Bet
​8. Tuscan Prince
​9. Gaines Hanover
​10. Chapercraz
​AE1. Ghostly Casper
Righteous Resolve took the top early in the first Elegantimage elimination and put up fractions of :27.1, :57 and 1:25.3 and could not be caught down the lane as she and James MacDonald stopped the timer in 1:53.1. Quick Stop (Tim Tetrick), Baroness Hill (McNair), Pure Hope S (Svanstedt) and Mass Hysteria (Trevor Henry) crossed the wire in that order to qualify for next week's final.
Last year's O'Brien Award winner as Canada's best rookie trotting filly, Righteous Resolve notched her second win in eight starts this year for just over a quarter-million made this year and more than $850,000 lifetime for owner/breeder Bet Max Stable and Benenati Inc. ​ The Resolve daughter is trained by Matt Bax.
As the second elimination field entered the first turn, Climb The Pole (Jamieson) made a costly miscue as she tried to challenge for the front. Rose Run Yolanda (Gingras) was on top at the :28 opener but she was soon passed by favourite Bond (Svanstedt), who trotted easily by the half in :57.1, the three-quarters in 1:25.1 and withstood a late rush by Rose Run Yolanda to win in 1:52.1. Rose Run Yolanda was a neck back in second with Call Me Goo (Filion) third followed by Tactical Mounds (Scott Zeron) and Lindys Irishcream (Dunn).
Svanstedt trains and co-owns the winner, a pretty daughter of Southwind Frank, with Little E LLC and L Berg Inc. Bond recorded her fifth win in eight tries this year for $338,000 earned this year and $925,000 in her career.
"She's a good horse, of course, she almost always wins," Svanstedt laughed.
The field for next Saturday's $381,000 Elegantimage final will line up as follows:
1. Lindys Irishcream
​2. Baroness Hill
​3. Rose Run Yolanda
​4. Mass Hysteria
​5. Bond
​6. Righteous Resolve
​7. Pure Hope S
​8. Tactical Mounds
​9. Call Me Goo
​10. Quick Stop
​AE1. Tactical Planner
For full results from the Saturday card of harness racing at Woodbine Mohawk Park, click the following link: Saturday Results - Woodbine Mohawk Park.
(Woodbine)