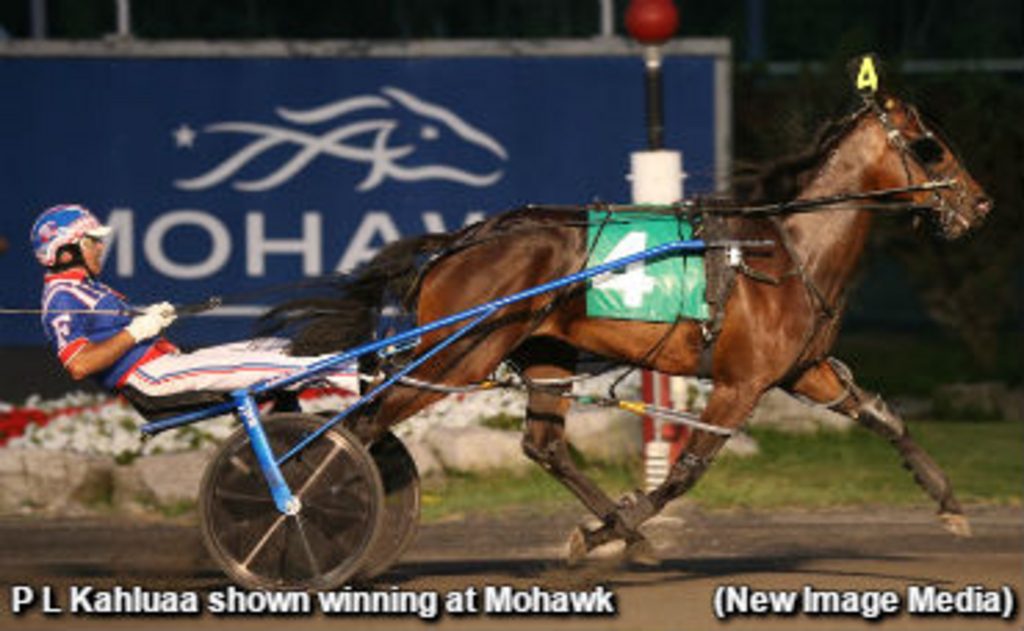 Published:
September 16, 2016 01:30 am EDT

The playoff edition of the Ontario Sires Stakes took place Thursday at Mohawk Racetrack as Grassroots rookies battled in an eight-pack of $20,000 Semi-Finals.
The top five finishers from each of the Semi-Finals earned the chance to advance to the OSS Grassroots Championships, hosted by Mohawk Racetrack on September 23.
Here's what transpired in Thursday's Semi-Finals:
Two-Year-Old Trotting Fillies
Anikadabra was a gate-to-wire winner in her assignment for driver Rick Zeron and trainer Rob Fellows. Sent off as the 1-9 favourite, the daughter of Kadabra-Anikawiesahalee chopped out panels of :27.2, :57.4 and 1:28 before storming home in :29.1 to win by 3-1/4 lengths over You Cant Afford Me and Stritch.
Bred and owned by Edward Wilson of Seagrave, Ont. and Michael Pozefsky of Saratoga Springs, NY, the youngster has rattled off three straight wins while pushing her earnings to $46,840 in the process. She owns a 4-0-1 record from just six trips to the track in her first year of racing. Her older brother Resolve is the morning line favourite in Saturday night's Maple Leaf Trot.
Delcrest Magicstar rode cover in the second Semi-Final, and the sweet trip helped her achieve the half-length decision over Late Shift in a time of 1:58.1. Jilona and Inner Drive were the leaders through fractions of :28, :58.1 and 1:28.2, but neither one had much staying power. Delcrest Magicstar swung off her cover in the late stages of the mile and kicked home in :29.1 to defeat Late Shift and Crystal Gumdrop.
Let go at odds of 7-1, the daughter of Majestic Son-Stars Balance improved her freshman record to for driver James MacDonald and trainer Johnny McKinnon who share ownership on the career winner of $31,900 with Peter Porter of Port Dover, Ont.
Two-Year-Old Pacing Colts & Geldings
Bet On Brett brushed to the top shortly past the quarter pole in his Semi-Final, and once he secured the lead it was game over for the others. Parking past the quarter in :26.4, the son of Sportswriter-Tug River Della motored to the lead and laid down middle splits of :56.2 and 1:24.4 before digging in late for driver Rick Zeron and posting the neck decision over longshot Kentucky Nick in 1:54.2. Silverinyourpocket was a lapped-on third in what turned out to be a great finish.
Trainer Marcel Barrieau of Cambridge, Ont. co-owns the colt with Quebec partners Gestion Mastel Inc of Longueuil and Conrad Leber of Montreal. The pacer is 3-for-8 this season with earnings in excess of $32,000.
Tymal Peacemaker had little problem getting the job done in his Semi-Final assignment for the duo of driver Sylvain Filion and trainer Stephane Larocque. The colt blasted to the top and whacked out fractions of :27.1, :56.4 and 1:26.2 before smoking home in :26.4 to win by a length over The Dark Shadow in 1:53.1. Dreamfair B J came first-over and wound up finishing a respectable third.
Sent off as the 1-2 choice, the son of Mach Three-Flying Color extended his winning streak to three-in-a-row for Bayama Farms Inc of Saint-Andre-D'Argenteuil, QC. He's racked up $42,000 in earnings while producing a 3-1-0 record from his first seven assignments.
Two-Year-Old Trotting Colts & Geldings
Santini tagged along in the garden spot in his Semi-Final test before popping out late and firing home in :28 en route to capturing his assignment by a half-length margin over Themanofmydreams in 1:58.1. That foe threw down fractions of :29.2, 1:00.1 and 1:29.4 before getting out-sprinted by the 9-1 upsetter. Themanofmydreams held on for the runner-up award, while Radical Road was placed third as a result of a placing.
Michigan partners Oldford Racing LLC of Croswell and Gene Oldford Farms LLC of St. Clair have watched the juvenile go 3-1-0 from six starts while potting more than $41,000 in earnings this season. Let go at odds of 9-1, the son of Kadabra-Vallaire is trained by Stephen Oldford.
Many A Man took the other Semi-Final contest in 1:58.4 for the tandem of driver Randy Waples and trainer Bob McIntosh. Waples got away fourth with his charge, and together they stood their ground through panels of :28.1 and :58.3. Waples then launched his charge to the outside, and together they circled up to grab a short lead while racing parked to the three-quarter marker in 1:29. A :29.4 closing panel earned him the win by 3-3/4 lengths over My Big Kadillac. Zorgwijk Rocket closed from far back to grab the nickle.
That's back-to-back OSS scores for Robert McIntosh Stables Inc, C S X Stables and Dave Boyle. It was the fourth win of the campaign for the career winner of close to $40,000.
Two-Year-Old Pacing Fillies
P L Kahluaa improved her rookie record to 4-1-1 from eight tries thanks to a 1:55 tally in her Semi-Final assignment. Sylvain Filion got away in mid-pack before latching onto second-over cover in the backside. She rode that cover through the middle stages of the mile before unleashing a :28.3 kicker. She held on to win by half a length over Treasures Pearl. Village Jamie took home the show dough.
Richard Moreau trains the daughter of Sportswriter-B R Dot Cam for 9303 3868 Quebec Inc of Blaineville, QC. She's put together an impressive 4-1-1 start to her career from just eight opportunities. She's closing in on $45,000 in earnings.
Dudesalady, who turned out to be one of the most consistent fillies in her division, clicked in the final event in 1:53.4 for driver Jody Jamieson and trainer Suzie Kerwood. The daughter of Shadow Play-Accountable got away the pocket and held that position for the opening. She was on the move with cover going to the three-quarter pole in 1:24.3, but when Jody Jamieson tipped her off cover she sprinted home in :28.2 to win by a length over race favourite Anderson Seelster. Third prize went to another impressive filly, P L Karis.
Suzie Kerwood trains the career winner of $36,910 for M And L Of Delaware LLC and Victoria Dickenson. Her productivity has earned her a 4-2-1 record from seven starts while padding your account to $36,910.
To view results for Thursday's card of harness racing, click the following link: Thursday Results – Mohawk Racetrack.