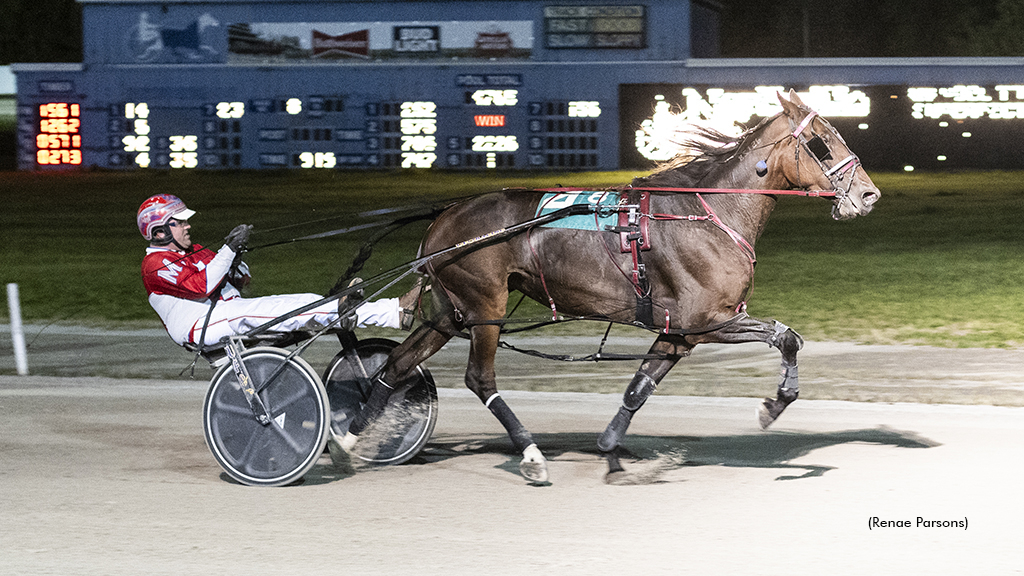 Published:
September 15, 2023 11:00 pm EDT
Celebrity Pegasus and Artistic Cut captured their respective Open divisions on Friday night (Sept. 15) at Northville Downs. 
In the $9,500 Open Trot, Celebrity Pegasus and Kim Pluta took the pocket ride behind early pacesetter Rose Run Vincent (David Lake) past the quarter in 28 seconds, half in :58.1 and three-quarters in 1:27.3. At the top of the stretch, Celebrity Pegasus drifted out from the pocket to three-wide and got up at the wire to win in 1:58.2 by a length over runner-up Little Jedi (John Moody) as Saulsgood closed well for third after an early break in stride. 
It was the 51st career win for Celebrity Pegasus. The 11-year-old son of Andover Hall is owned by Joshua Graber and trained by Samuel Eicher. 
In the matching Mares Open Pace, an early battle ensued into the first turn between Cruisin Thru Time (Kody Massey) and Juxta Cowgirl (Art McIlmurray), with Cruisin Thru Time settling up top and Juxta Cowgirl dropping into the pocket. They went past the quarter in :27.3 and half in :57.1, as Artistic Cut and Jason Merriman went first-up at the half. Artistic Cut wrestled the lead away from Cruisin Thru Time as they tripped the beam at three-quarters in 1:26.2. Turning for home, Artistic Cut opened up to win by two lengths in 1:56.3, a new season's best mark. Rocks Stormyd (Drew Neill) overcame broken equipment to close back up for second and Skyway Venus (Michael Deruntz) closed well for third. 
Artistic Cut (pictured above) is owned and trained by Techia Lohmann and the win was the 12th of the five-year-old Artspeak mare's career and her second win at the Open level. For Merriman, the win leaves him just one away from the elusive 3,000 milestone. 
Driver Art McIlmurray had a driving and training double on the night and Paul Cloer Jr. had a training double as well.
Racing at The Ville resumes on Saturday, Sept 16 at 7 p.m.
(With files from Northville Downs)