Published:
September 15, 2020 08:51 pm EDT
My Kiwi Lady N scored her fourth win of the season, with a solid three-length tally in 1:53.1 to take the Tuesday afternoon (Sept. 15) feature at Running Aces.
Sent the 4-5 favourite from her assigned outside seven post, driver Jacob Cutting floated My Kiwi Lady N off the gate in fourth position and picked up immediate cover as Another Beach Day was locked in battle early with race leader Amasa Arion.
The early battle up front produced quick opening fractions of :27.2 and :56, and My Kiwi Lady N benefitted from the live cover all the way into the final turn before tipping three-wide and taking the lead as they swung for home.
My Kiwi Lady N ($3.80) had plenty of pace and drew away from the field in the lane, stopping the timer in 1:53.1 while Motu Moonbeam N closed from the back of the pack to be a clear second, and Windmeupnwatchmego came from last to nab third.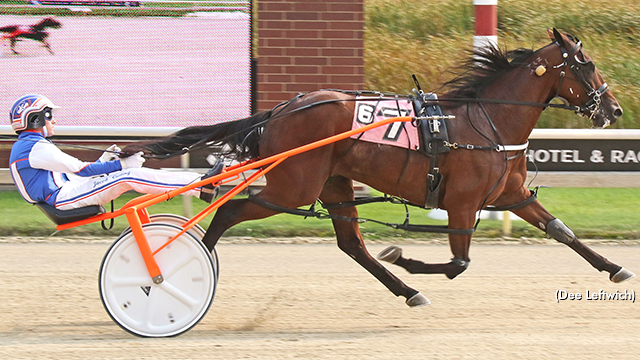 The winner is a seven-year-old daughter of Art Major, owned and trained by Chris Scicluna. She now has 14 wins and just eclipsed $100,000 in earnings with today's victory.
Spectacular Sunset (Rick Magee, $4.40) captured the $5,500 Two-Year-Old Open Pace for his second win in just three starts. After following in the pocket through the first half mile, Magee came after the leader Alilthundadownunda up the backside traded blows all the way to the finish. After appearing defeated in deep stretch, Spectacular Sunset dug down deep and surged to the wire to secure a one length score in 1:56.3 over Alilthundadownunda with SD Eliminator well back in third.
The winner is a stud colt by Artspeak, owned by Janna Lee Rucker and trained by Magee.
Lakota Law (Dean Magee, $3.00) picked up her fourth-straight win when she hit the wire in a 1:55.1 dead heat (with Velocity Layla, Tim Maier, $3.80) in the Tuesday finale. It was a seasonal mark for Lakota Law, owned by Troshu Racing and trained by Ariel Alvarez.
Nat A Cam (Dean Magee, $3.40) notched another win for 99-year-old owner Keith "Dudley" Carey, pacing to a career mark of 1:55.3 for her 14th win. The impressive four-year-old daughter of Millionaire Cam is trained by Justin Anfinson.
Drivers Dean Magee and Jacob Cutting dominated the program on Tuesday, with Magee nabbing four wins for a Grand Slam and Cutting picking up three wins for a Hat-Trick. Cutting also registered two training wins on the day.
Live Racing returns to Running Aces on Wednesday (Sept. 16) with first post at 1:00 p.m. (CDT) and features a carryover of $9,823.68 in the 20-cent Pick 5 Jackpot wager.
(Running Aces)