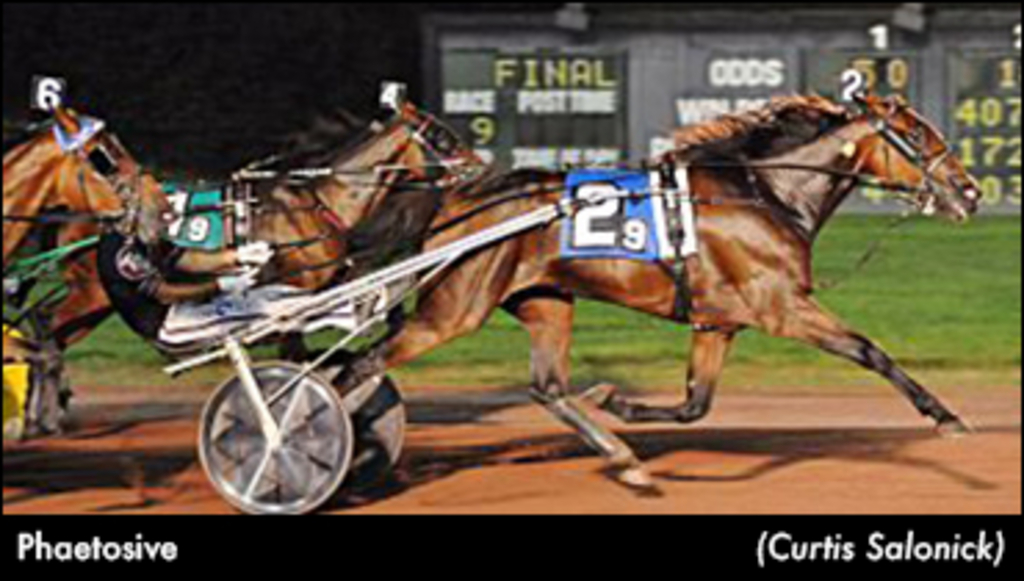 Published:
September 14, 2018 09:52 am EDT
Wanda Polisseni does not know what will happen in Saturday's $340,000 Elegantimage Stakes for three-year-old female trotters at Ontario's Woodbine Mohawk Park, where her Purple Haze Stables' Phaetosive meets harness racing's top-ranked horses, No. 1 Atlanta and No. 2 Manchego. But she already knows how she will feel about her filly at the end of the day.
"It's a tough race, but she will do the best she can," Polisseni said. "And whatever she does, I'm all for it and I will be very appreciative. My horses never have to win for me to be happy. I love them and I want them to be healthy and have a good race and do the best they can.
"Those other two fillies are absolutely terrific," she added. "There are a lot of people that want to see them, myself included."
Hambletonian champion Atlanta and Hambletonian Oaks winner Manchego will be meeting for the second time this year. Manchego, the 2017 Dan Patch Award winner for best two-year-old female trotter, won the first encounter by 1-3/4 lengths in the Casual Breeze Stakes on Aug. 24 at Woodbine Mohawk Park.
Phaetosive, who finished second to Manchego in the Hambletonian Oaks, will join them for the first time this season. The trio met once last year, in the Breeders Crown final at Hoosier Park. Manchego won, capping a perfect 12-for-12 campaign, while Phaetosive finished third and Atlanta fourth.
In the Elegantimage, Manchego is the 6-5 morning-line favourite in the seven-horse field, followed by Atlanta at 7-5 and Phaetosive at 8-5.
"It's a hell of a race," said Trond Smedshammer, who trains and drives Phaetosive. "I'm sure (Atlanta) is going to be looking for a rebound. They're going to be racing, that's for sure. Hopefully I can sit close enough to be a part of it."
Saturday's Woodbine Mohawk card also includes the $665,000 Canadian Trotting Classic for three-year-old trotters, $400,000 William Wellwood Memorial for two-year-old male trotters, $385,000 Peaceful Way for two-year-old female trotters, two eliminations for the Metro Pace for two-year-old pacers, and two eliminations for the Shes A Great Lady for two-year-old female pacers.
Phaetosive, a daughter of Explosive Matter out of Phaeton, has won five of seven races this year and heads to the Elegantimage off a win in the Pennsylvania Sire Stakes championship on Sept. 2. For her career, the filly has won nine of 14 races and never finished worse than third. She has earned $657,717.
"I love her; she's terrific," Polisseni said. "She is gutsy. I can't describe it, but she is gutsy. I love her form and I love to watch her race."
Phaetosive had breathing problems earlier this season, but the issue was corrected with a minor procedure rather than surgery, which would have prevented her from racing in the Hambletonian Oaks. She also tied up the day prior to her first race following the Oaks, Aug. 21, but recovered and won a division of the Pennsylvania Sire Stakes.
"It's something you've got to watch with her," Smedshammer said about the tying up. "She's done it before. She hasn't done it since, but we've been obviously very careful watching her schedule. It's not a big problem, but it's something you've got to watch."
Polisseni's Purple Haze Stables ranks sixth among all owners in purses this season, with trotters Perlucky and Classichap joining Phaetosive as six-figure earners. Polisseni's past stars included millionaire Dejarmbro and Blacktuxwhitesocks, who were both New York Sire Stakes champions. Blacktuxwhitesocks also won once in Norway.
"I love all my horses, each of them for a different reason or something special," Polisseni said.
She added, "Every horse in every race deserves to get a cheer at the end of the race."
Racing at Woodbine Mohawk Park begins at 7:25 p.m. (EDT) with the Metro eliminations. The Peaceful Way follows as race three, the Wellwood race five, Canadian Trotting Classic race seven, and Elegantimage race 10. The Shes A Great Lady elims are races six and eight.
Doors open at 5:30 p.m. and the first 1,000 fans will receive a special commemorative postcard featuring Hambletonian champion Atlanta. Mohawk Park will also be serving a special drink named "The Atlanta" in its various dining locations and $1 from each drink sold will be donated to the Milton District Hospital Foundation.
The second annual New Owners Seminar will be taking place prior to Saturday's card. The seminar is open to the public and anyone interested in learning more about racehorse ownership is invited. The seminar will start at 6 p.m. in the North America Cup room.
Following is the field, with drivers, trainers and morning-line odds, for the Elegantimage Stakes.
1. Phaetosive - Trond Smedshammer - Trond Smedshammer - 8-5
2. Manchego - Yannick Gingras - Jimmy Takter - 6-5
3. Alloveragain - Randy Waples - John Bax - 30
4. Blonde Magic - Jody Jamieson - Tom Durand - 20
5. Jordan Blue Chip - Tim Tetrick - Mike Keeling - 20
6. Atlanta - Scott Zeron - Rick Zeron - 7-5
7. Sneeker Hanover - Paul MacDonell - Duane Marfisi - 30
To view Saturday's harness racing entries, click the following link: Saturday Entries – Woodbine Mohawk Park.
(USTA)