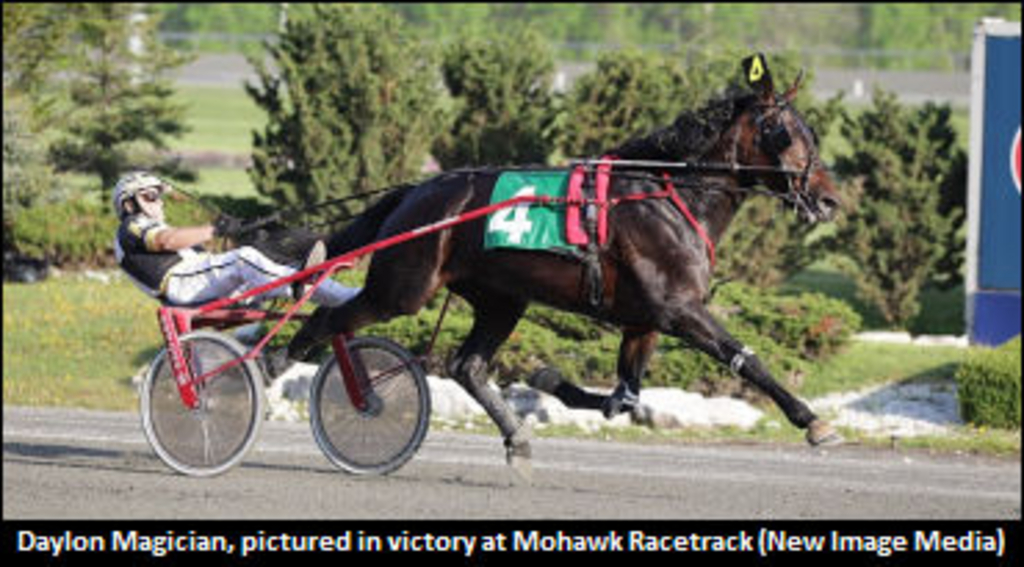 Published:
September 14, 2011 04:54 pm EDT

David Lemon has waited 40 years for a horse like Daylon Magician, and on Saturday the homebred colt will go to post in the biggest race of both their careers, the $1-million Canadian Trotting Classic at Mohawk
Racetrack.
It was about two years ago when Lemon made the decision to retire from selling his yearlings at commercial auctions. He opted to downsize his operation, and kept only two mares.
"We just said, 'That's it, we're retired, but we've got these two good mares, so we are just going to breed them and train them myself,'" Lemon explained. "We've been breeding them for so long. We have sold all the yearlings now. When you keep them and train them, you get attached to one."
The resident of Komoka, Ont. sees his horses as family members and takes great pride in being able to breed the horses he trains, like the son of Kadabra--Daylon Marvel, who he also owns.
"It is really super because we raced his mother and we had his grandmother," Lemon said. "This is really part of the family. We were getting offers to sell him last year and I wouldn't. People were asking and I would say, 'Well, I can't sell part of the family.'"
2011 Canadian Trotting Classic (Eliminations) - Daylon Magician - 1:53.3
Daylon Magician has enjoyed a lucrative career for Lemon. He won eight races in 10 seasonal starts, including his division of the Canadian Breeders Championship, and two Ontario Sires Stakes Gold finals. The 11-time winner boasts earnings of $325,477 in 2011 and $550,777 lifetime.
The colt's biggest win came in the OSS Super Final last November at Woodbine Racetrack. He also equalled the World Record for three-year-old trotting colts on a half mile track, with an eye-catching 1:54.2 performance at Flamboro Downs on August 14.
The bay leads the Ontario Sires Stakes standing for three-year-old trotters with 262 Gold points and sits atop the standings with the highest OSS money earnings in his division with $205,600.
Lemon isn't the only one who thinks Daylon Magician is special. Regular pilot Jack Moiseyev concurs.
"He just loves him," said the conditioner. "Right from the start when he qualified him as a two-year-old, he said he would go anywhere and drive him because this is a super horse. Right from Day 1 he really has been smart. He just knows what you want to do and you just have to tell him once."
After a month layoff, Daylon Magician captured his Canadian Trotting Classic elimination last Saturday like a seasoned professional.
"Jack said right before the finish line, he just stuck his head out by himself," Lemon said. "He has that will. He just wants to be first. It was four weeks since he had raced so I think that helped sharpen him up."
Lemon has bred many top-notch horses, but Daylon Magician stands out as the top trotter he has owned and raised.
"We sold a few yearlings that made a million dollars," he said. "His mother is almost the second best. It's pretty exciting to train him. It is kind of surreal and it hasn't sunk in yet. He is a once in a lifetime horse."
The CTC (9:38 p.m.) will be televised live on The Score, during a special one-hour program from 9:00 p.m. - 10:00 p.m. (ET).
(WEG)
Related Stories
• JJ On CTC: "I Think I Have The Best Horse"
• Stakes Triple For Jamieson; CTC Field Set


• How Good Is Daylon Magician?