Published:
September 13, 2020 12:37 am EDT

A few races after first division winner Capt Midnight equalled the stakes record in the Somebeachsomewhere, Warrawee Vital claimed victory in the second division to beat the near-decade-old record on Saturday (Sept. 12) at Woodbine Mohawk Park.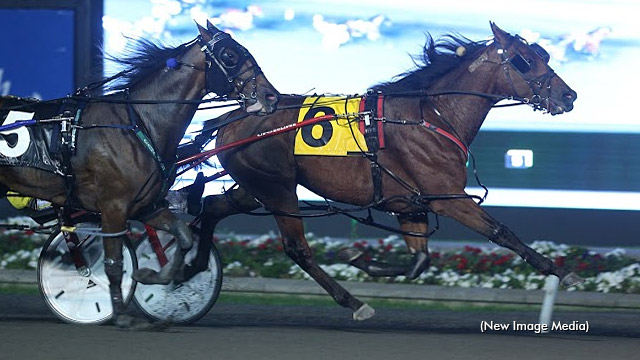 Trevor Henry fired the Rob Fellows-trained Warrawee Vital towards the front, clearing Captain Barbossa just after a :26.3 opener. From there, Warrawee Vital went the distance, posting fractions of :55 and 1:22.2 before kicking home in :26 to hold off Captain Barbossa by half a length in 1:48.2. Moneyman Hill was third, while Beach Blanket Book was fourth.
"I'm just excited," Fellows said after the race. "Your heart gets pounding like it's supposed to. I think if it didn't you shouldn't still be doing this. Those were some nice horses he beat these last two weeks, so he's going to go on and hopefully go to Lexington and see what happens after that. Maybe the Jug, but two heats on the same day... we'll see how he is next week."
A son of Captaintreacherous, Warrawee Vital has stamped himself as a major player in the three-year-old pacing colt division with back-to-back Grand Circuit victories. He is now six for nine on the season and goes over $135,000 in earnings with the win for owners Blair Corbeil, Yolanda Fellows and M&S Racing Stable Inc. He paid $3.20 to win.
Capt Midnight delivered a career-best 1:48.3 performance, tying the then-stakes record, to win the first division.
Driver Andrew McCarthy fired the Tony Alagna trainee from third and swept by a twice-used The Greek Freak after a :54.4 half. Capt Midnight proceeded to rip a :26.4 third-quarter to hit three-quarters in 1:21.3 before opening his margin on his rivals to win by three lengths.
Beaumond Hanover moved to the front in the second-quarter before releasing The Greek Freak to the front. Beaumond Hanover came up the inside for second, while Rhythm In Motion was third and The Greek Freak fourth.
"He was a very good two-year-old, I think he's just gotten a little stronger now," McCarthy said after the race. "He's grown up nice and just think he's getting better as the year's going on.
"He felt terrific," McCarthy also said. "The pace kinda slowed there past the quarter pole, so I thought I'd get him out and moving. Then Yannick popped out of the two hole, so I kind of had to step on the gas pretty good there and we got down to the three-quarters on time, so I thought I'd just keep him marching them and we got a good mark today."
A son of Captaintreacherous, Capt Midnight picked up his second win in 10 starts this season. He now has over $180,000 earned this season and career numbers of eight wins and $571,845 earned for owners Marvin Katz, Kenneth Jacobs, Brad Grant and Capt Midnight Racing. He paid $4.20 to win.
Sex Appeal pounced on pacesetter and 1-5 favourite Lady Lou to score in the opening division of the Simcoe in 1:50.2.
Driver Trevor Henry hustled Sex Appeal to the front as Lady Lou pressed for the lead into the first turn, although Henry parked the favourite to a :26.1 first quarter before releasing Lady Lou to the front. Up the backside Lady Lou slowed the tempo and raced unchallenged to a :54.4 half and through three-quarters in 1:23.3 with Sex Appeal drafting closely from second. Henry pulled pocket into the stretch and dug into Lady Lou as the pair sprinted clear of Beach Sports in third charging to the finish. Sex Appeal edged by into the final sixteenth, sliding to a length victory.
"My filly kind of lags around the last turn anyways so I wasn't really that worried," Henry said after the race. "She can leave really well and get herself spotted. I know she's great late. She fights to the end—that's what she did tonight."
Winning her fifth race from nine starts this season and her seventh from 18 overall, Sex Appeal has earned $200,634 for owner-breeder Robert McIntosh Stables Inc. and co-owner Al McIntosh Holdings Inc. Bob McIntosh trains the Bettors Delight filly who paid $17.50 to win.
Lauras Love scored in the other Simcoe division off a second-over trip in 1:50.3 as the 1-2 favourite.
Perfect Storm swept to the lead with Karma Seelster settling for the pocket to a :26.3 first quarter. Moving up the backstretch Perfect Storm faced little pressure past a :56.1 half but endured a far-turn challenge from Preeminence moving to three-quarters in 1:24.1. Lauras Love meanwhile raced poised from second over, and driver Bob McClure motored the Betterthancheddar filly off cover into the stretch. The John Pentland trainee leapt to the front and edged away from competition while Perfect Storm fought Karma Seelster to finish second. Rose Run Vantage finished fourth.
"I was confident tonight—I was confident last week, too," said trainer John Pentland, who sent Lauras Love to a second-place finish a week ago in a division of Ontario Sires Stakes. "I didn't really think the Fan Hanover beat her up; it was an awful trip and things didn't work out. But I didn't really buy into that it beat her up."
"It was a great drive," Pentland also said. "Bob worked out the perfect trip. I'm not kicking stones from last week… [she] maybe wasn't 100 per cent last week; Betalady certainly was way better. But this filly was good tonight; she was back on her game."
Now an eight-time winner from 15 starts, Lauras Love has banked $219,031 for owners John Pentland and Gracie Mae Barr. She paid $3.00 to win.
(with files from Woodbine Mohawk Park)
The Somebeachsomewhere and Simcoe Stakes were one of the handful of major stakes events on the Saturday card at Woodbine Mohawk Park. Recaps from the other races are available at the following links:
To view the results from Saturday's card of harness racing at Woodbine Mohawk Park, click the following link: Saturday Results - Woodbine Mohawk Park.