Published:
September 12, 2021 12:57 am EDT
Driver Brian Sears and trainer Ron Burke were on fire Saturday night (Sept. 11) at The Meadowlands as each recorded five winners on the 13-race card.
Three times the pair teamed to score, hitting the winner's circle with Globetrotting ($3.60 to win as the 4-5 favourite) in the fourth race low-end conditioned trot in a lifetime-best equaling 1:52.4, Bee Two Bee ($5.20 as the 8-5 public choice) in the seventh race mid-range conditioned pace in a lifetime-best 1:49.1 and Warrawee Ubeaut ($5.40 as the 8-5 favourite) in the ninth race high-end conditioned pace for fillies and mares in 1:48.4.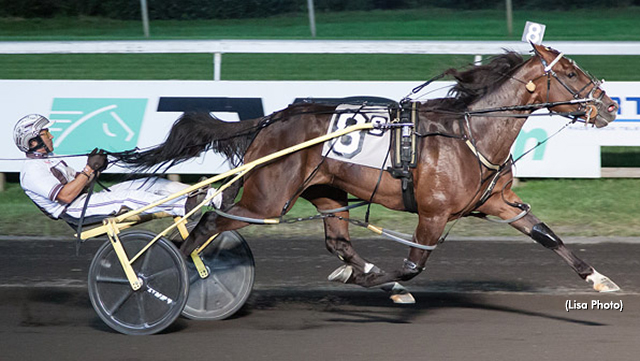 Sears' other victories came with Sweet Lucy Lou ($4.20 as the even-money choice) for trainer Robert Cleary in the third race low-end conditioned pace for fillies and mares in 1:50.1 and Lovedbythemasses ($3.20 as the 3-5 favourite) in the sixth race featured Open Trot in 1:51.3 for Jeff Cullipher.
Burke's other two scores were handled by George Brennan. De Los Cielos Deo ($2.20 as the 1-9 public choice) took the second race low-end conditioned pace in 1:49.1 and Patriarch Hanover ($3.40 as the 3-5 favourite) wired the field in the eighth race mid-range conditioned trot in 1:53.3.
A LITTLE MORE: Corey Callahan, Marcus Miller and Brennan all recorded driving doubles while Cullipher trained a pair to victory lane.
There were no winning tickets sold in the 20-cent Pick 6, which means the wager will start out with a $3,576 carryover Friday night. Those with five correct collected $63.44.
All-source handle totaled $2,337,146.
Racing resumes Friday (Sept. 17) at 6:20 p.m. (EDT).
(The Meadowlands)