Published:
September 12, 2012 11:30 am EDT
The Woodbine Entertainment Group today announced that effective December 15, 2012, backstretch stabling will cease at Mohawk Racetrack.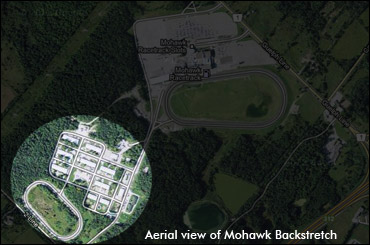 Although there is capacity for up to 600 horses at Mohawk, less than 300 are on site, as numbers have continued to decrease in recent years with the emergence of training centres.
"Given the high degree of uncertainty around WEG's 2013 racing schedule, we are taking all available steps to adjust budgetary and operational practices to be able to respond to the changes which the industry is facing," said WEG Executive Vice President of Racing Jamie Martin. "We undertook efforts over the summer to determine whether we could fill enough stalls on a cost recovery basis, but there wasn't sufficient certainty with the stall applications to provide us with the comfort needed to continue."
WEG has been in contact with training centre owners in the Mohawk region and received feedback that there will be ample vacancy this winter for horses.
(WEG)
Related Stories
• Mohawk Stall Apps Due August 15
• Stall Apps For Mohawk Now Available
• Mohawk Backstretch To Become A Training Centre