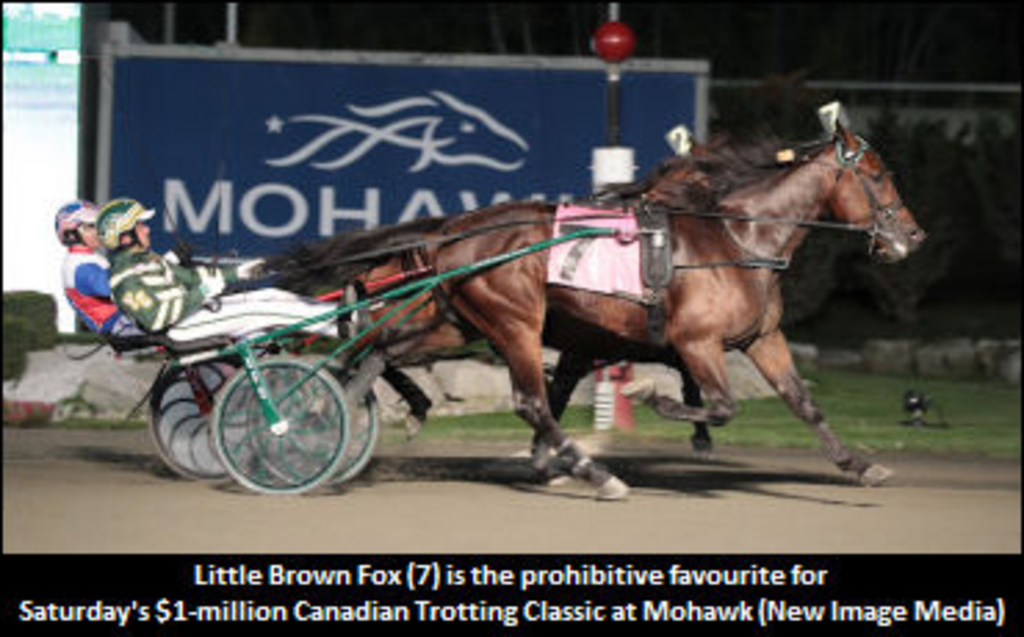 Published:
September 12, 2012 04:54 pm EDT

John Fielding, one of the most prominent owners in harness racing, will be well represented in this Saturday's $1-million Canadian Trotting Classic at Mohawk Racetrack.
Fielding, a resident of Toronto, Ont., will send out three entries in the 37th edition of the classic. Little Brown Fox looks best of the trio after he captured his elimination in 1:53, defeating Hambletonian winner and post-time favourite, Market Share.
The son of Muscles Yankee has earned $457,610 this season for Fielding, who shares ownership with his brother, Jim, Brittany Farms and Christina Takter, whose husband, Jimmy, conditions the youngster.
"Little Brown Fox is pretty much on top of his game right now," Fielding said. "He's got a very good chance to win because of his post position and the way he's been racing. His win in (1:) 51 and change two weeks ago was very impressive."
Fielding also sends out Guccio, who finished second by a neck to Market Share in the Hambletonian in early August at the Meadowlands Racetrack in New Jersey. He is also trained by Takter.
The son of Yankee Glide has banked $490,000 this season for Fielding, who owns part of the trotter with his brother, Jim, Christina Takter and Falkbolagen Ab.
"I think he's got a very good chance to get a piece of it," Fielding said. "I only wish he would have drawn a little better (Post 8), but there's nothing we can do about that. He raced very well in his elimination and always has a great charge at the end."
When Little Brown Fox lines up for Post 3 for driver Yannick Gingras and Guccio from Post 8 for driver Takter, they will both look to find the wire first, ahead of their rival and probable favourite, Market Share.
"He's a heck of a horse," Fielding said of the Linda Toscano-trained Market Share. "I was really impressed with his elimination. He was out a long way and just kept coming and coming. I think he will be the favourite, especially from Post 1, so he'll have every opportunity to get a good position early in the mile. I would say he's the horse to beat, but it can happen."
Fielding says it's always a special feeling coming to the track with his brother.
"Jimmy has always been around the horses with me since we were kids," Fielding said. "My dad always had horses so we were involved. Jimmy came into horse ownership a little bit later than I did and he's having unbelievable success right now and it's great to see."
Fielding admits he was hooked on the sport since childhood.
"It's in your blood and once that happens, you're hooked," he said. "I've always loved this sport, even from a young age. I admire the horse and the people in the industry."
Fielding also has a long history with Takter, who is one of the sport's most accomplished trotting trainers.
"He is one of my closest friends and he and his wife, Christina, are excellent people. He's a very accomplished horseman," Fielding said. "He's the best in the business. Having Jimmy as my trainer, you never have to doubt. He always has the 'T's crossed and the 'I's dotted.
"If you have a good horse, he'll prove it and if you have a not so successful horse, you know it's not because he hasn't tried to get the most out of him," he continued. "We've had many thrills together and I hope that continues this weekend."
Fielding's final entry is Appomattox, who will begin from the outside Post 10 for trainer Frank Antonacci and co-owners Brittany Farms, Adam Victor And Son Stable and Lindy Racing Stable.
The youngster, sired by Yankee Glide, finished fourth in his elimination for driver Scott Zeron.
"He's a bit of a longshot, but he's shown that he's got some promise," Fielding said. "He just has bad luck drawing post positions and this race is no different."
Come Saturday at the Campbellville oval, Fielding will hope luck is on his side, with three chances at Canadian Trotting Classic glory.
The field will line up as follows:
(Post . Horse - Listed Driver)
1. Market Share - Ti. Tetrick
2. Solvato - T. Smedshammer
3. Little Brown Fox - Y. Gingras
4. Knows Nothing - J. Jamieson
5. Money On My Mind - A. Miller
6. Gym Tan Laundry - J. Moiseyev
7. My MVP - M. Lachance
8. Guccio - J. Takter
9. Prestidigitator - S. Filion
10. Appomattox - S. Zeron
AE: Modern Family - M. Lachance
To view the harness racing entries for Saturday at Mohawk, click the following link: Saturday Entries - Mohawk Racetrack.
(WEG)