Published:
September 11, 2021 10:08 pm EDT

Fire Start Hanover is harness racing's newest millionaire after a dazzling effort in the 2021 Fan Hanover Final for three-year-old pacing fillies on Saturday (Sept. 11) at Woodbine Mohawk Park.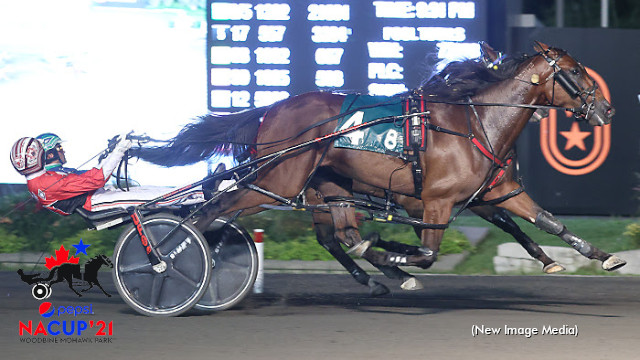 On a night where the track was favouring front-end speed, Dexter Dunn decided to drive against that bias and settle second choice Fire Start Hanover away in sixth. Notorious Pink (Todd McCarthy), Mackie Hanover (Tim Tetrick) and Scarlett Hanover all barreled into the opening turn, with Scarlett Hanover emerging on top after a :27 opening quarter. Favoured Hot Mess Express was asked to drive on for Andy McCarthy, and the public choice landed on top and hit the half under tight lines in :54.4.
Dunn started the the outer flow from sixth and couldn't flush any cover, so Fire Start Hanover forged first up through a 1:22.2 third station. The two star fillies opened up on their rivals and traded blows down the Mohawk stretch. In the final strides, Fire Start Hanover edged past and hit the wire a long head the best with the mile timed in 1:50.1. Voelz Delight (Sylvain Filion) closed strongly for the show spot.
"She went a big mile," admitted Dunn in the winner's circle. "She raced so good off the pace last week and you know there was hot speed early, so we got out of that. We ended up being a way back, she had to come a long way and chase down a really good filly. It was a great effort by her. Nifty and Scotty [Petherick], who's here looking after her, had her ready."
Trained by Richard 'Nifty' Norman, Fire Start Hanover (Somebeachsomewhere - Fit To Frame) now sports a 4-4-0 summary from nine sophomore starts and a career summary of 12-6-0 from 22 outings. The winner's share of the $425,000 purse lifts her career bankroll to $1,014,772 for Pinske Stables of Plato, Minn., David Hoese of Glencoe, Minn. and Lawrence Means of Lemoyne, Penn.
"I was very excited about this filly, I love this filly, but the race early there, I was glad Dexter bailed on the leave because I know she likes having a target and loves to chase a horse down. I knew she'd be coming home good but Hot Mess Express is a tough horse and I wasn't sure if I was going to get by but she raced fantastic to get the job done."
The 2021 Fan Hanover was contested on a stakes-packed card anchored by the 2021 Pepsi North America Cup. Read all the recaps from Cup night in the 2021 Pepsi North America Cup News Centre.