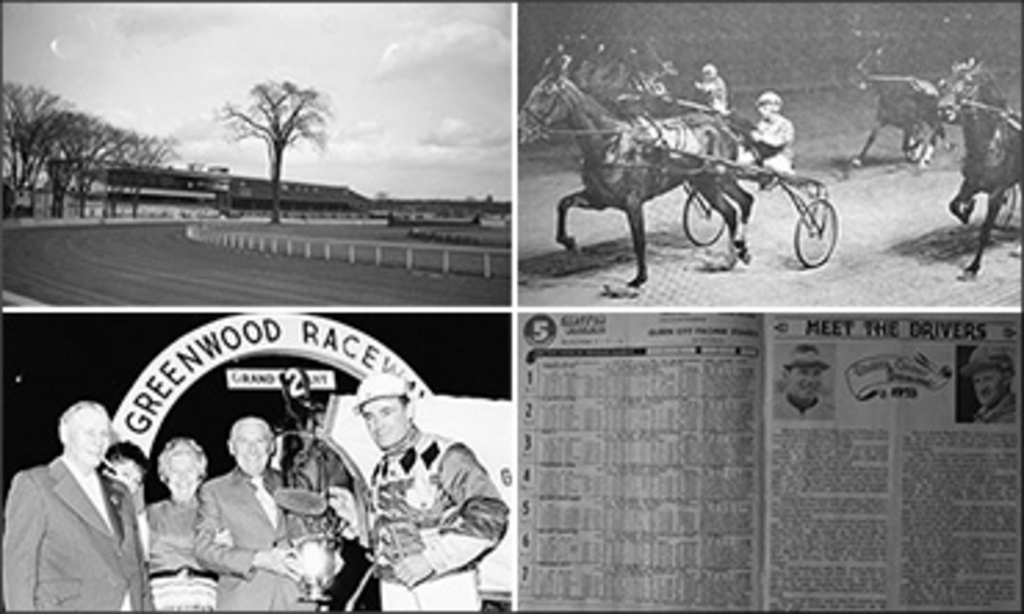 Published:
September 11, 2016 09:22 am EDT

In this week's Rewind Robert Smith recalls the year 1975 when Greenwood Raceway celebrated its 100th Birthday. He continues the year by year reminiscence of the years leading up to 1975. A number of old and interesting photographs are displayed.
This is the third and concluding edition of a three-part story. ​Today's issue includes a 'mystery' photo involving a long time participant at Greenwood Raceway. Can you figure out his identity?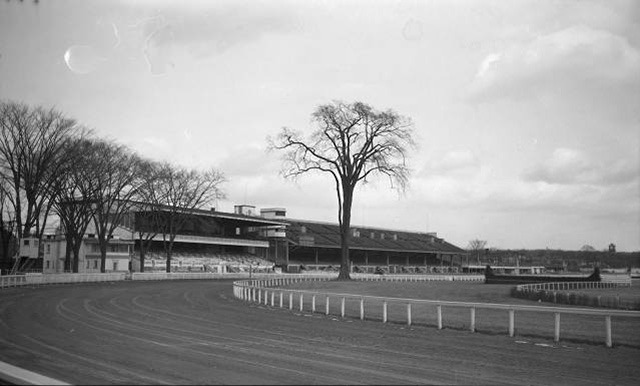 A great view of the historic Old Woodbine later Greenwood Raceway in downtown Toronto as seen from the first turn. It was situated on an 80-acre property with parking for 6,500 and the stated grandstand capacity was 10,339 seats. The total track accommodation was listed as 30,000 [File Photo]
1969 - This year marked a very special milestone when Grand Circuit racing came to Greenwood for the first time in its history. Grand Circuit action had not been held in Toronto since 1935 when the 'Roarin Grand' made a two-week stop at Thorncliffe Park which include the incomparable Greyhound. This would again afford local fans to see the best the sport had to offer.

A quartet of popular drivers are shown during the return of Grand Circuit action at Greenwood in 1969. From left: Joe O'Brien, Keith Waples, Billy Haughton and Delvin Miller
1970 - A young 28-year-old Ronnie Feagan swept the majority of the driver's categories throughout the season. Another young driver was emerging at this time by the name of Ron Waples. His average recorded at. 485 during the fall meeting was the best of the year. With a return of Grand Circuit racing the famed Joe O'Brien topped the summer meeting in earnings even though he was not a regular at this oval.
Late in the year on December 15 a sad event shocked the Greenwood backstretch residents with the sudden passing of veteran horseman Jack Gordon of Cobourg, Ont. Just the night after winning a featured trotting event with Frosty Homestead he died suddenly just outside of Barn 3 as he chatted with fellow horseman Graydon Sheldon. Gordon was a longtime competitor at this track dating back to 1954 when he won several races during the first Old Woodbine meeting driving Thor Grattan, a horse he co-owned with Cliff Hie. Gordon's son Garth later raced a topnotch stable for many years on the O.J.C. circuit.
1971 - Records in all directions continued to climb as the O.J.C. tracks led by Greenwood staged year round racing. With Grand Circuit action in late July the sport's best performers entertained the Greenwood faithful. Quick Pride and Delvin Miller won the Greenwood Trotting Stakes and The Count B for two-year-olds went to Strike Out and John Hayes. The ever popular Fort George Trot was won by Keystone Gary driven by co-owner Wm. Wellwood who shared ownership with his wife Jean. Grandpa Jim won his third straight Maple Leaf Trot.
1972 - Greenwood's popularity seemed to increase with each passing year and so did the quality of racing. This year saw no fewer than four sub-2:00 miles recorded at Greenwood, two in July and two in August. The speedy horses and drivers were Romalie Hanover (Beaulieu), Lynden Bye Bye (McKinley), Isle Of Wight (Henri Filion) and Albatross (Stan Dancer).
The Queen City Pace, by now a top flight attraction was taken by long shot Lynden Bye Bye in 1972.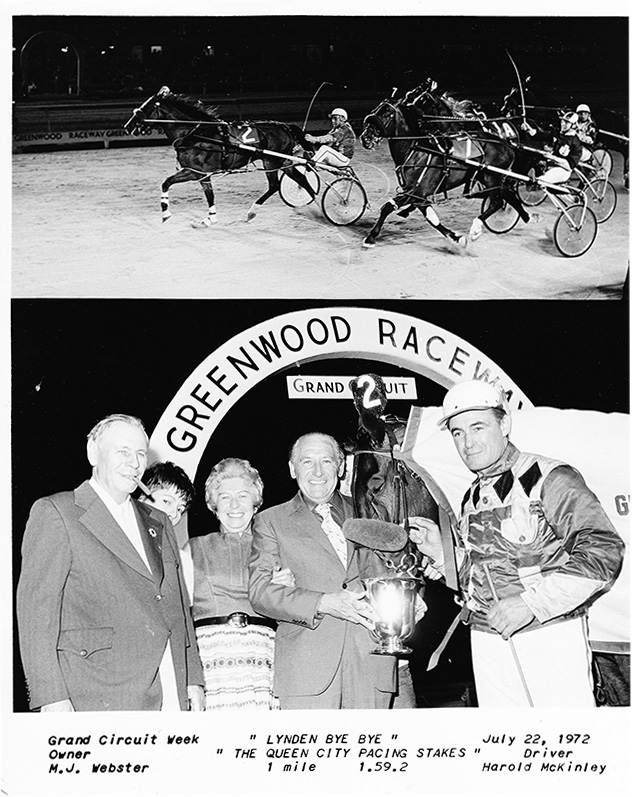 Lynden Bye Bye was an upset winner of the Queen City Pacing Stakes in 1972. Shown in the Greenwood winner's circle from left Elgin Armstrong, Audrey McKinley (partially hidden) Faye and husband Max Webster the owners, Lynden Bye Bye and driver Harold McKinley.
1973 - There were again four harness meetings and attendance, mutuel handle and purse distribution continued to climb. The driver's awards were all taken by the younger group of horsemen led by Ron Waples along with Brent Davies and Ron Feagan. National driving stars such as Billy Haughton and Glen Garnsey were multiple winners during Grand Circuit week. Flower Child took the Fort George Trotting Stakes and also set a new track record of 2:00 2/5 in winning the Maple Leaf Trot.
A new track record for pacers was set when Sir Dalrae (Jim Dennis) won the 31st edition of the fabled Canadian Pacing Derby in 1:57 3/5. He finished almost nine lengths ahead of Keystone Ponder (Ron Feagan) and Rob Ron Tarios (Keith Waples) in this huge mile.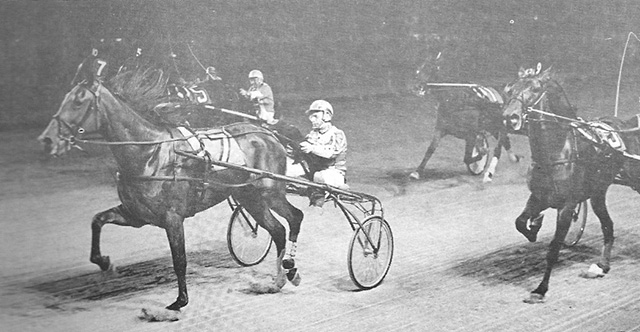 Florinda with Larry Walker driving pulls away from her 10 rivals to win the Celias Counsel Trotting Stakes for three-year-old fillies with a mile in 2:01 4/5 on July 19, 1973
1974 - Once again four meetings were held, split into 83 dates which saw well over $64 million wagered. In the drivers category two guys named Ron; one a Feagan the other Waples, dominated once again. While U.S. drivers won many of the stake events, the Fort George Trotting Stakes went to local favourite Claybrook Van. With Jerry Duford in the bike the duo set a new stakes record of 2:03 4/5 on the horse's way to a Hall of Fame career.
1975 - Greenwood was named one of Toronto's Historical Sites by the Ontario Heritage Foundation. History was revisited when on August 19 there were four thoroughbred races and six harness races held as a special 100th anniversary card. This marked the first time racing had been integrated since the late 1940's when hurdle events were held on the same card with thoroughbreds. Once again the Grand Circuit stopped at Greenwood. The Canadian and World Intercollegiate Driving Championships were held at this historic track. Carole Kennedy, a 22 year old student from Carleton College in Ottawa, was the winner of the Canadian event.
All of the sport's top performers appeared annually at Greenwood and this year the great Rambling Willie dead-heated for win in the Canadian Pacing Derby with Pickwick Baron. He went on to win this great race the following two years; no further dead-heats. More Grand Circuit and Stakes events were added each year attracting many of the top U.S. performers.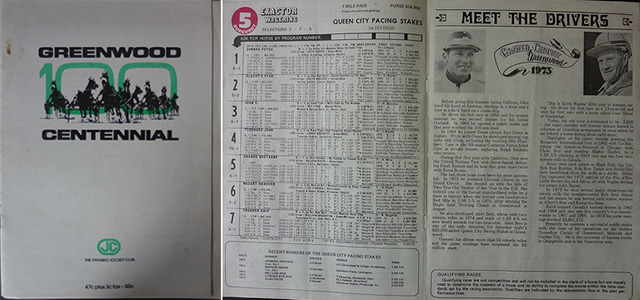 A specially designed program was used during the 1975 season. The right hand page featured drivers Glen Garnsey and Keith Waples
​
​Final Thoughts
Today it seems that the Old Woodbine/Greenwood era of Canadian harness racing holds a special nostalgic spot in the hearts of many of the true veteran racing fans still left. From the sight of the huge old grandstand that seemingly went on forever, to the picket fence visible in the background of many photographs, it just seems to have been a special place in a special time. We can never go back in time beyond doing so in one's own mind but I think it would be a trip taken by many if ever it were offered.
Sadly for many in 1993 the decision was made to close this venerable racing spot after nearly 120 years of continuous activity. The final date of racing was December 31, 1993.
Mystery Photo
​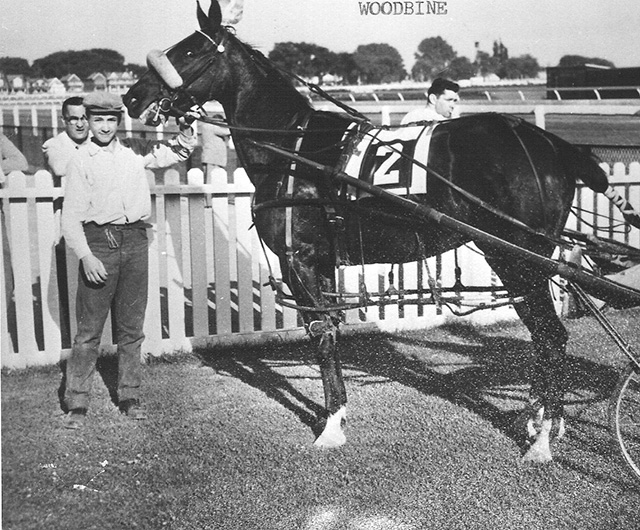 ​Can you recognize this young gentleman? He started his career as a groom as shown in this 1958 photo at Old Woodbine. One hint...he continued to be an annual participant throughout all the years at Woodbine and later Greenwood.