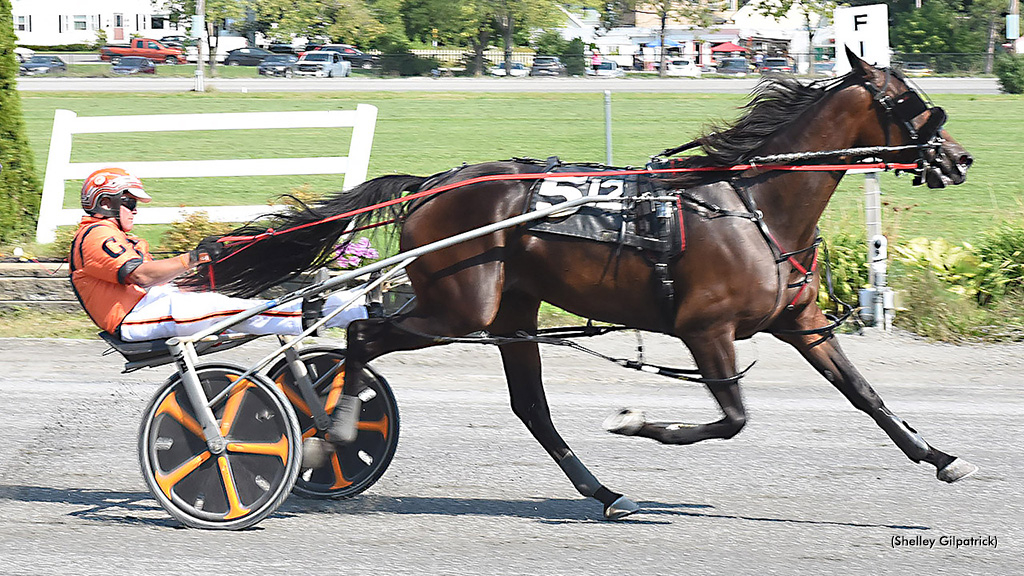 Published:
September 10, 2022 08:00 pm EDT
Pembroke Legacy and Wolverina, a pair of Maine-bred sophomore filly pacers, have dominated their respective Maine Breeders Stakes (MSBS) events over the last few months with a combined consecutive-win total of 16 victories over 19 seasonal starts. The two talented distaffs have crossed paths just once in the past three months, with Pembroke Legacy besting her capable competitor on June 19 at Bangor. The gals have not met since; instead they have each dominated their own divisional splits like two ships passing in the night.
Two $18,000-plus divisions were captured by these monsters of the midway on Saturday (Sept. 10) at historic Bass Park in Bangor, with both fillies adding to their respective win totals and ensuring a competitive final on Oct. 15.
Wolverina attacked her prey like a Honey badger, securing a wire-to-wire victory in the first of two non-wagering events. Leaving from post 5, the three-year-old daughter of Cheyenne Hollywood was sent to the lead by driver Nick Graffam and set comfortable fractions of :28.1 and 1:00 for the opening panels.
Although no threat was eminent, Graffam let out a notch into a 1:29.2 third panel while on top by two measured lengths. At the head of the stretch, the reinsman gave the filly her head and she darted down the lane like a Jack Russell Terrier hits a varmint hole, winning by six lengths and taking a lifetime mark of 1:57.4 in the process. CBF Fin finished second and Mach Royal was third.
Trained, bred and co-owned by Mike Graffam with William Arnold, it was the seventh victory this season for Wolverina, who pushed her yearly income to $55,177 and is just shy of $150,000 lifetime.
The second $18,211 MSBS Three-Year-Old Filly Pace was captured by the darling of the Down Easters Pembroke Legacy, who has not seen the back of helmet in a stakes race all year.
Scoring from post 5, driver Heath Campbell had to go around a few would-be spoilers to grab the lead past a :28.4 first quarter. Pembroke Legacy settled into a :59.3 half and was all alone by the time the field hit the three-quarter pole in 1:29.2.
Bill Varney's home bred daughter of Baron Biltmore had things the way she likes them as they crossed the wire, holding all fellow competitors at bay in 1:58.3. Trained by Valerie Grondin, Pembroke Legacy remains the only undefeated horse of the 2022 Maine Breeders Stakes, with nine wins in nine stakes outings. Her seasonal earnings have reached $66,865 with lifetime money-winnings at $172,871. Sheza Rebel finished second and Threetimessix was third.
Next on the Maine Breeders Stakes calendar is both divisions of the three-year-old trotters that will race at Bangor's historic Bass Park on Sept. 17. The following day, the Down East faithful head to Farmington for four days of fair racing at the Franklin County oval for 2 p.m. (EDT) post times.
After Farmington, harness racing returns to the Cumberland Fairgrounds from Sept. 28 through Oct. 2 for eight days of pari-mutuel action. The 150th annual Cumberland Fair and First Tracks host the Maine Breeders Stakes two-year-old finals on Saturday, Oct. 1. 
The final stop on the Pine Tree State fair circuit is historic Fryeburg, Oct 6-8. The Maine-sired sophomore finale returns to Bangor for all of the three-year-old MSBS divisional finals on Oct. 15. 
(MSBS)