Published:
September 1, 2019 09:15 pm EDT
Driver Scott Zeron kept Brian Brown trainee Fortify towards the front and fired past the late-race leader to take the quickest of two $30,000 Kentucky Sire Stakes (KYSS) divisions for two-year-old pacing colts on Sunday, Sept. 1 at The Red Mile.
Zeron placed the Sweet Lou colt in the pocket to Golden Sand heading to a :27 first quarter before circling to the front approaching a :54.4 half. Starship, racing fourth, ventured first over moving to the far turn and overtook Fortify nearing three-quarters in 1:22. Fortify then vacated the pocket at head stretch and dug into Starship before surging three-quarter lengths in front and stopping the clock in 1:50.3. Starship settled for second while Lottery Winner took third.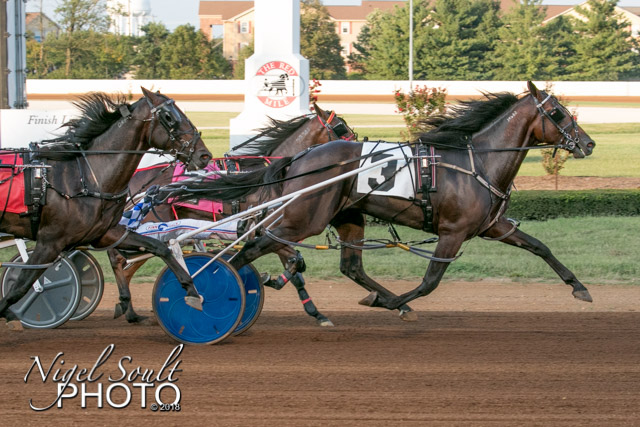 A homebred for Diamond Creek Farm LLC (owned by Diamond Creek Racing), Fortify won his first race from six starts, earning $28,250. He paid $5.60 to win.
Zeron also steered Brian Brown trainee Moneyman Hill to a 1:50.4 victory to take the other KYSS division for frosh pacing colts.
The Somebeachsomewhere colt raced third as Roll With Jr ripped to the front before a :26.3 first quarter. Pocket-sitter Its Showtime went off stride approaching the backstretch, giving the pocket to Moneyman Hill as the odds-on favourite stalked the pacesetter through a :54.4 half and through three-quarters in 1:24.1. Moneyman Hill slipped from the pocket through the stretch and zipped to a four-and-a-half length victory while Put To Right took second in a 1:50.4 mile. Roll With Jr faded to third.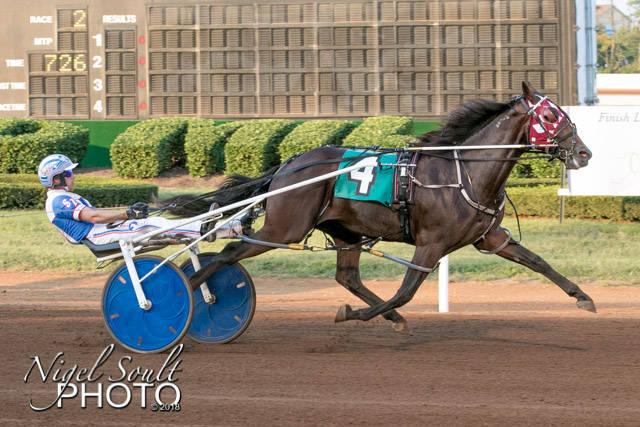 A homebred for Tom Hill, Moneyman Hill won his second race from six starts, earning $49,730. He paid $3.40 to win.
Baby Your The Best survived a first-half sprint to take the sole KYSS dash for frosh pacing fillies as the 1-9 favourite with a 1:51.3 mile.
The Linda Toscano trainee sparred around the first turn with stablemate Shining Beauty, who parked to a :26.4 first quarter when leaving from post 10. Shining Beauty promptly retreated into the backside while Baby Your The Best maintained her speed while chased by pocket-sitter Gai Waterhouse through a :53.1 half. Driver David Miller rationed the Captaintreacherous filly's speed rounding the final turn—passing three-quarters in 1:23.1—and turned away a pocket-popping bid from Gai Waterhouse to win by one-and-a-quarter lengths. Blood Red rushed from off the pace to take third.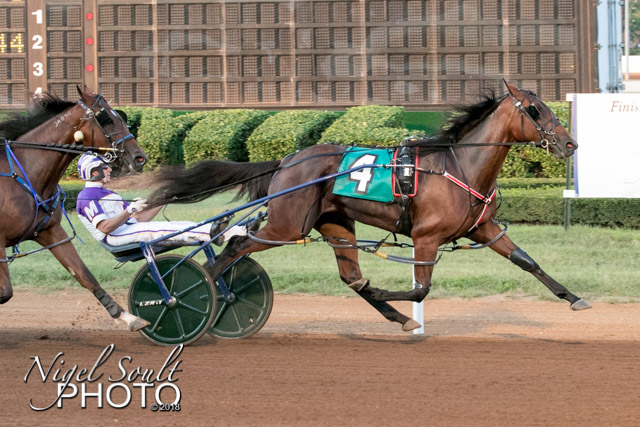 Winning her second race from five starts this season, Baby Your The Best has accrued $83,720 in earnings for owners Richard and Joanne Young. Steve Stewart, Conquest Acres Lp and Michael Robinson bred the $2.20 winner.
KYSS action resumes at The Red Mile on Thursday, Sept. 5 with the third preliminary for three-year-old trotting colts and fillies. The card starts with a first-race post at 7:00 p.m. (EDT).
(Red Mile)