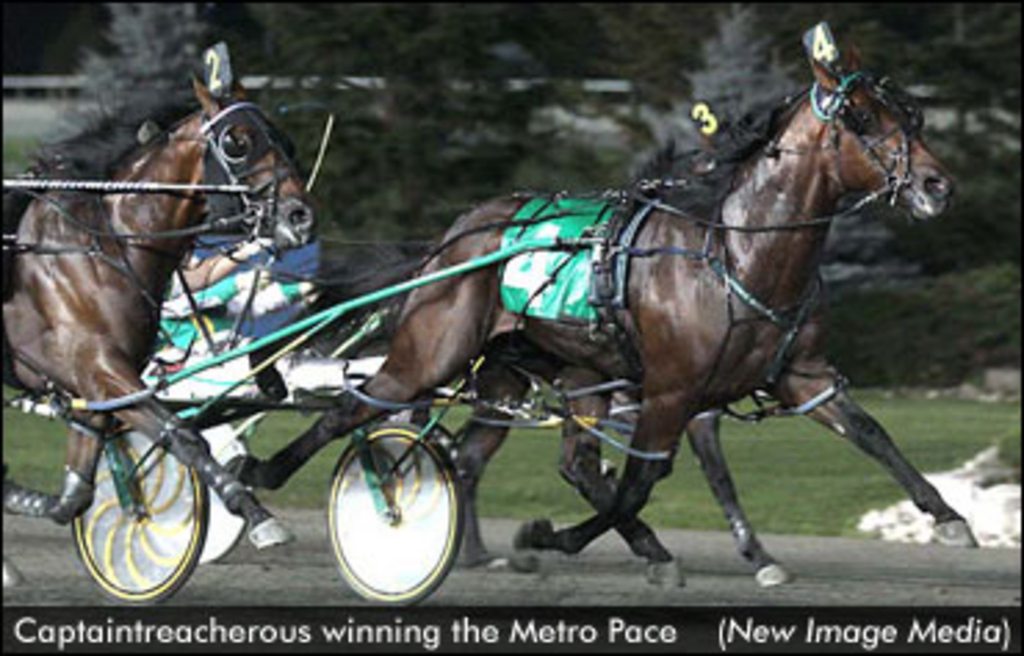 Published:
September 1, 2012 08:19 pm EDT

Favourite Captaintreacherous fought all the way to the wire to capture the prestigious $1-million Metro Pace for two-year-olds during Saturday night's action-packed card of harness racing at Mohawk Racetrack.
Rockin Amadeus (Yannick Gingras) established the early lead from post seven ahead of inside starter Johny Rock (Andy Miller), but the parked outsider Vegas Vacation (Brian Sears) rolled up to take over past the :26.1 opening quarter mark.
As the colts headed down the backstretch, Johny Rock advanced first over with elimination winners Apprentice Hanover (Jody Jamieson), Captaintreacherous (Tim Tetrick) and Odds On Equuleus (John Campbell) following into the outer flow.
Vegas Vacation was still in control at the 1:21.3 third quarter mark, but the backfield was beginning to fan wide, led by Apprentice Hanover.
Apprentice Hanover, the 7-2 second choice, struck the front at the top of the stretch with Captaintreacherous in pursuit and Odds On Equuleus closing on the outside. With the wire quickly approaching, Captaintreacherous overtook Apprentice Hanover and held off Odds On Equuleus by a neck to win in a career-best 1:49.2, matching the stakes record set by Sportswriter in 2009. Apprentice Hanover finished two lengths behind in third.
"From day one, I really liked him," said Tetrick. "Whether he had the [1]:49 speed that he showed [in his last starts], I didn't know that. But I knew he had a lot of talent. And he's gotten better and better and learned how to race. He lets me drive him the way I want to and that makes him a lot easier to put in the right spot.
"That versatility when I can take him back really helps. Wait for things to come to him rather than him making it. It worked out great tonight. It was a fight all the way to the wire. Odds On Equuleus raced awesome. I thought he might have a chance at me and he almost got me but my colt stood him off and raced his heart out. I'm definitely happy to win it [a million dollar race]."
Captaintreacherous is trained by Tony Alagna for Marvin Katz of Toronto, Brittany Farms of Kentucky, Joe Sbrocco of Ohio and New Jersey's White Birch Farm.
The first crop Somebeachsomewhere colt out of the Artsplace mare Worldly Treasure was a $250,000 Harrisburg Sale yearling purchase. He's proven his talent right out of the gate scoring five wins and one second in six starts while amassing $741,337 in purse earnings.
Among Captaintreacherous' early accomplishments are a 1:49.3 Meadowlands track record performance in the Woodrow Wilson on Aug. 4, along with victories in the Nassagaweya Stakes at Mohawk on Aug. 18 and in his Metro elimination last weekend.
Captaintreacherous paid $3.70 to win as the 4-5 favourite.
Earlier on the card, Martini Hanover pulled off a 13-1 upset in the $100,000 Metro Pace Consolation with David Miller engineering the winning trip for trainer Chris Ryder and Ohio owner Robert Mondillo. The Dragon Again-Maremma gelding fired to the lead from the outside post 10, gave way to Urbanite Hanover (Keith Oliver) and then rallied wide down the stretch around the challenging Evenin Of Pleasure (Sylvain Filion) to nab the victory in 1:51.1. The promising youngster now sports a record reading 2-2-1 in six starts and earnings totalling $163,854.
Foiled Again Becomes Harness Racing's Richest Pacer
The iron tough Foiled Again became the richest pacer in harness racing history as he split horses down the stretch to win the $787,000 Canadian Pacing Derby on Saturday night at Mohawk Racetrack.
Leaving from post four, Golden Receiver (Andy Miller), who received a bye into the final based on his earnings, established the lead ahead of insider We Will See (Ron Pierce) while post nine starter Aracache Hanover (Doug McNair) found himself parked out through a :25.2 opening quarter while gunning for the top spot.
Refusing to give way, Golden Receiver kept Aracache Hanover strung out as they paced the fastest first half in Mohawk history, clocked in :52.2.
Meanwhile, Bettor Sweet (David Miller) began to advance into the second over spot with the popular elimination winner Betterthancheddar (George Brennan) following while seventh-place Foiled Again (Yannick Gingras), who also opted for a bye to the final, advanced along the pylons.
Golden Receiver and Aracache Hanover continued their battle to three-quarters in 1:20.4 while Bettor Sweet swing wide with Betterthancheddar going even wider into the stretch.
A new battle was brewing down the lane between Bettor Sweet and Betterthancheddar, but Foiled Again was able to split horses in deep stretch to prevail in 1:48.3. Betterthancheddar and Bettor Sweet settled for second and third, respectively.
"I was in a tough spot early," noted Gingras after the win. "I was sitting eighth along the cones and I took my shot up the inside and I got lucky. You're better off lucky than good and I was able to shake loose at the top of the stretch and he did the rest."
The lion's share of the purse pushed the 63-time winner's career bankroll to $4,356,551, surpassing Gallo Blue Chip's $4,293,108 earnings record.
The eight-year-old Dragon Again-In A Safe Place gelding is trained by Ron Burke for his Burke Racing Stable LLC, Pennsylvania's Weaver Bruscemi LLC and the JJK Stables LLC of Florida.
"This is a great accomplishment by all the connections and by Ronnie Burke to keep this horse so good for so many years," said Gingras. "I can't say enough about this horse. He's been a once in a lifetime horse for anybody and to be able to become the richest pacer of all-time in a race like this is unbelievable and it shows what a great horse he is."
Foiled Again has put together a seasonal record reading 5-6-3 five of his 17 starts this year, which includes a victory in the Molson Pace.
Overlooked by the betting public, 14-1 shot Foiled Again returned $30.30 to win.
I Luv The Nitelife Prevails In Shes A Great Lady Stakes
I Luv The Nitelife followed up her 1:50.1 world record elimination win by holding off L Dees Lioness in the $610,000 final of the Shes A Great Lady Stakes for two-year-old pacing fillies during Saturday night's action-packed card of harness racing at Mohawk Racetrack.
When the wings of the gate folded, Victoria Semalu (Yannick Gingras) protected her position at the pylons with Belle Boyd (Doug McNair) dropping into the pocket ahead of the other elimination winner, L Dees Lioness (Scott Zeron). Meanwhile, I Luv The Nitelife and driver Jack Moiseyev lined up in fourth after a post three start.
Victoria Semalu blazed through a :25.4 opening quarter, but gave way to L Dees Lioness down the backstretch. I Luv The Nitelife followed her cover and cleared to command at the :54.3 half.
The world champion filly proceed to the third quarter mark in 1:23.1 while the parked out Macharoundtheclock (Jody Jamieson) advanced into second, but faded around the final turn. Down the stretch, L Dees Lioness pulled the pocket, but couldn't get by I Luv The Nitelife, who stopped the clock in 1:51. Cult Status (Tim Tetrick) came on for third.
"[Fillies like this] they don't come around too often, but you get one that wins in [1]:50 and a piece last week, a two-year-old filly, it's kind of special," said Moiseyev from the winner's circle. "Last week I had a little something left [in the tank], but tonight I had a good filly on my back [L Dees Lioness].
"It was anybody's race from head of the stretch home, but I thought she might have got me, but she [I Luv The Nitelife] is just a real nice filly and just keeps digging," he added. "She is just a big strong filly and when she sees one coming she gives you a little extra when you need it."
I Luv The Nitelife $4.20 to win as the even-money favourite. The Rocknroll Hanover-Lisjune filly brought trainer Chris Ryder and owners Richard and Joanne Young back to the winner's circle for another Saturday night stakes celebration. The winning connections also had their picture taken with A Spring Of Hope Invitational champion Put On A Show earlier in the night. Ryder also won the Metro Consolation with Martini Hanover.
For I Luv The Nitelife, the win was her third in six starts and boosted her bankroll to over $400,000.
Little Brown Fox Lowers Canadian Record
Little Brown Fox got up in the final strides to win the $246,521 Simcoe Stakes for three-year-old trotters in a 1:51.4 stakes, track and Canadian record clocking.
Cold Certified (Jason Brewer) hustled off the gate from post six and set up shop on the front end during a track record tying first quarter of :26.1 ahead of Intimidate (Ron Pierce) and the Yannick Gingras-driven Little Brown Fox. The speedster led the field to the half in :54.4 before Intimidate pulled the pocket and swept to command with Little Brown Fox hot on his heels.
With Cold Certified backing away, the top two separated from the field as they raced by three-quarters in 1:22.4. Little Brown Fox moved up alongside the leader and the Jimmy Takter trainee eventually wore him down in deep stretch for the victory. Favourite Knows Nothing (Jody Jamieson) and Prestidigitator (Sylvain Filion) chased them home to finish third and fourth, respectively.
Little Brown Fox's 1:51.4 effort obliterated the stakes record (1:52.4), held by Takter trainee Pastor Stephen, along with the track record (1:52.2), co-held by Majestic Son, Lucky Chucky, Beer Summit and Prestidigitator, and Mister Herbie's Canadian record (1:52).
The Muscles Yankee-Malvictorian colt, who has won half of his 10 starts this year including the New Jersey Sires Stakes Championship and a Stanley Dancer Memorial division, is owned by John and Jim Fielding of Toronto, New Jersey's Christina Takter, and Brittany Farms of Kentucky. The six-time career winner surpassed the half-million earnings mark.
Little Brown Fox paid $5.10 to win a the 3-2 second choice.
Put On A Show Wins A Spring Of Hope Invitational
World champion Put On A Show took the lead at the top of the stretch and drew off to capture the second edition of the $100,000 A Spring Of Hope Invitational for open pacing mares, which kicked off Mohawk Racetrack's stakes action on Saturday night.
Rocklamation (Yannick Gingras) blasted off the gate from the outside post 10 and cleared to command before the first turn ahead of Monkey On My Wheel (Keith Oliver) and 3-2 favourite Put On A Show with Jody Jamieson aboard. She carved out early fractions of :26.2 and :55 before being confronted by Put On A Show as they approached the third quarter station in 1:22. Put On A Show took over command as the mares entered the stretch and drew clear to win by two and a half lengths in 1:48.3, missing the track record by two-fifths of a second. Anndrovette (Tim Tetrick), the 2011 A Spring Of Hope champion, edged out Monkey On My Wheel for second.
Put On A Show paid $5 to win. The Chris Ryder trainee is owned by Illinois' Craig Henderson along with Richard and Joanne Young of Florida.
Standardbred owner Richard Young and the Woodbine Entertainment Group established the Invitational race last year in honour of the 'A Spring of Hope' charity, created by Young's daughter Brittany, which builds wells for schools in impoverished areas in Africa.
Put On A Show was unable to compete in the inaugural edition due to injury, which sidelined her for the entire 2011 season. However, the Rocknroll Hanover-Stienams Place mare has made an incredible comeback to earn $423,367 and win 10 of 17 races during her five-year-old campaign, including a 1:47.3 world record performance in the Lady Liberty at Meadowlands Racetrack on Aug. 4. The victory was Put On A Show's 29th lifetime and pushed her career bankroll to $2.37 million.
Young pledged 50 per cent of Put On A Show's A Spring Of Hope earnings to the charity and encouraged other participants to contribute in lieu of a starting fee for the race. Raffle tickets for a chance to win two pictures by Artissimo Designs were also sold during the evening to raise money for the charity.
Preferred Pace To Classic Rock Nroll
Classic Rock Nroll returned to the Preferred ranks at Mohawk Racetrack on Saturday and established a new mark of 1:50.1 with Doug McNair driving for trainer Tony O'Sullivan.
The Battle of Lake Erie and Joe Gerrity Jr. Memorial champion sat fourth through fractions of :27.1, :56.4, and 1:23.4 before unleashing a :25.2 final frame to come on for the three-quarter length score over Mystician (Jody Jamieson) and pacesetter Allthatgltrsisgold (Ron Pierce). Making his first start back at Mohawk since winning the North America Cup, the trailing favourite Thinking Out Loud (Randy Waples) sprinted home in :25.1 from to finish fourth.
The five-year-old Rocknroll Hanover-Classic Wish gelding is owned by New York's Frank Bellino. He paid $12.90 to win for the mild 5-1 upset.
To view Saturday's harness racing results, click on the following link: Saturday Results - Mohawk Racetrack.