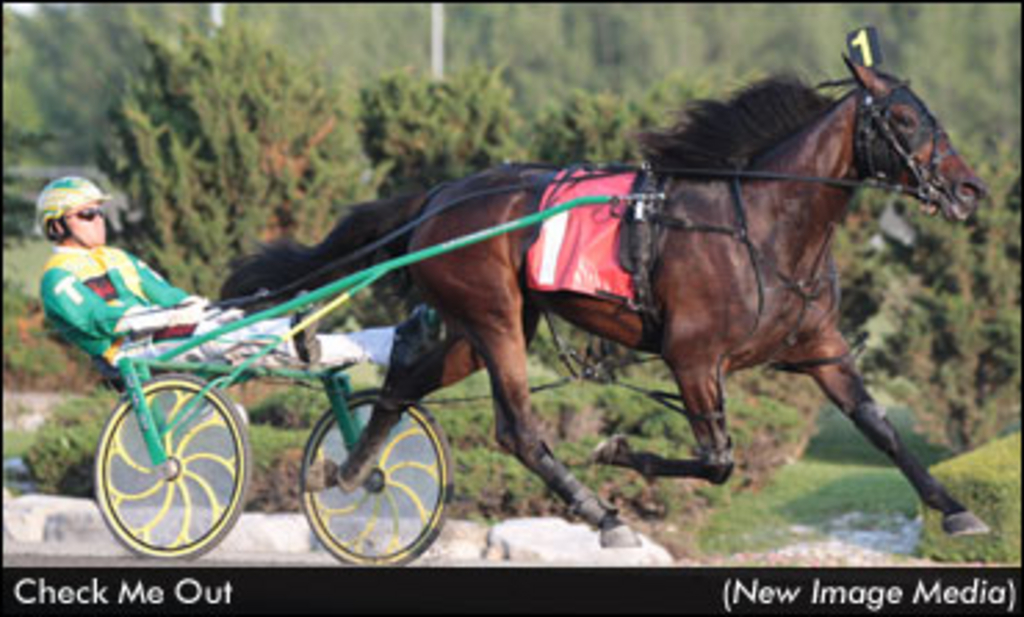 Published:
September 1, 2012 11:36 pm EDT
Check Me Out obliterated the world record for three-year-old trotting fillies on a five-eighth mile track when she cruised to a 1:51.3 victory in her $200,000 Pennsylvania Sire Stakes Championship Saturday night at Mohegan Sun at Pocono Downs, the highlight of Championship Night for the state-sired sophomores.
The daughter of Donato Hanover reached the lead nearing the quarter from post six for trainer-driver Ray Schnittker and put up splits of :27.3, :55.2, and 1:23 while looking comfortable and confident. Superstar Hanover maintained valiant contact from the pocket, and Maven started her patented grind at the five-eighths mark, but neither could approach the winner of $1.7 million, with the final clocking breaking the world record shared by Hidden Viggorish (in a PASS final) and Holier Than Thou (set at Pocono earlier this year) by an amazing one and three-fifth seconds. Maven was up for second late over Superstar Hanover.
"She was good at the gate, and once we made the top I was very confident," noted Schnittker, who co-owns Check Me Out with Charles Iannazzo.
"Very strong throughout," he continued, adding that her next start would be at Lexington.
The Western Terror filly Economy Terror set a world record in winning her pacing fillies Championship last year, held at Pocono, and the return to "home cookin'" (trainer Chris Oakes is based at the mountain track) provided "déjà vu all over again" – another world record, this time in 1:49, a tick better than place finisher's Big McDeal's seven-week-old mark, and the fastest PA Sire Stakes Championship ever (spoiler alert: tied by Dapper Dude two races later.)
After a contentious :25.4 opener, "Super Sire Stakes Finals driver" Dave Palone (he's won 25 the last 10-plus years; his nearest competitor has seven) guided his filly to the command position, and later spoke of the middle splits of :54 and 1:21.3 as "actually a good breather for her." The afterburners kicked in approaching headstretch, however, as Economy Terror opened wide daylight to become only the fifth two and three-year-old Sire Stakes "repeater" in modern times (all fillies, and all but one pacers). Chuck Pompey, Howard Taylor, and Ed Gold saw their 2011 divisional champion surpass $1.2 million in earnings.
Dapper Dude, just a half-length off in the North America Cup, easily caught defending champion Sweet Lou in the stretch while taking the colt pace in 1:49 – a personal mark, and equalling the newly-minted mark of Economy Terror as the quickest in Sire Stakes Championship history.
Sweet Lou got to the half in a mild :55, but then was forced to pace a :26.1 backside to keep out first-over Easy Again – a speed which allowed driver Jim Morrill Jr. to drop the second-over "Dude" into a gaping pocket nearing the third quarter. With the breather around the turn, Dapper Dude easily picked up Sweet Lou late, with his earnings now over $550,000 for trainer Bob McIntosh, co-owner with Al McIntosh Holdings Inc.
An alert drive by Eric Goodell was the key to the victory of Magic Tonight as the Andover Hall colt notched the other trotting event in 1:54, a stakes record. Goodell left for the top and yielded, then made another move when he saw favoured My MVP forward-bound and yielded for the two-hole behind the chalk. The Pocono Pike then provided the passage to victory for Magic Tonight, a tough second to Hambo winner Market Share at Vernon last week, as he pushed his earnings over $430,000 for trainer Noel Daley and owner Adam Victor & Son LLC. Magic Tonight was also the only outright preliminary pointleader to take a Championship (Economy Terror was co-leader in her section).
Also on the Sire Stakes Championships card were consolation races for the four classes, worth $50,000 apiece (with thanks to a late supplementation by the MSOA and PHHA).
Go Tapaigh, second in his Championship race as a two-year-old, was forgotten by the crowd at 8-1 in this year's sophomore trotting colt consolation, but an expert steer by Hall of Famer Mike Lachance saw the Andover Hall gelding eke out a 1:55.1 decision in a blanket finish. Lachance put Go Tapaigh in the three-hole leaving, then founded clearance when the outer tier collapsed at headstretch, and under Lachance's urging made the first step he led in the race the last one, but the all-important one, for trainer Danny Collins and owner Wayne Zollars while coming within a hairbreadth of $200,000 lifetime.
While Go Tapaigh "dropped" in class for his victory, 2011 divisional Stallion Series winner Dream Of Winning "stepped up in company" and took a 1:51.1 personal best in the three-year-old filly pace event. Brett Miller reluctantly accepted a three-hole trip with the daughter of Yankee Cruiser, as had Go Tapaigh, but the "Dream" slid up the Pocono Pike passing lane and held off a bunch breathing down her neck on the money. Now with 11 wins and nary an off-the-board finish in 17 starts while going over $250,000 in earnings for Debra Schoeffel, Thomas Taylor, and Brooke Dumont, Dream Of Winning took down this $50,000 contest for trainer Aaron Johnston – who, 10 hours and 261 miles earlier, had trained and driven a winner in a $1,221 event at the Stoneboro Fair.
Pocono's leading driver, George Napolitano Jr., won his fifth and sixth races of the night by taking the card's last two events, the first of this duo with the McArdle colt I Like Dreamin in the Sire Stakes consolation colt pace. I Like Dreamin liked the front end so much he moved there twice and thereafter held that position to take a new mark of 1:50.2 for conditioner Sam (Cosmo) DePinto and owners Lomangino Standardbreds and Leo Lomangino Sr.
"Nap" then rallied the SJs Caviar filly Komma Ka Z out of the pocket to catch stubborn pacesetter Cocktail Attire in 1:54.3, a new speed badge, in the filly trot consolation curtain-dropper. This race also completed the "D. Collins consolation trotting training double," as Dean Collins conditions this victorious miss for the D&G Racing Stable, who now own a diamond-gaiter with a six-figure bankroll.
Fashion Note: Drivers with basic colours of red and white won 11 of the night's 15 races -- six for Napolitano, four for Dave Palone, and one for Mike Lachance. Brett Miller, Ray Schnittker, Eric Goodell, and Jim Morrill Jr. apparently did not get the memo (although Morrill does have maroon in his colours, which according to most men is the same thing).
(PA Harness Racing Commission)