Published:
August 7, 2021 11:57 pm EDT
Millies Million bested her competition to take the featured race at the Miami Fair on Saturday (Aug. 7), the 73rd edition of the Manitoba Great Western Stakes.
With morning-line favourite Filly scratched, a field of four three-year-olds fought for their share of $6,425. Trainer Richard Rey had three entries in the race while the fourth horse came out of Trevor Williams's barn. Rey won the battle with Millies Million ($5.70) and did so in the time of 2:02 with driver Michel Rey in the bike.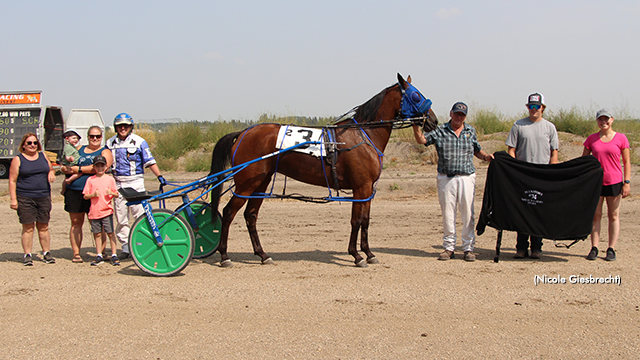 Williams and his entry, Dawns Night Owl, finished second with Glenn LeDrew in the bike. Tyler Grundy and Chase My Dust finished third.
The Art and Betty Grundy Memorial Pace had a full field of seven. This race was open to maidens, but Manitoba-bred horses were allowed one win. Jim Strikesitrich ($18.40) and George Isman came up with the upset. Dean Rey and Jimmydiddonegood finished second while Kernel Kelly and Clayton Braybrook finished third.
The week's Open Pace also drew a field of four. In this race, three geldings and one mare went to battle for the $2,000 purse. The lone mare, Pure Addition ($3.90) nabbed her fifth-straight win with help of Glenn LeDrew. The mare beat the boys in a time of 2:00.2. Marc Fillion and Baylor Out finished second and Appoggiatura finished third with Clayton Braybrook.
The Fillies and Mares Open featured a field of five going for their purse of $2,000. Hurry Home ($3.40), with Darryl Mason driving, picked up her fifth win. She won in the time of 1:59.3 — her third win under the two-minute mark this summer. Tyler Grundy and A Cowboys Dream finished second by only ahead. Bold N Sporty and Michel Rey finished third by a fair distance.
Miami Fair is set to go to post again on Saturday (Aug. 14) and 3:00 p.m. (CDT) and will feature a Pick-4 carryover of $467.14.
(A Trot Insider Exclusive by Trey Colbeck)
To view Saturday's harness racing results, click on the following link: Saturday Results - Miami.