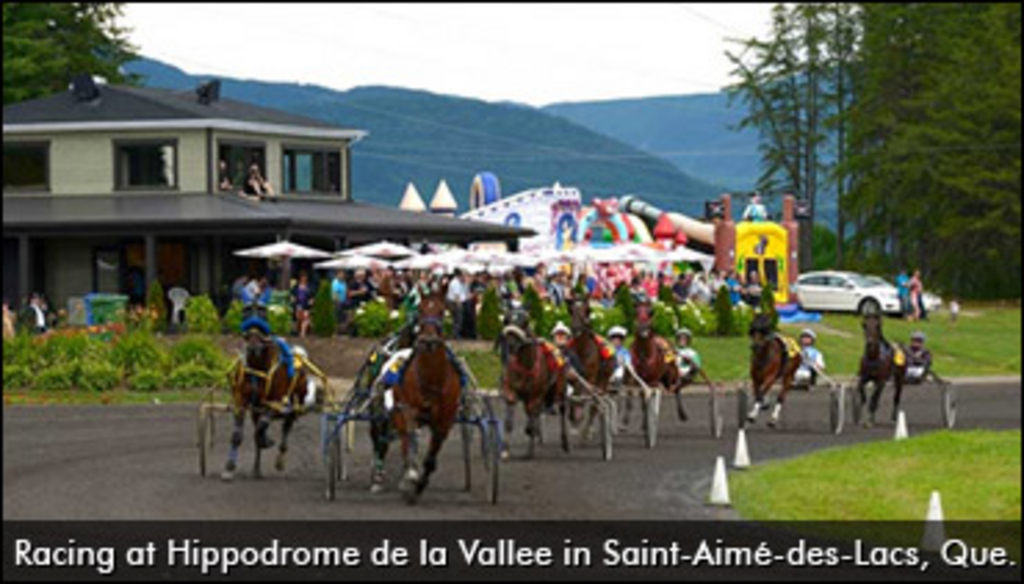 Published:
August 7, 2014 09:08 am EDT
Quebec's famous five-mile race Le 5 Milles is set for its 104th renewal this Sunday.
Now raced at Hippodrome de la Vallée in Saint-Aimé-des-Lacs, Que., this year's race has attracted a group of 10 pacers that will go 10 laps around the half-miler. The race is the culmination of a weekend celebration that kicks off on Friday night with a Guys Night Out, followed by live harness racing on Saturday afternoon accompanied by a number of kid-friendly activities, and a gala ball on Saturday night for the adults.
Last year's champion Walbert is back to defend his crown. The six-year-old son of Omar Khayam is owned by Aurel Harvey Et Fils Inc, Riviere-Malbaie, Que., who may have had this date circled on their calendar for quite some time as Walbert hasn't won a race since last year's win in a time of 11:31.3.
Herman Gagne was the trainer for Walbert in 2013, and this year he has another challenger: morning line choice Our Star. A recent acquisition of Francois Morin, Our Star, a five-year-old Rambaran gelding, is both the fastest and richest seasonal competitor in the group.
Here's the field for the 2014 edition of Le 5 Milles
1. Hockey Bum - F. Picard - D. Belanger - 4-1 (pp4)
1A. Did It Again - To Be Announced - E. Carrier - 4-1 (pp7)
2. Plumb Duff -Y. Ringuet - Y. Ringuet - 9-1 (pp1)
3. Walbert - S. Brosseau - M. Simoneau - 7-2 (pp2)
4. Huronexpress - P. Roy - J. Roy - 5-1 (pp3)
5. Ok Diablo - D. St. Pierre - Y. Tessier - 3-1 (pp5)
6. Teddy Win - L. Turcotte - M. Grenier - 8-1 (pp6)
7. Juno Winner - G. Chabot - G. Chabot - 7-1 (pp8)
8. Our Star - M. Charron - H. Gagne - 5-2 (pp9)
9. Jessy Boy J M - S. Delisle - J. Mercier - 6-1 (pp10)
A program page for the race is available here courtesy of TrackIT.
To view the full list of entries for Sunday's card of harness racing, click the following link: Sunday Entries - Saint-Aimé-des-Lacs.