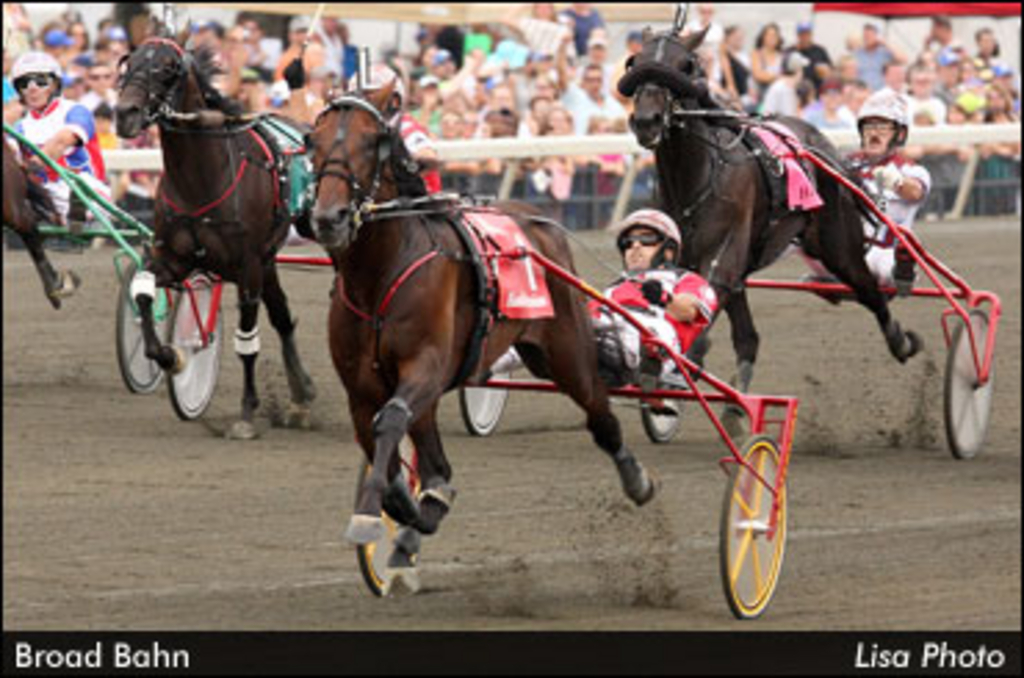 Published:
August 6, 2011 03:57 pm EDT

In a strong gate-to-wire performance, Broad Bahn was a decisive winner in the 2011 Hambletonian over Canadian entrant Whiskey Tax (Randy Waples)
in a time of 1:53 for trainer Noel Daley.
Just before the start, Magnum Kosmos broke stride leaving nine horses on the gate. Randy Waples left alertly for position with Whiskey Tax and as expected, Broad Bahn and driver George Brennan rocketed out from the rail and was on point into the first turn with Whiskey Tax in second and Luckycharm Hanover (David Miller) in third past the opening :27.1 first quarter.
The key to the race was the next quarter: a :28.4 breather to reach the half in a well-rated :56. Manofmanymissions (Andy Miller) started to stalk from first over and made up ground through the accelerated 1:23.4 third panel but as the field hit the stretch The Minister Of Speed asked his charge for more and Broad Bahn responded. Manofmanymissions was not up to the challenge as he rolled offstride. Waples did a great job in steadying the pocket-sitting Whiskey Tax and keep him trotting for a run at the leader but it was in vane as Broad Bahn was a comfortable three length winner in 1:53. Opening Night (John Campbell) closed well for third.
Broad Bahn is a three-year-old son of Broadway Hall from the Donerail mare Madonerail. Bred by Fair Winds Farm of New Jersey and owned by Fam Alber Horse Racing LLC of East Windsor, N.J., the Hambletonian win is the first for driver George Brennan, trainer Noel Daley and sire Broadway Hall.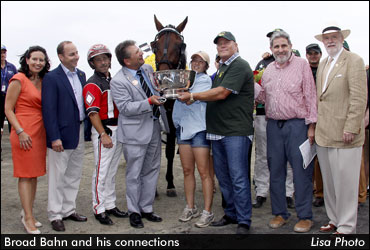 It was a rare double on harness racing's greatest day for driver George Brennan, winning both the $1.5 million Hambletonian and the filly companion event, the $750,000 Hambletonian Oaks one race earlier with Bold And Fresh.
"It's exactly what I thought, if I cut and get good fractions I thought we were good," said Brennan after the victory. "I felt really good when I asked him for trot throughout the mile. I asked Noel before the race how he was, he said 'awesome', and he was right."
"It doesn't get much better than this," said trainer Noel Daley, who finished second to Muscle Hill in the 2009 Hambo with Explosive Matter. "Everything worked out well for us today.
"He's got a very good attitude, you have to be lucky as well as good and we've had no issues," continued Daley. "I was very confident coming in. I left the trip up to George, he's had a great day."
"It looked like all day the front didn't hold up, I was extremely worried," noted agent Ole Bach, who recommended Broad Bahn to his current owners. "When I saw the :56 half, I said 'thank God'. He's a big locomotive and he kept the steam going."
Trainer Tom Durand was smiling ear-to-ear after his second place finish with Whiskey Tax.
"Watching the race I was elated. I was thrilled when he landed in the two hole behind Broad Bahn," Durand told Trot Insider. "I knew my horse wouldn't run out of gas and I was hoping for a little more racing room.
"Randy thought he had a chance to get it. I knew my horse was good but I didn't know how good. I'm happy with second."
All the recaps and replays from the stacked Hambletonian Day undercard are available in the Hambletonian Day News Centre.
To view results for Saturday's card of harness racing, click the following link: Saturday Results – Meadowlands Racetrack.