Published:
August 31, 2017 02:00 pm EDT
It has been announced that Rockeyed Optimist, who was scheduled to start from Post 5 in this Saturday's $615,000 Canadian Pacing Derby at Mohawk Racetrack, will not contest the race.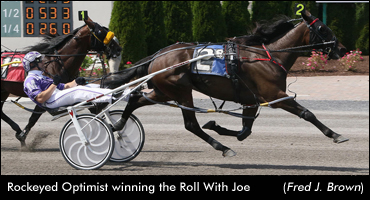 Officials with the Woodbine Entertainment Group announced earlier today that the six-year-old son of Rocknroll Hanover has been scratched from the Derby, which has been carded as Race 7 on Mohawk's Saturday night program.
Trained by Steve Elliott, Rockeyed Optimist has made 16 starts thus far in 2017 and has notched four wins, a lone second-place finish and three third-place efforts. The gelding has won 30 of his 70 career starts and has banked more than $609,000 in career purse earnings.
Lyons Snyder, who finished sixth in his Derby elim for driver Brett Miller and trainer Jimmy Takter, has drawn into Saturday's final and will start from Post 5. The duo is a 15-1 shot on the morning line.
Following is the field for the Canadian Pacing Derby. The race is No. 7 on the card, with a 9:30 p.m. estimated post time.
PP-Horse-Driver-Trainer-Line
1. McWicked-David Miller-Casie Coleman-5-1
2. Keystone Velocity-Simon Allard-Rene Allard-5-2
3. Easy Lover Hanover-Doug McNair-Ben Wallace-15-1
4. Rockin Ron-Louis Philippe Roy-Ron Burke-3-1
5. Lyons Snyder-Brett Miller-Jimmy Takter-15-1
6. All Bets Off-Yannick Gingras-Ron Burke-6-1
7. Nirvana Seelster-Trevor Henry-Bill Budd-8-1
8. Dealt A Winner-Scott Zeron-Mark Silva-15-1
9. Sintra-Jody Jamieson-Gaetan Hebert-8-1
10. Check Six-Tim Tetrick-Ron Burke-10-1
To view the entries for Saturday's card, click on one of the following links:
► Saturday Entries - Mohawk Racetrack
► Saturday Program Proof (PDF) - Mohawk Racetrack
► Saturday Past Performances Lines - Mohawk Racetrack (courtesy TrackIT)