Published:
August 3, 2021 11:30 pm EDT
The New York Sire Stakes circuit made its first of five stops this month at Yonkers Raceway on Tuesday (August 3), as two-year-old pacing fillies clashed in a trio of $47,966 divisions.
The fastest split was the first one, as Just Divine (Yannick Gingras) delivered in 1:53.2. Just Divine raced in third through opening-half fractions of :28.3 and :57.3 set by Joyride Hanover (Todd McCarthy), and began a first-over advance towards the pace-setter before the 1:25.4 three-quarters. On the final turn Just Divine got an advantage on the outside, and then in the stretch she pulled away powerfully on her way to winning by 5 1/4 lengths in 1:53.2, just missing the track record by one-fifth of a second. Joyride Hanover was second, and Reenactment (Scott Zeron) came in third.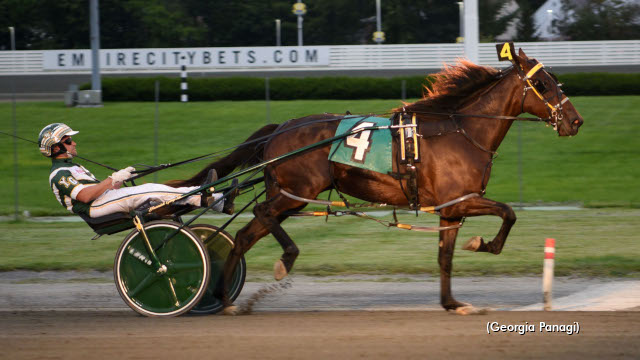 Ron Burke trains Just Divine, a filly from the first crop of Huntsville, for owners W.J. Donovan, Craig Henderson, Joe Sbrocco, and Purnel & Libby LLC. Just Divine, bred by Steve Jones and bought for $160,000 at the 2020 Lexington Selected Yearling Sale, has two wins from three chances, and she has now pocketed $46,083. Just Divine is the first foal out of the Rock N Roll Heaven mare Divine Caroline (1:49.2, $876,840) and returned $3.10 to win as the 1-2 favourite. The exacta was worth $4.90, and the trifecta kicked back $9.70.
In the next flight, Throw The Dice (Zeron) shot to the point from post two and hit the quarter in :28.1 and the half in :58, but Hamptons Babe (Andrew McCarthy), who tipped first-over from fourth racing to the half-mile marker, was able to clear Throw The Dice and take over the top spot just beyond the 1:26.1 three-quarters. After Hamptons Babe took command, that left 1-5 favourite Gotthegreenlight (Dexter Dunn) first-over. Despite losing her cover, Gotthegreenlight pressed forward into second on the final bend, then forged her way by Hamptons Babe through the stretch drive to score by three-parts of a length in 1:55. Wickedly Innocent (Jordan Stratton) advanced from sixth to third in the last quarter.
Gotthegreenlight, bred by Dr. Stephen Dey and acquired for $40,000 at last year's Standardbred Horse Sale, is a daughter of American Ideal trained by Richard "Nifty" Norman for owners Patricia Stable and Kovach Stables LLC. Gotthegreenlight, who is the fifth foal out of the Bettors Delight mare Bet On Luck (1:52.3, $531,617), is a perfect four-for-four in her career, and she has now earned $63,983. She returned $2.70 to win and was atop a $6.50 exacta and an $87.00 trifecta.
Race favourite Lee Loo (Joe Bongiorno) brushed around A Girl That Twirls (Dan Dube) after the :29.1 first quarter in the last sire stakes showdown. Lee Loo would then put the half on the board in :58.4, but she went wide on the third turn, and again on the final bend after hitting three-quarters in 1:27.1. Dube brought A Girl That Twirls to the outside on the far turn, and despite being forced a couple of paths wide by the lugging-out leader, A Girl That Twirls surged into the lead in the stretch and then drew off to prevail by 2- 1/4 lengths in 1:56. Yes Indeed (Marcus Miller) closed well for second, and Lee Loo had to settle for third.
A daughter of American Ideal, A Girl That Twirls is trained by James Lackey for owner D Racing Stable Inc. Crawford Farms bred the $32,000 Lexington Selected Yearling Sale purchase, the first foal out of the Somebeachsomewhere mare Heels On The Beach (1:52, $207,902). A Girl That Twirls has a record of 2-0-1 from three trips behind the gate, has stashed away $46,987, and paid $16.00 to win as a 7-1 offering. The exacta returned $164.50, and the trifecta was worth $598.00.
By virtue of A Girl That Twirls's upset victory, the Pick 6 was also not hit, leading to a $3,833.88 carryover starting in Wednesday night's (August 4) third race. One race after the Pick 6 went unsolved, Andres Hanover pulled a 9-1 upset and also knocked all the live tickets out of the Pick 5, resulting in a $4,458.21 carryover and a $15,000 guaranteed pool in that wager on Wednesday night's card.
The guarantee in the Pick 5 is being offered as part of the United States Trotting Association's Strategic Wagering Program. The Pick 5, which begins in race five, has a takeout rate of 20 percent.
Co-owner/trainer Mark Harder was victorious in two of the three $15,000 New York Excelsior "A" Series splits for the group, winning with American Ideal-Testing Center filly Flip The Script, driven by Scott Zeron for Harder and Ontario-based partners Dean Lockhart and Jeff Ruch, in 1:55.4 and with American Jazz (American Ideal-Southwind Jazmin) in 1:58.4. Todd McCarthy steered her for Harder and co-owner Rick Phillips. The remaining Excelsior "A" tilt went to Patsville (Huntsville-Major Master Piece) on the front-end in 1:57.4 for driver Mark MacDonald, trainer John Butenschoen, and owners William De Long and William P. De Long.
There were also two non-wagering New York Excelsior "B" Series races contested. Artemida (American Ideal-Inittowinafortune) led all the way to win the first one of those events in 1:58.3 for driver Jason Bartlett, trainer Michael Russo, and owner-breeder Michael Pagonas, and Pembroke Ideal Bj (American Ideal-B Js Skye) got up from the pocket to win the other section in 1:58.2 for Bartlett, trainer Mark Ford, and owner William Varney.
New York Sire Stakes action continues at Yonkers Raceway next Tuesday (August 10) with the three-year-old filly trotters taking to the oval.
(Yonkers)