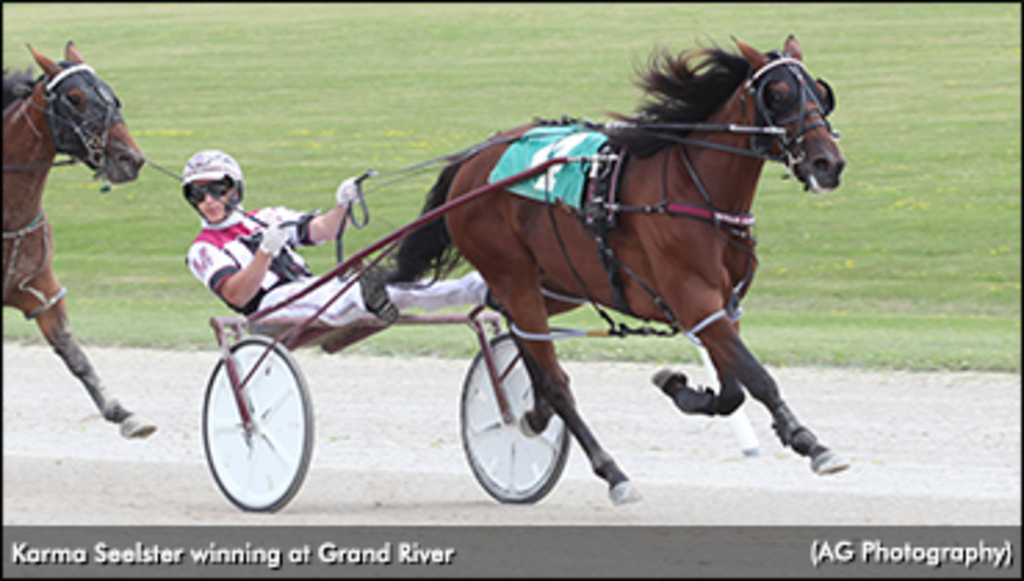 Published:
August 3, 2020 05:00 pm EDT

A slew of Ontario Sires Stakes (OSS) events for sophomore pacing fillies filled the Industry Day card at Grand River Raceway on Monday (Aug. 3), with two Gold divisions and five Grassroots splits going on the 10-race card.
Karma Seelster took her competition coast to coast in the first $105,600 OSS three-year-old pacing filly split.
Launching from post 4, Karma Seelster secured the front with Betalady also charging to land in the pocket ahead of Alicorn unhurried in third. Karma Seelster led through quick fractions of :26.1 and :54.3 before facing a challenge from Alicorn heading to three-quarters in 1:23.1. From there Alicorn began to falter, leaving Karma Seelster to a 1:53 win over Sound Idea closing for second. Betalady finished third.
Owned by Eileen Waples, Keith Waples and Karen Hauver, Karma Seelster won her first race from five starts this season and her fifth from 16 overall, earning $345,005. The Sportswriter filly had Doug McNair in the bike for trainer Gregg McNair and paid $17.70 to win.
With a downpour passing by midway through the card, a harsher storm prompted a delay prior to the second OSS Gold division. But once the horses hit the track, 2-5 favourite Lauras Love lunged to a 1:54.2 win going first over.
Rose Run Vantage took command from post 1 circling the first turn with All Day Sunshine settling into second and Lauras Love third. Past the first quarter in :27.1, Lauras Love readied an uncovered bid and angled off the pylons past a :56.1 half. Rose Run Vantage continued on a firm lead by three-quarters in 1:24.2 but shortened in stride through the stretch as Lauras Love rolled past to win by a length. All Day Sunshine took third.
Trained and co-owned by John Pentland with Gracie Mae Barr, Lauras Love won her seventh race from 11 starts, earning $141,584. Bob McClure drove the Betterthancheddar filly who paid $2.70 to win.
Preeminence topped the $114,350 OSS Grassroots Three-Year-Old Filly Pace by posting the quickest time of the five divisions, storming to a 1:54 win by open lengths.
Parked the mile, Preeminence progressed towards the lead through fractions of :27.1, :56 and 1:25. Trafalgar led the field to the quarter but Odds On Vero Beach brushed to the lead before the half and became the target for Preeminence moving up the backside a final time. The Sportswriter filly edged past Odds On Vero Beach approaching the final turn and blew away from the field. Into the stretch she owned a six-and-a-half length lead that expanded to nine-and-a-half lengths under the finish, with Keystone Kalimba closing for second and 7-5 favourite Trafalgar giving chase in third.
Owned by Claude Baril, Gilles Caouette and Michel Daneault, Preeminence won her second race from seven starts this season and her fourth from 16 overall, earning $63,066. Marcel Barrieau trains the $5.80 winner while Bob McClure sat in the bike.
Kat clung to command in the opening split for the Grassroots to win in 1:56.
Rose Run Victory held the lead to a :27.3 first quarter before yielding control to Kat moving into the second turn. Docs Harmony soon tipped first over from fourth and rushed towards the leader moving to a :56.4 half and managed to edge in front past three-quarters in 1:25.2 but could not clear. Kat came back at the inside to reclaim the lead moving into the stretch while holding off a late rally from Count To Three, finishing second by three-quarter lengths in a 1:56 mile. Admityourewrong finished third.
Winning her first race from seven starts this season and her second from 17 overall, Kat has earned $130,591 for owners Wilma and James MacKenzie. James Dean trains the Hes Watching filly while Jody Jamieson sat in the sulky. She paid $3.70 to win.
Free Flyin Ticket fended off all challengers with a blowout win as the 3-5 favourite in the second OSS Grassroots split.
Protecting position from the pylon post, Free Flyin Ticket took the field past the quarter in :27.3 and soon bore a first-over challenge from Watch My Speed moving to a :56.3 half. However Watch My Speed failed to advance, forcing second-over high Roller Duke three wide by three-quarters in 1:25.2. Free Flyin Ticket just scooted away from High Roller Duke into the stretch, opening three-and-a-half lengths to stop the clock in 1:54.1. Tuggingoncredit gave chase from third.
A filly by Betterthancheddar, Free Flyin Ticket won her third race from five starts this season and her fourth from 15 overall, earning $109,369. Anthony Beaton trains and co-owns the $3.40 winner with partners David Mercer, Gary Volpe and George Quartarone. Paul MacDonell sat in the sulky.
Following a storm which downgraded the track to "sloppy", Bettorthanbobbi rolled to a 1:54.4 win in the third OSS Grassroots split as the track upgraded to "good".
Driver Sylvain Filion sent Bettorthanbobbi to the front from post 5, edging past Hit By A Bus just before a :27.3 first quarter. Happy Looker tipped first over from fourth moving to the top of the stretch for the first time, progressing towards the leader past a :57.1 half and nearing three-quarters in 1:25.3. Though Bettorthanbobbi kept Happy Looker at bay through the stretch, maintaining a half-length advantage at the finish of a 1:54.4 mile. Hit By A Bus took third.
Trained by Marcel Barrieau for owner Ian Smith, Bettorthanbobbi won her sixth race from eight starts this season and her 11th from 18 overall, earning $53,828. The Betterthancheddar filly paid $2.40 to win.
Landry Seelster led every step in the fourth OSS Grassroots split, strolling to a 1:55 win as the 7-5 favourite.
Starting from post 1, Landy Seelster slid to the lead while Mary Kat cleared into the pocket. Landry Seelster led to a :26.4 first quarter and :57.1 half before facing pressure from Siochan racing first over towards three-quarters in 1:25.4. Though Siochan stalled into the final turn as Landry Seelster paced to the finish two-lengths better than Mary Kat. Coqui Coqui closed for third.
A filly by Mach Three, Landry Seelster won her second race from six starts this season and her fourth from 15 overall, earning $67,859. Michael Ellis trains the $4.60 winner for owner Kim Lezanchuk while Doug McNair sat in the bike.
Alongside the provincial-bred stakes, Pretty Handsome powered to a 1:55 win in the $15,000 Horses & Geldings Preferred Handicap Pace.
Jay Eye Em set the tempo through fractions of :27.1, :57.1 and 1:26. Driver Colin Kelly positioned Pretty Handsome fifth to the quarter from post 7, sitting 10 lengths off the speed. Kelly quickly moved the five-year-old Mach Three gelding to recoup ground moving to the half, ranged to race alongside Jay Eye Em by three-quarters and took over the lead moving into the stretch. Exit Smiling darted out of the pocket to hold second while Toot Toot N finished third four lengths farther back.
Owned by Glenview Livestock Ltd., Pretty Handsome won his second race from seven starts this season and his 27th from 57 overall, earning $270,975. Lacey McCabe trains the $8.60 winner.
The finals of the Battle of the Belles and Battle of Waterloo served as the headlining features of the Industry Day card. For recaps of those races, click this link.
To view Monday's harness racing results, click on the following link: Monday Results – Grand River Raceway.