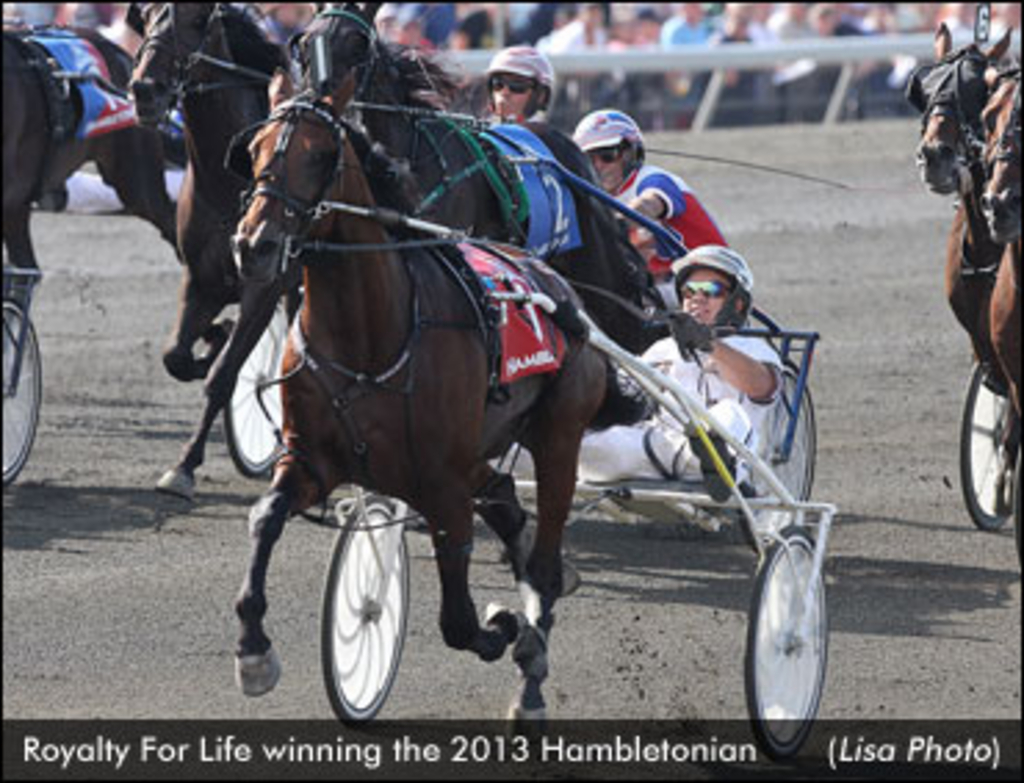 Published:
August 3, 2013 05:13 pm EDT

Royalty For Life was crowned the champion of the $1 million Hambletonian, which returned to its historic heat format this year, on Saturday afternoon at Meadowlands Racetrack in East Rutherford, New Jersey.
After overcoming an outside post position to win the fastest of three $70,000 elimination heats earlier in the day in 1:52 flat, Royalty For Life returned to take the final of the 88th edition of the trotting classic in 1:52.1 for driver Brian Sears and trainer George Ducharme.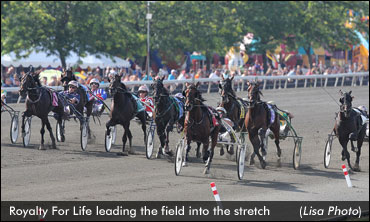 The Hambletonian returned to a heat format for the first time since 1996 with the top three finishers from each of the eliminations advancing to the final along with the highest money-winning fourth-place finisher.
With the inside post advantage for the final, Royalty For Life established the lead and forced post nine leaver Smilin Eli (Tim Tetrick) to settle for a two-hole trip through a :26.2 opening panel -- the fastest first quarter in Hambletonian history eclipsing Mr Lavec's 1994 record by one-fifth of a second. The 4-5 favourite then proceeded to lead the field of 10 to the half in :55 and three-quarters in 1:23.3 with the other elimination winners, Spider Blue Chip (Ron Pierce) and Creatine (Mike Lachance), advancing first and second over. But once Royalty For Life hit the top of the stretch, he drew away from his rivals by three lengths to secure the victory. Smilin Eli edged out Corky (David Miller) in a photo for second.
Royalty For Life paid $3.60 to win.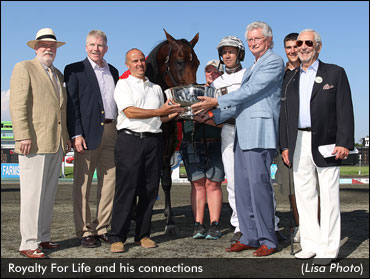 "He's awful tough when he's in front and I really didn't have any qualms about him getting to the line in front," said breeder and co-owner Alfred Ross, of South Dartmouth, Massachusetts, during the trophy presentation. "He's a super horse and he's in great hands."
Ross shares ownership of the Royalty RC-Bourbon N Grits colt with Raymond Campbell of Belchertown, Massachusetts and Paul Fontaine of Woonsocket, Rhode Island.
"This is just a huge opportunity to be with all my friends and my family and I'm so glad for my mom and dad," said Ross. "This is very important. It's emotional, very emotional."
Royalty For Life overcame some early season breaking issues to earn millionaire status while notching his 11th career win from 21 starts.
"The pressure is off, I feel a lot better," said a relieved Ducharme in the winner's circle. "I really had confidence in him. It was a little frustrating, but the owners stuck by me and let me figure a few things out and it seems to have benefited all of us.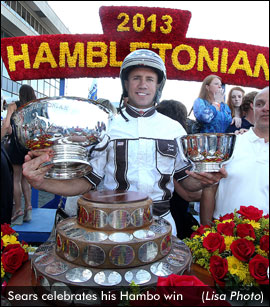 "Word can't describe it," continued the Norfolk, Massachusetts conditioner. "I never ever thought I would be in this spot. Being a little guy from Massachusetts training a bunch of homebreds and to turn out to be like this is just amazing."
With family by his side, the victory for Sears was also a special moment in his career as he swept the Hambletonian and the companion filly event, the $500,000 Hambletonian Oaks, in the same day. He won the Oaks one race prior aboard Bee A Magician. Sears was the first driver to complete the same feat back in 2009 with Hambletonian winner Muscle Hill and Oaks champion Broadway Schooner.
"I'm sure we have a big group of fans in Vernon this afternoon and I'm glad to be apart of it," he said. "This is my dad's first Hambo and we had a pretty good day."
For complete coverage of the Hambletonian elimination heats, Hambletonian Oaks and the rest of the Hambletonian Day undercard, click here.