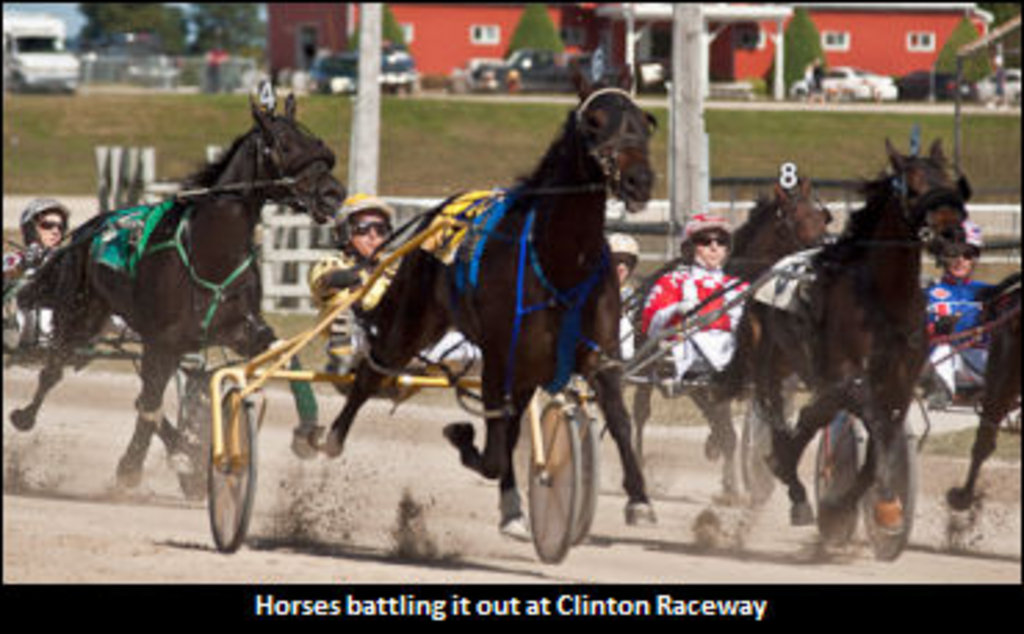 Published:
August 29, 2016 02:19 pm EDT
Eight of the best harness drivers in Canada will be at Clinton Raceway on Sunday, September 4 for the track's final program of its 2016 season.
The reinsmen will compete in the 36th Clinton Drivers' Championship, an annual fundraiser which has raised in excess of $290,000 since its inception in 1981.
"The charities we're supporting with the drivers' competition this year are the four area Legions – Clinton, Seaforth, Goderich and Brussels," explained Ian Fleming, the track's general manager. "The Legions are an important aspect of every community and I think it's good for racing to support them."
"I'm always happy to win," said Trevor Henry after winning his third drivers' championship at Clinton last year, "but the real winners here are the veterans and the local legions that are working to support them. I know we're all happy to come out and drive to support them."
Henry, who currently sits second among all drivers in Canada this year for money won with $3.2 million in purses to date, will be looking to defend his title this year. Clinton's top driver for many years, Henry went over the 6,000 mark in races won earlier in 2016.
Should Henry win the 2016 drivers' championship he'll tie with Dave Wall and Jody Jamieson for the most wins in the competition (with four). Jamieson, who is perennially in the top 10 drivers in Canada in money and races won, will be looking for his fifth championship trophy. Named Canada's driver of the year three times in his career, Jamieson has 7,400 wins and $116 million earned to date.
Jamieson and Henry will be joined by two other talented WEG drivers, Doug McNair and James MacDonald, and they'll square off against the top two drivers at Clinton, Nick Steward and Ryan Holliday, along with Canada's top two drivers in terms of races won so far this year, Alfie Carroll and Bob McClure.
Steward and Holliday have both made 80 starts at Clinton's half-mile oval so far this year and have raked up 19 and 17 trips to the winner's circle, respectively. Steward is on track for a career year, as he has recorded a total of 161 wins so far in 2016 and has banked just under $1 million in purse earnings. He's just four wins shy of 1,500 lifetime victories. Holliday, meanwhile, just surpassed a personal milestone of $5 million in career purses.
Carroll and McClure are two of the country's busiest (and winningest) drivers. Carroll has competed in 1,737 races so far this year, while McClure has sat behind 1,423 horses in races to date in 2016. Their hard work has been rewarded, as they have more wins than any of their rivals this year. Carroll has 375 trips to the winner's circle, while McClure has 305. The third-place driver is distanced with 215 victories.
In addition, the duo are the top two drivers at three of Ontario's racetracks – Georgian Downs, Grand River Raceway and Flamboro Downs. When Western Fair's meet ended in May, Carroll was the track's No. 1 driver, followed by Steward and McClure.
All of the participating drivers will be donating their fees to the fundraiser which will also be boosted by a silent auction, draws and a BBQ chicken dinner. The card also includes Ontario Sires Stakes races for three-year-old pacing fillies.
The final card of racing at Clinton Raceway for 2016 promises to be a great one, with the country's leading drivers in attendance, very talented stakes horses performing, and a fundraiser for a very worthwhile cause.
First-race post time is 1:30 p.m.
(Clinton Raceway)