Published:
August 27, 2014 11:06 am EDT
Sam 'Chip' Noble III, one of the top trainer/drivers in the sport and a member of the Ohio Harness Racing Hall of Fame, will be honoured as the 2013 Joseph Neville Award winner by the Delaware County Fair.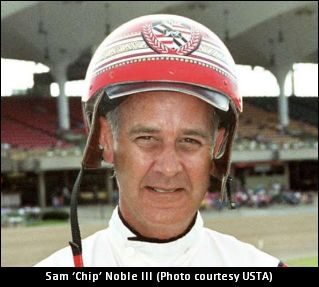 Noble is the third leading driver in the history of the Delaware County Fair with 106 victories (behind David Miller and John Campbell). Noble is credited with 5,105 driving victories and 1,002 career training wins. His final career win came behind Contessa Leigh in the 2013 Ohio Breeders Championship three-year-old filly trot.
Noble was one of the top percentage drivers in the sport. He won North American UDR crowns in 1978, 1981 and 1983, and he was chosen to represent the United States in the World Driving Championship in both 2001 and 2003.
In 2003, he received the Buckeye State's highest honour when he became the 30th inductee into the Ohio Harness Racing Hall of Fame.
Noble was a director of the United States Trotting Association and the Ohio Harness Horsemen's Association and a member of the Little Brown Jug Society.
Noble was survived by his wife, Debbie; and children, Sam, Dan and Meredith.
(Little Brown Jug)
Related Stories