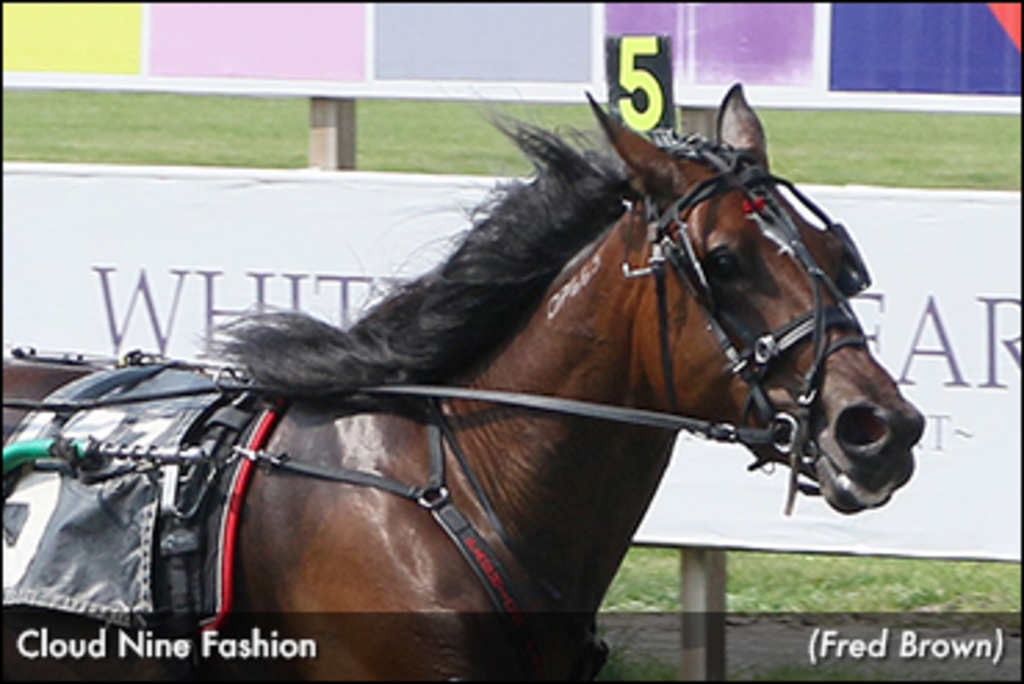 Published:
August 26, 2018 07:40 pm EDT
Tioga Downs hosted the W.N. Reynolds Memorial races for two-year-old trotters and pacers on Sunday (Aug. 26).
Starita ($2.80) and Cloud Nine Fashion ($2.10) won their respective divisions of the Meda for two-year-old trotting fillies.
In the $37,250 first division, Starita and David Miller pranced out to the lead and never looked back, setting fractions of :28.3, :58.3 and 1:27.2. She had a two-length lead after three-quarters and turned on the afterburners in the stretch to win going away by more than five lengths. Fashion Rachel (Corey Callahan) finished second, with Cardinale (Andy Miller) taking third money.
Joe Holloway trains Starita for Val D'Or Farms and Ted Gewertz. It was the second win in seven career starts for the Trixton-Morningstar filly.
Cloud Nine Fashion remained undefeated after living up to favoured billing in the $37,750 second division. After early leaders Sabrina Deo (Callahan) and Explosive Mel (Marcus Miller) broke stride, Cloud Nine Fashion and Tim Tetrick inherited the lead through a :30.3 first quarter while Southwind Percy (David Miller) took over the pocket. From there, it was a two-horse race as Cloud Nine Fashion led through middle splits of 1:00.1 and 1:28.1. Southwind Percy put on the pressure around the final turn, but when they reached the top of the stretch, Cloud Nine Fashion had a lot left in the tank and won easily in 1:57. Southwind Percy settled for second, while Chardonnay Nay (Tom Jackson) finished third.
Cloud Nine Fashion, a daughter of Muscle Hill and Im On Cloud Nine, is now a perfect four-for-four for Fashion Farms LLC and trainer Jim Campbell.
No Drama Please ($8.70) easily won the $69,300 Judge Moore for two-year-old trotting colts and geldings, charging straight to the front and never looking back. The Trixton-Female Drama colt set fractions of :28.3, :58 and 1:26.2 en route to his 1:56 score. Betting favourite Holiday Hangover (Tetrick) looked like he had a chance just before the three-quarter mark, but broke stride. No Drama Please then breezed home for his first career victory. Cheap Tricks (Jim Taggart Jr.) and Sheenas Boy (Marcus Miller) were second and third, respectively.
Julie Miller trains No Drama Please for Stroy Inc.
The $56,300 Lorraine for freshman pacing fillies saw Zero Tolerance ($2.10) and David Miller earn an impressive win. The daughter of Heston Blue Chip and Feelinglikeastar was a gate-to-wire winner, controlling splits of :28.1, :57.4 and 1:26 en route to a 1:53.2 score. She never let them get close in winning her fourth straight race. Prairie Westerngal (Taggart) finished a distant second, while Simone (Homer Hochstetler) got third.
Joe Holloway trains Zero Tolerance, a five-time winner in six starts to date, for Val D'Or Farms and Ted Gewertz.
In the $66,600 Solicitor for juvenile pacing colts and geldings, Mangogh ($7.20) hung on to prevail. Tim Tetrick sent the Western Ideal-My Little Artist colt to the front to lead Sweet Troy (Marcus Miller) through early splits of :28 and :56. Mangogh was pressured by Saronno (Andy Miller) as he hit the three-quarter mark in 1:24.3. In the stretch, Sweet Troy found room and charged at Mangogh, but his move was too late. Mangogh won in a career-best 1:53.4, while Sweet Troy settled for second and Saronno ended up third.
Bruce Saunders trains Mangogh, a two-time winner in six starts, for M&L of Delaware LLC and M&M Harness Racing LLC.
Live racing returns to Tioga Downs on Friday (Aug. 31); first post is 6:15 p.m.
(with files from Tioga Downs)