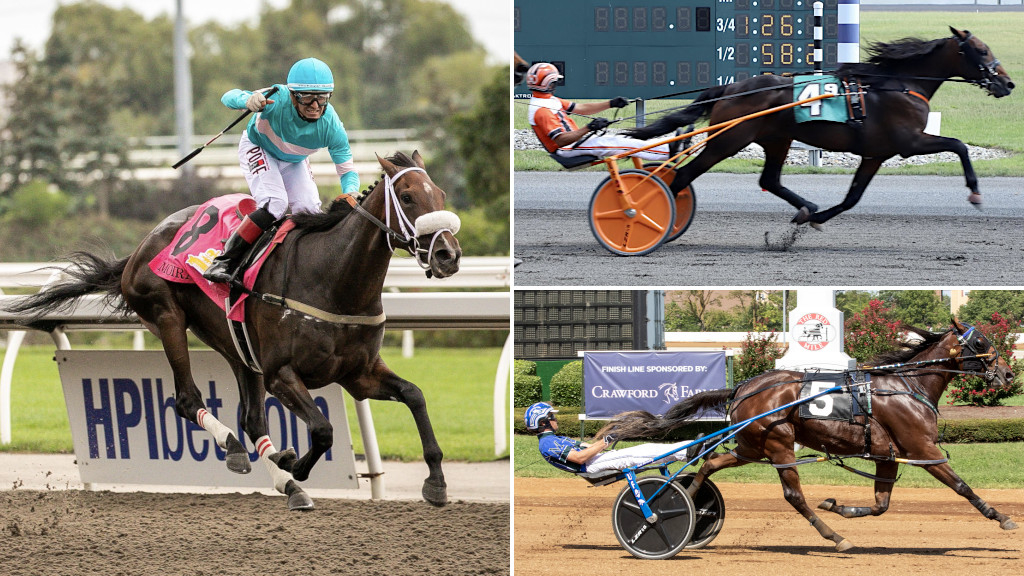 Published:
August 25, 2022 11:27 am EDT
Some guys have all the luck. Daniel Plouffe, for instance.
A successful Standardbred owner for decades, Plouffe decided a few years ago to also try his hand at Thoroughbreds in partnerships engineered by his longtime friend, bloodstock agent Donato Lanni, who he got to know at now-defunct Blue Bonnets racetrack in Montreal.
He was rewarded for it Sunday with the sensational victory of three-year-old filly Moira in the $1-million Queen's Plate, Canada's biggest Thoroughbred race. Plouffe and his spouse Alexandra Verret both have shares in the partnership that owns the filly and about a dozen other horses, among them Gaston, who got the party started by winning a $123,200 maiden race at Woodbine earlier in the card.
Meanwhile, at the Red Mile in Kentucky, one of Plouffe's dozen Standardbreds in training, three-year-old Captaintreacherous filly Boudoir Hanover, won an $80,000 Kentucky Championship Series event for pacers. She'd captured the Nadia Lobell Pace at Hoosier Park earlier this year.
On Saturday night, a two-year-old Bar Hopping trotter he has a share of, French Wine, qualified for this weekend's rich  William Wellwood final at Woodbine Mohawk Park. A two-year-old pacing filly in which he has stake, Boudoir Hanover's sister Bellisima Hanover, is entered in the Eternal Camnation Stakes at Mohawk this Saturday.
"It was a good weekend. We're going to remember that one a while," Plouffe said with a laugh after returning from Ontario to Quebec's Eastern Townships, where he owns several grocery stores.
He said he enjoys both breeds, and he's not alone, Lanni's partnerships includes several prominent Standardbred owners, including John Fielding, Clay Horner, David Anderson, Steve Heimbecker and Robert Leblanc.
Witnessing Moira's explosive seven-length victory before a full house at Woodbine was one of the biggest thrills he's experienced in racing, Plouffe said.
"She went by the others so fast it was as if they'd stopped moving. I rank it right up there with Blissfull Hall's win in the third heat of the Little Brown Jug. Having a large crowd there made it so special both times.  You could feel the excitement. Woodbine did just an unbelievable job of welcoming us, and I can't say enough about their hospitality," he said.
Moira was Plouffe's second Queen's Plate starter. The first, Clayton, finished third in the 2020 race, contested before few spectators because of the pandemic.
Moira's exploits (she also won the $500,000 Woodbine Oaks earlier this year) have continued a winning tradition for Plouffe that includes Standardbred millionaires such as hall-of-famer Blissfull Hall and Courtly Choice (winner of the Jug and Meadowlands Pace).  Reports Thursday said she's unlikely to contest the second jewel of the Canadian Triple Crown. "The goal this year was the Oaks, and if she won that, maybe the Plate," Plouffe said. Mission accomplished.
(A Trot Insider exclusive by Paul Delean; Photos: Moira (John Watkins), French Wine (Grace Zimmers) and Boudoir Hanover (Amanda Stephens))