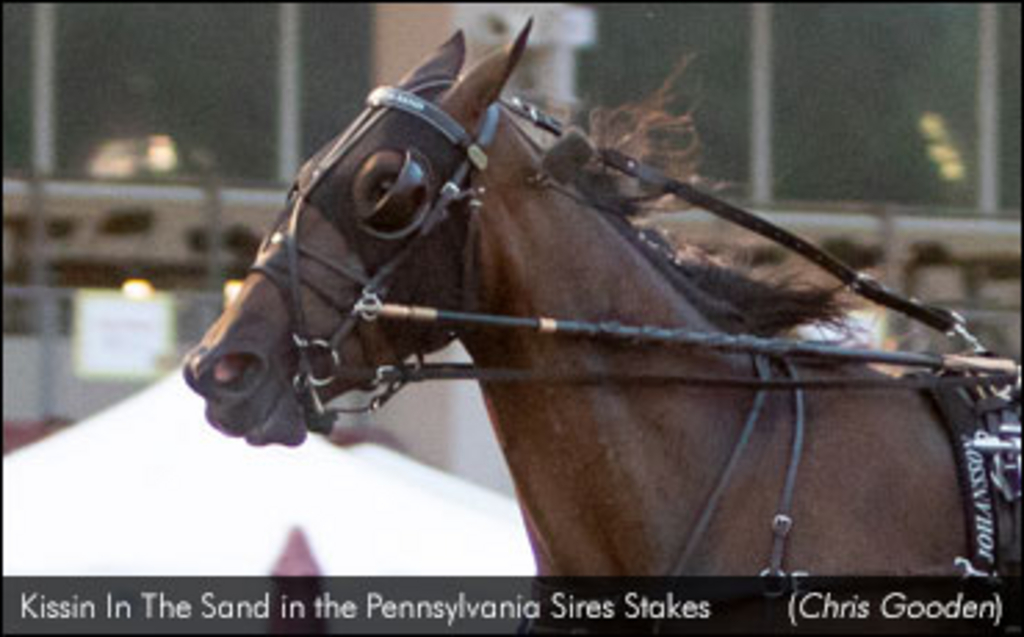 Published:
August 24, 2018 11:48 pm EDT
Heavy favourites Kissin In The Sand and Alexas Power were easy victors in Friday's Romola Hanover, a $160,238 Pennsylvania Sire Stakes, at The Meadows.
The pair advanced to the $252,000 PASS championship for three-year-old filly pacers, which is set for September 2 at The Downs at Mohegan Sun Pocono.
Kissin In The Sand, arguably the national leader in her division, had to work hard from post six for the early lead. But when Dave Palone gave her a :29.1 second-quarter breather, she was refreshed and ready to blaze the back half in :54.3. She scored in 1:51, 3-1/2 lengths better than the first-over Parisian Blue Chip, with Double A Mint third.
"This year, she's pretty laid back. Last year, she could be a pain," said Nancy Johansson, who trains the daughter of Somebeachsomewhere-Kiss Me Kate for Marvin Katz and Hatfield Stables. "She wanted to do everything her way. This year, we've come to an agreement: I let her get her way sometimes, she lets me get my way sometimes. I think she was pretty much well in hand today. She looks like she's coming into the final nice and strong."
Kissin In The Sand, who increased her career bankroll to more than $700,000, has finished first or second in all nine starts this year.
The journey of Alexas Power to the front from post seven was even more arduous, as she couldn't cross over until the three-eighths. But she was untouchable thereafter, defeating Apple Hanover by 1-1/4 lengths in 1:52 flat for Tim Tetrick, trainer Jim Campbell and owners Jeffrey Snyder and Michael Snyder. Sansovina Hanover earned show.
"That was a pretty tough first quarter, but she's been pretty good lately," said Campbell of the daughter of Somebeachsomewhere-Michelles Power, who now boasts a lifetime bankroll of $359,835. "We've been thrilled with her this year. She puts in a great effort every time."
Friday's card also featured a pair of $20,000 PA Stallion Series splits, which were taken by three-year-old filly pacers Cult Icon and Real Fine.
Cult Icon proved once again that she loves passing horses, as she moved for Palone from fifth at the three-eighths and had little trouble overtaking the leader, Danikova, en route to a 1:52.4 victory, her fourth straight. Danikova persevered for second, 4-1/2 lengths back, while Belles Delight completed the ticket.
"I don't think it would have mattered how I drove her," Palone said. "She is so sharp. She let me know she was wanting to race at the quarter pole. I just moved her back to the front, and she was on her own from there."
Trent Stohler conditions the daughter of Bettors Delight-Yankee Icon, who now boasts $123,516 in career earnings, for Trent Stohler Stable, Tim Graber, Single G Stables and Stately Gaits Stable.
Mike Wilder worked out a cozy pocket trip for Real Fine, whose chances were further abetted by the early break of the 1-2 favourite, Attention Hanover. She roared past the leader, Miss Hill, in the stretch to down her by 1-3/4 lengths in 1:53.1, with Ana Hanover third.
"She's pretty much push button," Wilder said. "She gives you 100 per cent. The favourite ran — that helped. But you know what? She was right on her toes, and she raced super."
Ron Burke trains Real Fine, a daughter of Bettors Delight-Real Touch, for Burke Racing Stable, Knox Services, Slaughter Racing Stable and Weaver Bruscemi LLC.
Ruvola Wins Billings Leg
Michelle "The Belle" Ruvola (Better Call Saul) and Stephen "You're Never Too" Oldford (Kaffir Kemp) dueled for more than half a mile before Ruvola drew away in the stretch to capture a $10,000 leg of the C.K.G. Billings Amateur Trot.
With Ruvola parked out and Oldford refusing to release any challengers, the stage for the battle was set. Despite the demanding trip, Ruvola surged late to defeat Oldford by four lengths in 1:57.4 for trainer Crist Hershberger and owner Wolf Creek Farm. The six-year-old Muscle Massive-Kelsies Song gelding pushed his career bankroll to $131,338. Tom "Mayhem" Svrcek (Fair Glider) and "Chicago" George Bonomo (Time Outa Jail) completed the ticket.
With his tough journey, it wasn't clear that Better Call Saul would have anything left for the drive.
"I wasn't too sure, but he felt strong all the way," Ruvola said. "So I was hoping, and he just wouldn't give it up. I asked him a bit, but when I asked, he gave."
It was the third straight Billings leg in which Ruvola has out-finished Bonomo, her father. Despite retaining family bragging rights, she indicated she wouldn't lord it over her dad.
"I feel bad about that, kind of," she said. "It's a horse race — we're not father and daughter out there; we're fellow racers. But I won't (needle him). I'm nice."
Shawn Johnston Wins Pony Hop Charity Challenge
With a late lunge, Shawn Johnston surged across the finish line and captured Friday's Pony Hop Charity Challenge at The Meadows, earning $500 for the Cystic Fibrosis Foundation of Western Pennsylvania.
The event, staged by The Meadows and the Meadows Standardbred Owners Association, matched eight of the track's regular drivers bouncing for their favourite charities. Dan Rawlings finished second, winning $250 for the Asperger and Autism Network, while Jeremy Indof's show finish netted $150 for the American Cancer Society.
Also participating were Dave Palone (Standardbred Retirement Foundation), Mike Wilder (Pacing for the Cure), Jim Pantaleano (Cleveland Clinic Cancer Center), Brady Brown (St. Jude Hospital) and Wilbur Yoder (New Vocations).
(With files from The Meadows)