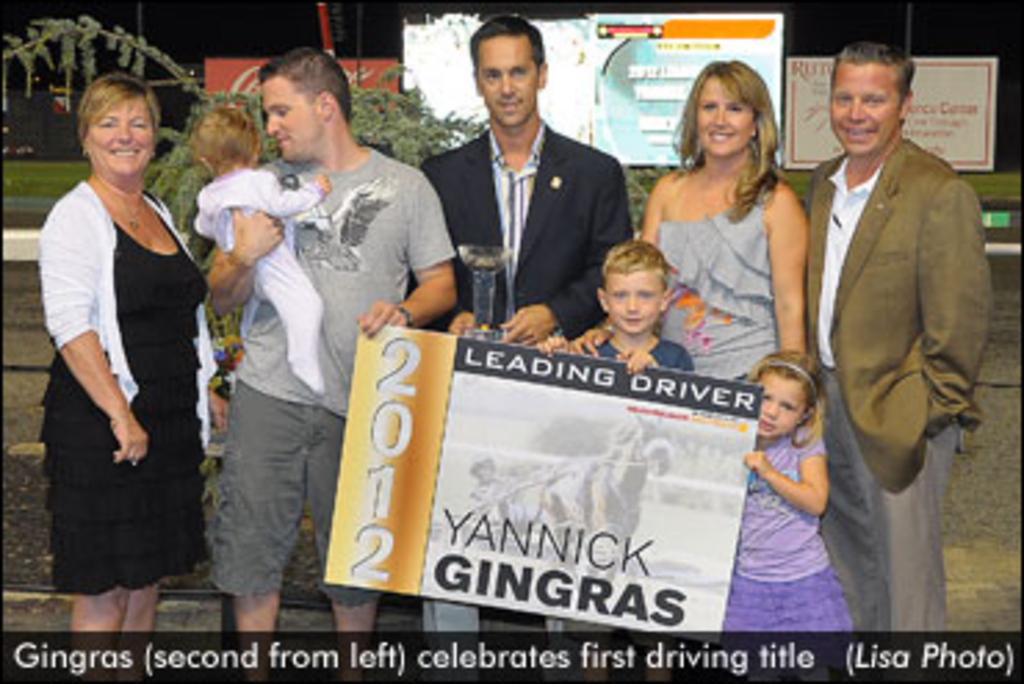 Published:
August 22, 2012 08:00 pm EDT
Quebec native Yannick Gingras never entertained thoughts of winning any racetrack's driving title, let alone the Meadowlands Racetrack. Until it was so close that he couldn't look away.
The veteran driver held off Tim Tetrick in the season's final card Friday night (August 17) by posting three wins to outdistance this year's Hambletonian winner, 125-123. Gingras entered the night with one more win than Tetrick, who tied him twice during the evening until the "Green Hornet" won his final two races to apply the final stinger.
For Gingras, claiming his initial driving title at the Big M was akin to a baseball player hitting his first home run in Yankee Stadium.
"You can't beat that," said Gingras while driving his son to hockey practice Tuesday. "To be able to do it the first time at the Meadowlands was real sweet."
Gingras finished fifth in last season's standings, when Brian Sears won his sixth title in seven years. This year, Gingras burst from the gate and raced to a 19-win edge over Sears and 21-victory advantage over Tetrick by the end of March.
"Ronnie gave me so many great horses this year," Gingras said, referring to trainer Ron Burke, for whom he drives regularly. "He really gave me a good head start."
Gingras' lead diminished during the next two months as his time was divided racing at the Big M, Yonkers and in Canada.
"I wasn't worried [about a title] because I didn't think I had a chance," said Gingras, who is second to Tetrick in North American money winnings this year with $8 million and ninth in wins with 313. "I wasn't really trying for it so I wasn't worried about it."
Gingras, though, remained in the thick of things and as July ended trailed Tetrick by only two wins. With three cards left, the deficit was five, but on Friday, August 10, he flung himself into the lead by one thanks to six victories.
"The next night, Timmy had a lot of power so I figured if I could stay even or within one or two going into the final card I might have a little shot," Yannick said. "When Saturday night [August 11] was done I was still one ahead."
Suddenly, the title to which he gave little thought became his focus. On the Meadowlands' final night, August 17, the 'Green Hornet' was locked in.
"I definitely wanted to get it done," Gingras said. "When you get that close, you never know if you're going to have another chance, so you really want to go after it."
It was a suspense-filled evening, as Tetrick won the third race to tie Gingras. Yannick won the fourth race to reclaim the lead, Tetrick won the sixth race to tie again, and Gingras won the eighth and ninth races for some insurance. His last win came with Hes A Beachboy, a 27-1 longshot.
"Once I won that one, I thought it would be really, really hard for Timmy to beat me at that point," Gingras said. "He had two races left with two longshots, so the best he could do was tie me. But when I won with a 27-1 longshot I felt pretty good."
And while Gingras wanted to focus on the task at hand -- doing the job in the sulky -- he admitted to paying attention to the standings at that point.
"I was definitely focused on driving," he said. "It was a hot night to have a race for a driving title. There were so many big races. I was always aware of where we were at. I'd be lying if I said I didn't know where things stood. But I was more aware of winning big races for these people."
Winning big races takes priority over any driving titles.
"This isn't something I ever worried about," Gingras said. "I always want to win the Meadowlands Pace, I want to win the Hambletonian, I want to win the [Little Brown] Jug. This year I've had a lot of live horses, more than years past. So I had a lot of great chances to win. I've had a lot of horses that were even money or 2-1 favourites."
Gingras actually won his first Meadowlands Pace in July driving A Rocknroll Dance -- a horse that is becoming near and dear to him. On Sunday, August 19, he won the $500,000 Battle of the Brandywine with the colt, and will be driving him in the Cane Pace at Tioga Downs this Sunday in the first leg of the Pacing Triple Crown.
Gingras is no stranger to standout horses, having been the driver of award-winning filly pacer Darlins Delight and defending Pacer of the Year Foiled Again -- two of his all-time favourites. Gingras feels A Rocknroll Dance might be the best all-around performer he has driven.
"I'd like to say 20 years from now it would be hard to pick which one of them I'd want to drive," he said. "'Darlin' was very special. She was the first great horse I'd ever driven. She had that big heart and she was so smart she made my job so much easier.
"But A Rocknroll Dance is the first one I've driven with the whole package. He's big, strong; he has big determination and the will to win."
He's the kind of horse Gingras wants to take his chances with going after the Pacing Triple Crown, which also includes the Little Brown Jug and Messenger Stakes. The Jug is September 20 at the half-mile oval at the Delaware County Fairgrounds in central Ohio and the Messenger is November 10 around the half-mile circuit at Yonkers Raceway.
"It's definitely a hard accomplishment to win that," he said. "But I have a chance. I wouldn't trade him with anyone else. He's perfect for a half-mile track. He's got quick speed. He had a :25.1 [opening quarter] at the Meadows. There's no doubt that he could do it. I think he would be a lot of people's first choice."
Not to mention, this may be becoming Gingras' time of year.
"Last year the best part of my year was the last four months," he said. "Hopefully that can happen again this year."
The first eight months have already been pretty impressive. And Gingras has the driving title to prove it.
---
This story courtesy of Harness Racing Communications, a division of the U.S. Trotting Association. For more information, visit www.ustrotting.com.